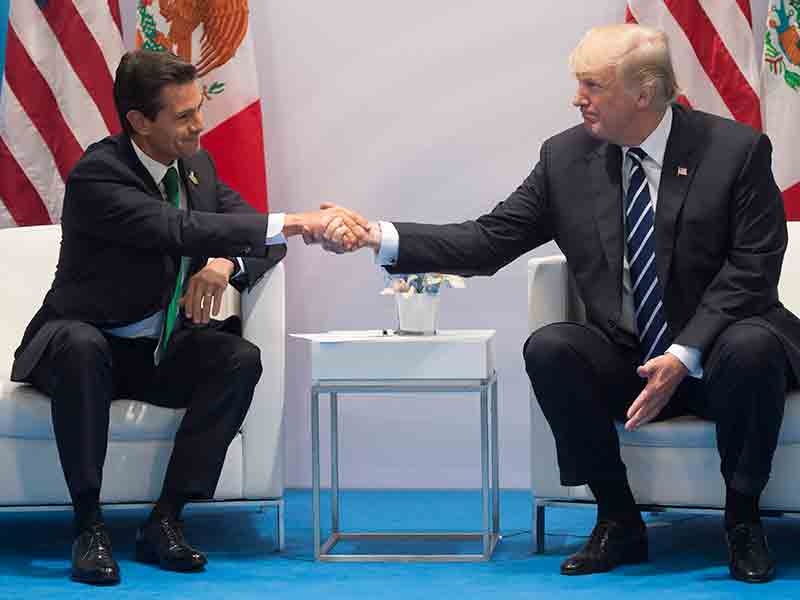 Mexican President Enrique Peña Nieto and US President Donald Trump. Mexico appears to be examining possible revisions to NAFTA ahead of next month's talks&nbsp
Mexico is examining possible revisions to the North American Free Trade Agreement (NAFTA) ahead of talks to renegotiate the arrangement next month. The decision demonstrates the country's determination to preserve a good trading relationship with its largest export market, the US.
On the campaign trail, US President Donald Trump blasted NAFTA with claims that removing tariffs on Mexican imports had flooded the US with cheap foreign products and caused a dramatic increase in layoffs of US workers. Since taking office, Trump has continued to denounce the trade agreement, issuing multiple threats to pull the US out altogether if NAFTA is not rewritten to offer a better deal to US workers.
Trump has issued multiple threats to pull the US out of NAFTA altogether if it is not rewritten to offer a better deal to US workers
Mexico, the US and Canada are due to meet next month to begin renegotiating the trade deal, with the US set to publish its negotiating objectives for the talks on July 16.
In an interview with Reuters, Jaime Serra, a former trade minister who led the original NAFTA negotiations for Mexico, stressed that NAFTA changes should further integrate the three countries in order to protect the entire area from growing export competition from Asia. He said: "If we integrate further and make Mexico more competitive versus China… even if our exports rise, US jobs will rise, because when we export to the US, they're exporting too."
Around 80 percent of Mexico's exports currently go to the US. Trump has claimed that comparatively cheap labour in Mexico has driven US firms to outsource jobs, accelerating the decline of US manufacturing. However, much of Mexico's export trade is not consumer products, but items at the early stages of manufacturing. These undergo value-adding manufacturing processes in the US, before frequently being exported. This means Mexican imports often help the US maintain a competitive edge in international markets.
To make matters more complicated, despite Trump's claims of an overwhelming trade deficit with Mexico, the US enjoys a comfortable surplus in agriculture and services. This is a benefit both industries will be loath to sacrifice. When negotiations begin, both countries will have to work hard to meet the complicated goal of trying to maintain many of the current benefits NAFTA offers, while seeming to make few concessions.