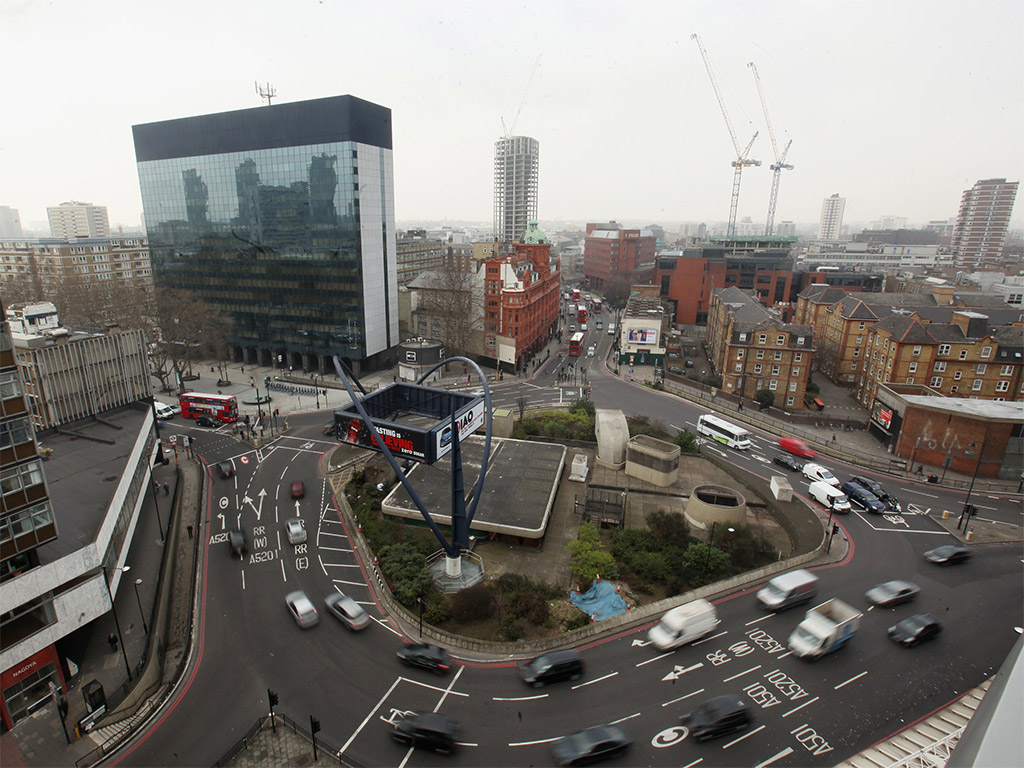 &nbsp
Once hailed as a shining beacon of British technological innovation, the unofficially titled Silicon Roundabout area of east London is starting to resemble an expensive neighbourhood dominated by some of the world's biggest tech firms. Where its cheap rents and unique warehouse spaces once attracted hundreds of start-ups and entrepreneurs, the area around Old Street and Shoreditch is now becoming so expensive that only the wealthiest businesses can afford to set up. For example, in 2012 online retail giant Amazon opened an eight-storey the hub close to Old Street Roundabout.
Young creatives have traditionally flocked to the area, with Shoreditch being a popular hub for artists for decades. At the turn of the century, shortly after the first tech bubble, many technology savvy creative types moved to the cheap warehouse spaces to develop all manner of online projects. From music radio and recommendation site Last.fm to Twitter desktop client TweetDeck, Silicon Roundabout has seen a number of the world's most popular tech firms make their first tentative steps. Last.fm was even sold to US media giant CBS for £140m in 2007. It has since moved out of the area.
Government Tech City branding
The current government, like all others, was quick to jump on the bandwagon of all these successful tech businesses and grasp a share of the entrepreneurs' glory, promising a swathe of investment and infrastructure support. While in 2008 there were roughly 15 technology firms located near the roundabout, Prime Minister David Cameron announced two years later an initiative to speed up the growth of the burgeoning industry in the area.
Rebranding the area Tech City UK, the government has tried to present the area as an initiative that sprung up with the full support of the state. Consultants were brought in to work for the newly formed quango, and the area quickly saw an influx of new companies. By 2010 there were 85 new businesses, which grew to around 200 the following year. This figure apparently soared to almost 5,000 by 2012, including the wider surrounding area.
Entrepreneurs are 'drowning' in incubators, says tech expert of government's Silicon Roundabout
Joanna Shields, Facebook's former head of Europe, was appointed head of the quango in 2012. Earlier this year Gerard Grech, a former head of marketing at Blackberry, replaced her, becoming the third CEO of the group in three years. It suggests that the organisation is little more than a marketing tool for a government desperate to appear to be fostering technological innovation. It has also seen many of its responsibilities given to London & Partners, the marketing agency of Mayor Boris Johnson.
Cory Doctorow, a technology writer based in the area, wrote recently of the slow death of Silicon Roundabout as a creative hub. He says that property developers, as well as local and national governments, wanted to get in on the action after the initial successes seen before 2008. "Before long, Silicon Roundabout had indeed been adopted by estate agents, local councillors and even No. 10 [Downing Street]. Silicon Roundabout became the cornerstone of the government's new Tech City strategy, whose idea was to nurture our little home-grown tech district to see if it couldn't be fanned into full flame."
Failed initiatives
Last year Tech City launched a Future Fifty initiative that would shortlist the top 50 start-ups and provide them with mentoring, strategic advice and export assistance from the government and its partners. Some of the firms that have enjoyed this honour include taxi-app Hailo, property-search website Zoopla, and mobile-game maker Mind Candy.
However, for all the successes, there have been plenty of failures, with companies going out of business, talent fleeing to other jobs, and investment down the drain. A huge number of start-ups have emerged across the area over the years, promising revolutionary new services based out of their trendy new offices, only for them to be packing their boxes six months down the line, having squandered their investment.
Tech City's trumpeting of the industry seems misguided. A competition for a £1m investment could not find a single appropriate winner out of one thousand entrants last year. Indeed, despite its official report claiming that 40 percent of employment growth in the tech industry has come from the Silicon Roundabout area – including 88,000 tech firms across London – it neglects to mention that many of these tiny firms will have crumbled within a few months.
Even though there have been a few larger successes, the government hasn't really acknowledged the many, many failed projects that have fallen by the wayside in the area too, says Doctorow. "Almost everything that start-ups do comes to nothing. A tiny fraction of all that activity pays off in ways that beggar the imagination. It's the kind of thing that governments like to pay lip service to, but rarely have the patience for. Governments like to boast of a portfolio of large, nationally identified, successful firms – not thousands of hare-brained schemes whose doom is near certainty."
Another issue that has been raised is the government's investment fund that is potentially crowding out private investors from the tech industry. While few people will cry over a few venture capital firms losing out on business, many in the investment community feel that the government run Business Growth Fund (BGF) is putting in bids for tech companies that are deterring them from doing the same. While the fund was intended to fill an investment gap, it is valuing deals high enough that funds that are answerable to shareholders feel they can't justifiably compete.
Developers driving up prices
While the reason for this surge in rental prices could be seen as a natural consequence of the areas success, there are a number of underlying issues that have caused many start-ups to flee the Silicon Roundabout, not least the meddling from the British government. Promises to support the areas infrastructure – in particular by boosting the broadband speed and reliability for offices – have not been delivered. A £50m pledge in 2012 by the government to boost broadband speeds to and build a high-tech institute has still not been released by the treasury over concerns about the viability of the plans. The T4 broadband speeds are seen as crucial for allowing developers to compete with other tech hubs around the world.
Despite the appearance of independent, small start-ups, many world-renowned tech firms have invested in the area, including Cisco, Facebook, Google, Amazon, and Intel, as well as consultancy firm McKinsey & Company. Property developers have also sought to capitalise on the popularity of the area, including Alan Sugar's arm Amsprop, which acquired three large buildings adjacent to Old Street roundabout towards the end of last year.
Sky-high rents force tech-start-ups to leave London's Silicon Roundabout
The rise in property prices and influx of bigger tech firms echoes what has happened in San Francisco and the original Silicon Valley. Stories of wealthy Facebook employees being abused in the street because they moved into once-cheap neighbourhoods in San Francisco have been reported in recent months. This may not be happening just yet in Shoreditch, but people are certainly concerned.
One local entrepreneur tells World Finance he has was forced to move his young tech firm out of the area because of the rise in rents. Charlie Pool, founder and CEO of location-based marketing platform HitMeUp, says that small firms would struggle to pay the rents in the area. "I know there have been some people annoyed about not being able to afford the rent. The rent is high there and you would be hard pushed to get an office in Shoreditch now as a pre-revenue start-up. In fact, we moved to Exmouth Market for that reason, we were on Rivington Street but the landlord cashed in and moved us out. So you end up with a few places left in Shoreditch aimed at start-ups, like Google Campus."
Google Campus is one of a plethora of 'incubators' that house lots of start-ups under the same roof, supposedly fostering a collaborative and creative culture. Incubators like Google Campus seem like a good idea, but critics have suggested that they're as beneficial to the housing company as they are to the entrepreneurs and creatives. Pool describes it as a "battery hen farm full of over-enthusiastic, totally delusional, people who have no idea their dreams of creating a 'Spotify for yoga' are about to be crushed by reality."
An industry growing up
While successful tech start-ups have caught the attention of the business community over the last decade and a half, it seems all too often that there are many young people that assume that all they need to do is head towards a place like Silicon Roundabout with a half-baked idea and within months they'll be the new Mark Zuckerberg. The government seems to be equally deluded in thinking that a marketing exercise like Tech City could capture it the glory of one of two tech success stories, while neglecting the colossal amount of failures.
Despite this, Pool thinks that the industry itself is not on its deathbed. While his firm is no longer running, he says that he has learnt a lot from his experience of trying to get a start-up off the ground. These lessons are being learnt elsewhere, and the youthful enthusiasm will fall away, which he says is a natural consequence of a maturing market. "I'd say we're seeing the next stage in the cycle as you would typically expect in any maturing market – consolidation as the rubbish gets filtered out. The dreamers, like I was, are starting to realise through failure that you don't create an app and become a billionaire, but you do start to learn what works and what doesn't. That means standards go up and proper companies emerge. They can afford to mop up other companies, make more money, pay proper salaries, and the whole thing grows up a bit. The excitement is commercialised and inevitably the whole thing loses a bit of the magic."