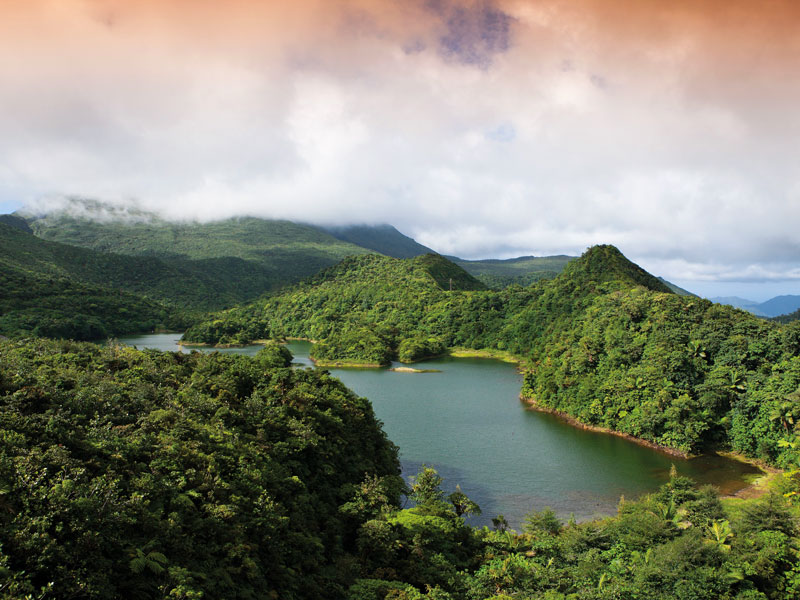 Dominica, the Nature Isle of the Caribbean&nbsp
Author:
Beatrice Gatti, Head of Government Advisory Practice, CS Global Partners
The Commonwealth of Dominica is one of a group of islands forming the eastern boundary of the Caribbean Sea as it meets the Atlantic Ocean. Nicknamed the Nature Isle of the Caribbean, the country is famed for its biodiversity and boasts the Morne Trois Pitons National Park, which is the Eastern Caribbean's first UNESCO World Heritage Site. The park is home to the second-largest boiling lake on Earth, as well as heavily protected rainforests, rare fauna and marine life.
The island garnered international recognition for its recovery efforts in the wake of Hurricane Maria, which damaged 90 percent of Dominica's housing in 2017. Thanks to funds from the country's Citizenship by Investment (CBI) Programme, the island resolved to "build back better" and has since reached levels of development that exceeded all expectations.
Investing in resilience
Dominica's CBI Programme has earned the top spot in the CBI Index for the last three years. In exchange for a significant investment in the country, well-vetted applicants and their eligible dependents can obtain citizenship of the lush island nation in around three months. The programme offers two routes to citizenship: applicants can make a direct contribution of at least $100,000 to the government's Economic Diversification Fund, or invest in pre-approved real estate valued at a minimum of $200,000. Direct contributions are used to support Dominica's economic development and have positively impacted all aspects of life on the island, financing both public and private sector projects.
As well as being instrumental to the country's recovery efforts, CBI is the driving force behind Dominica's goal of becoming the world's first climate-resilient nation. Part of this mission has been Prime Minister Roosevelt Skerrit's Housing Revolution scheme, which aims to build more than 5,000 homes using climate-resilient structures that are designed to withstand hurricanes and earthquakes. Another aspect of the scheme has been the repair of healthcare centres and hospitals, as well as the construction of a new, climate-resilient smart hospital.
Dominica's determination to become a world leader in sustainability and the fight against climate change – bolstered by its long-standing, harmonious relationship with nature – owes much to the interest that CBI has garnered across the globe. Yet it is not just the country's native population that has benefitted from CBI: for participants in the programme, the advantages of holding
Dominican citizenship are numerous.
Rewards and returns
With Dominican citizenship comes unfettered access to a country that has gained recognition from the Financial Times' fDi Intelligence division as a top leisure destination for wellness and ecotourism. Although there is no requirement that CBI investors reside on or visit the island in order to gain citizenship, for eco-conscious investors, Dominica is the perfect country in which to live and raise a family. A magnet for tourists searching for a holiday off the beaten track, Dominica is home to many luxury, climate-conscious resorts – shares of which can be purchased under the real estate arm of the country's CBI Programme. These shares can be sold within three to five years of purchase (depending on the buyer) and promise lucrative returns. Additionally, new economic citizens will find they are able to expand their travel horizons and business opportunities. That's because Dominicans can travel to 140 destinations worldwide without the need to obtain a visa.
Family reunification is an important feature of the island's CBI Programme and, accordingly, applicants can add dependents to their citizenship application. Dominica encourages the inclusion of a spouse, children under the age of 30, parents and grandparents. Children aged 18 to 30 must generally show they are in full-time attendance at an institution of higher learning and are fully supported by the main applicant.
For family members planning to undertake higher education, Dominica provides access to excellent educational institutions where English is taught as the first language. The country's membership of the Commonwealth of Nations grants further education opportunities. In the UK, for example, Dominican citizens are eligible for various scholarships at master's and PhD level.
For those seeking to broaden their global presence, relocate to a beautiful country or simply make a difference to a small yet ambitious nation, Dominica's CBI Programme is an ideal solution that is just one investment away.