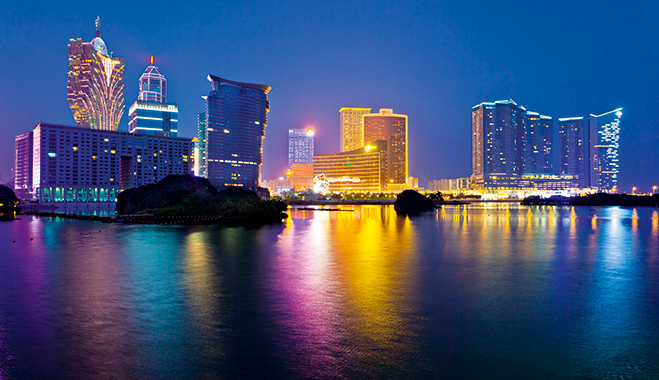 Macau at night. It is the largest gaming city in the world in terms of revenues, attracting more than 30 million visitors a year&nbsp
Macau is known as the Las Vegas of the East, although, ironically, its gaming revenues currently exceed the figures generated by the gambling industry in Las Vegas – by almost six times.
Being the largest gaming city in the world by revenue, Macau faces constant challenges to keep developing its gaming industry in order to fulfil the new needs of clients and casinos alike. Such clients constitute the main industrial and economic pillar of this Special Administrative Region of the People's Republic of China.
Macau and its casinos should be looking to offer new and creative solutions
VIP gaming has been, in past years, the biggest reason for the casinos' tremendous success in Macau. However, it is now the time to broaden the gambling business to the mass market. In fact, attracting more than 30 million visitors per year, Macau and its casinos should be looking to offer new and creative solutions through which smaller bets made by huge masses of players may become as profitable as huge bets from select individuals.
Live multi-gaming (LMG), which is already being explored by several casinos, could be the key to successful expansion into the mass market, taking into account the opening of various new large casinos in Macau until the end of 2016.
A solid bet
LMG systems are integrated gaming devices that involve a traditional live dealer handling one or several types of casino table games (such as baccarat, roulette, black jack, etc.). The results of each game are reported to each player's electronic terminal from which their bets are placed and the payouts announced. LMG therefore combines basic electronic gaming technology with the traditional live dealt casino games. This means, inter alia, that less dealers are needed to serve an enormous number of players, although the results of the games (and, thus, the gaming experience of the players) is determined exactly as it would be at a real table – not through any sort of computer generated algorithms.
In Macau, as the number of real gaming tables operated by each casino is capped by the government, LMG plays a unique role in the development and expansion of good casino operations by allowing virtually an unlimited number of betting terminals be linked to a single live gaming table. Gaming machines are locally regulated and supervised by the Gaming Inspection and Coordination Bureau (DICJ), notably through the enforcement of the Administrative Regulation 26/2012.
Legal approval
Nevertheless, several nuances of LMG, namely the fact that the casino games involved are operated by live dealers, raise several interesting points regarding the applicability of the Administrative Regulation 26/2012.
It can be legally questioned if the definition of 'gaming machine' covers LMG solutions or if those fit the definition of 'game located in a computer server'. There are some good reasons to possibly reject both such thesis (and also any way of inclusion of LMG in the definition of Section 31.2 of the Administrative Regulation – 'game supported by computer server' – since LMG terminals may not operate autonomously vis-à-vis the whole LMG system). This is especially relevant when you consider that all the casino games (such as baccarat) are handled as if they were played at a real casino's gambling table.
Thus, it is questionable, inter alia, for the companies providing LMG solutions to the casinos, even considering the fact that DICJ has not been treating LMG as real gambling table games, are legally obliged to require the approval by DICJ of LMG sets. In addition, pursuant to the same Administrative Regulation 26/2012, the DICJ should not only approve gaming machines, but it is also the competent authority to authorise any entity to supply such machines to the casinos.
Accordingly, gaming machine suppliers have to require DICJ administrative authorisation to operate in the Macau gaming industry, and have to comply with several requisites in order to obtain such authorisation. They must perform their commercial activity through an affiliate or a limited liability company by shares (sociedade anónima, according to Macau Law). Its share capital must be wholly represented by nominative shares and such company's activity (as reflected in the respective articles of association) may only consist in "producing, supplying, assembling, installing, programming, repairing, adapting, modifying, technically assisting and maintaining gambling machines".
Obviously, some of the legal issues arising in respect of the approval of LMG's by DICJ may also be raised in regard of DICJ's legal competence to authorise the performance of activities by any entity that intends to provide LMG solutions to Macau casinos.
Whereas, from a technological point of view, LMG's are a well-known solution to the gaming industry worldwide and an unquestionable asset for the local gaming industry, the relative novelty of Administrative Regulation 26/2012, and the hybrid nature of LMG's, raise particular issues, which gaming operators and providers of gaming solutions are likely to confront.