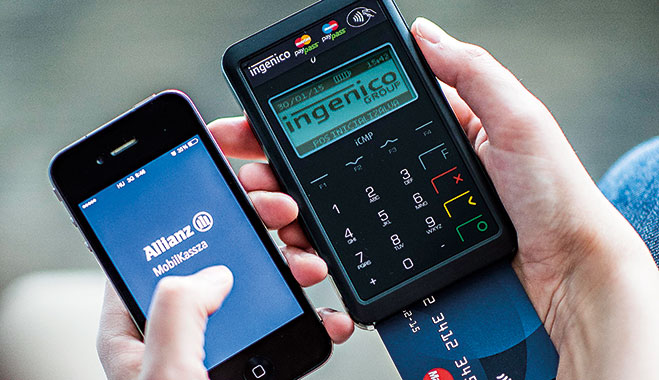 Allianz has updated its consumer facing website to coincide with mobile devices, enabling easy payment options&nbsp
Interview with:
Péter Kisbenedek, CEO, Allianz Hungary
October 30, 2015
With a nearly 21-percent share of Hungary's non-life insurance market, Allianz Hungary has an important role to play in a country that has hit the headlines recently because of its geographic position as a frontier for waves of migrants seeking a better life in the EU. Hit hard by the financial crisis but improving, Hungary was recently characterised by the IMF as 'growing at a strong pace, helped by accommodative policies and improved market sentiment'.
However, the country's stubbornly low wage rates, at least by European standards, and a labour participation rate of just 67 percent, have put the onus on firms such as Allianz to design products that make a difference to the quality of life of the country's 9.9 million people.
And, behind the headlines, Allianz is doing just that. As the company's Chairman and CEO, Péter Kisbenedek explains that the firm is rolling out more affordable policies across the insurance spectrum and distributing them in innovative ways that make them more readily available.
The challenge for insurance companies in Hungary and elsewhere is that the world is changing and historic data is often an unreliable guide to future risks
Indeed, the operative word here is affordability, particularly in a country with a low average household income. Taking the Big Mac index as a proxy, Kisbenedek points out interestingly that in the capital of Budapest, Hungarians work for 49 minutes for a McDonald's hamburger, which compares unfavourably with wealthier European capitals. It takes just 13 minutes of toil – or nearly four times less – in Zurich, 15 minutes in Munich, 16 in Paris, 18 in Madrid and 20 in Brussels. Even in nearby Bratislava, the capital of Slovakia, it's 32 minutes and 34 minutes in Prague, capital of the Czech Republic.
Inevitably, in this economic environment, customers are inclined to put price ahead of other considerations, especially in the age of instant online comparison. "Customers have access to more information than ever before", explained Kisbenedek. "They are using price comparison sites. They want quotes and prices immediately on the platform they choose."
One happy result of this is that the price of most insurance products has come within reach of the budget of most households. Proof of this trend can be found in a remarkable statistic – an average flat suitable for a family can be insured for a total yearly fee costing no more than the price of 11 pizzas. And that's at Budapest (rather than Zurich) pizza prices.
Flexible and adaptable
Reflecting the same impetus for affordability, Allianz has been quick to meet a fast-rising demand for what is known as convenience insurance. Thus, it has lately introduced a number of assistance packages for an astonishingly low monthly fee of around 300 forints (€1), offering an extremely wide range of services.
In this cost-conscious environment no insurer can afford to rest on its laurels, even if it dominates the market as Allianz Hungary does. Thus, the firm's Gondoskodás Programme is a new hybrid life insurance product that combines the benefits of risk insurance and a savings account. According to Kisbenedek: "Gondoskodás completes our life insurance product range, offering our customers insurance solutions for all life situations and for all income positions."
Allianz Hungary is part of a global group that boasts 85 million customers in more than 70 countries and that, to boot, is celebrating its 125th anniversary. But, in an environment of relentless change, the last 125 years may not mean much. "The challenge for insurance companies in Hungary and elsewhere is that the world is changing and historic data is often an unreliable guide to future risks and future claim patterns", Kisbenedek pointed out.
"Therefore insurance companies have to be future-thinking and constantly monitor global and local trends, including customer attitudes and behaviour." It's a little understood aspect of insurance – and particularly the life and pension business – that by its very nature, firms are committed to their clients for half a century or more. Thus, they are obliged to concern themselves with long-term issues that may influence the value of policies to the benefit or harm of the client. "We have to care about what is going to happen in the world during this period", Kisbenedek summarised.
Technical nous
And woe betide a firm that doesn't connect with the digital revolution. Allianz Hungary has invested in the upgrade of its online calculators and fast-quote functions for Casco insurance (unavoidable loss or damage), as well as home and motor vehicle insurance. The firm's consumer-facing website has been radically reconfigured to present a uniform appearance and make it compatible with all platforms, including tablets and smartphones. In short, total web-based functionality is now available.
Allianz has also overhauled its payments function, another area in the middle of turmoil. Three technical updates were introduced to make it quicker and more convenient for clients to pay premiums. The so-called 'white cheque' with the QR code enables them to pay from smartphones and, in a first for the Hungarian insurance market, enables agents to use credit cards. Late last year, the firm made it possible for agents to effect payments through mobile point-of-sale terminals, using a service known as mPOS. It means clients can now pay premiums for any non-life and currency-linked life insurance products at the offices of their tied agents.
"From a technological perspective, this is a significant and revolutionary innovation", said Kisbenedek. "It's the world's first integrated mPOS introduced in the insurance market. In addition to being flexible, the sales process involves a fully integrated solution that makes the entire process digital. This is a major step forward to a society without cash", Kisbenedek added. And, because it's scaleable, mPOS can be extended to all Allianz subsidiaries at regional or group level. Underlying all these innovations is the insurance industry's economic function in providing life-enhancing policies for commerce, agriculture and ordinary citizens. Modest as it was, last year's recovery allowed Hungarians to raise average savings per household, which in turn boosted the entire insurance sector's total premium revenue by 4.2 percent.
As market leader, Allianz Hungária was the biggest beneficiary of this. Last year, the firm saw growth in the non-life business, primarily in the performance of the industrial property and liability insurance segments, in the agricultural insurance segment in general and, more specifically, in preferential premium crop insurance, a peculiarly Hungarian product. And in the retail property business, the number of new acquisitions increased by 10 percent.
Simultaneously, there was a turnaround in the previously stricken area of motor insurance, which suffered heavily in the downturn. New vehicle sales jumped significantly, as did the number of mainly premium imports. Between them, these changes led to a gratifying rise in the overall vehicle count in Hungary, allowing premiums to climb off the floor.
One product that is certainly life-enhancing in a generally under-insured nation is long-term pensions, a particular focus of Allianz Hungária. Here, the firm has developed another innovation in the form of a self-care pension that it plans to push into the wider community. Competitively priced, it's a long-term savings product with a continuous premium payment.
Green growth
Allianz Hungária's necessarily long horizons demand matching adherence to sustainability. "Sustainability is inherent to our business", Kisbenedek explained. "With our efforts to reduce risk deriving from global megatrends like climate change, demographic change, and access to financial services, we have actively contributed to sustainable development – our own and that of our stakeholders – for a long time." As he made clear, Allianz aims to embed sustainability into the group's DNA.
Allianz Hungária's head office in Budapest is a monument to the firm's green credentials. Not only does it collect and recycle, it also reuses rainwater, economises on consumption of paper, heats the building with solar collectors, runs low-energy lighting and employs purified water.
Meantime, megatrends keep coming. Kisbenedek ticked them off – extreme weather, ageing populations, shrinking work forces, social security systems under pressure, demographic change. "They are creating challenges and opportunities for us", he noted. One example is road safety. The parent group has invested considerable time, energy and money into saving lives, primarily in the form of innovative technologies.
Another life-enhancing initiative is the firm's commitment to financial education, a much-neglected topic. Allianz Hungária has an online platform dedicated to the publication of articles, research, interesting facts and useful advice on this and other issues.
Every year and taking place in October, the firm organises a conference under the title of Common Future, in which a lineup of scientists and other experts delivers short and often inspirational speeches.
Last, but by no means least, the firm prides itself on its transparency across the board and has pledged to uphold a policy of zero tolerance against corruption. "We expect the same from our contractual partners and entrepreneurs", Kisbenedek noted. In the meantime, the future is not what it was.
As Kisbenedek explained, experience shows that our highly transformed societies are under constant exposure to new challenges, as indeed border controls will attest. "When we say future, we must talk about a future that is different from the one we are used to. The future is not in the distance any more. Waves of change are all around us."