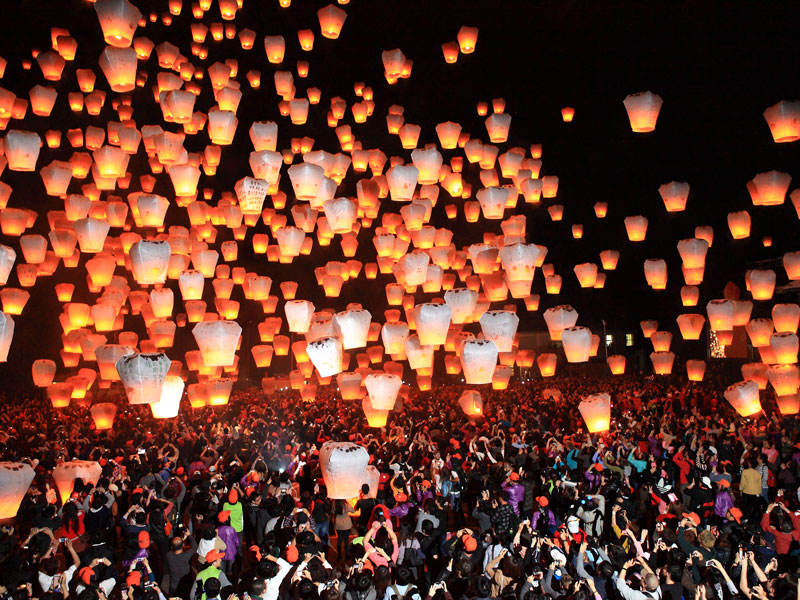 Sky lantern festival, New Taipei City, Taiwan &nbsp
Author:
Fubon Life Insurance
January 29, 2021
Despite the turbulent global environment and continuing uncertainty, Fubon Life has maintained outstanding performance with the advantages of financial stability, comprehensive distribution channels, and a diversified product portfolio in 2020. The cumulative net profit after tax for the first eight months last year reached NT$43.058 billion, equalling a year-on-year growth of 68 percent. In addition to the brilliant investment performance, the company's premium income also performed well last year. The accumulated first-year premium income (FYP) from January to August 2020 reached NT$84.6 billion, and the total premium income was NT$374.4 billion. Fubon Life's professional operation has also been recognised by the prestigious international financial media. World Finance has ranked Fubon Life as the 'Best Life Insurance Company in Taiwan' on nine occasions.
High-quality service experience
Fubon Life offers a comprehensive product portfolio and adjusts product strategies in response to the current economic situation. For example, in response to the COVID-19 pandemic, Fubon Life introduced the country's first 'Statutory Infectious Disease Periodic Health Insurance' policy, which provides people with advanced insurance protection and all-round medical coverage. In addition, Fubon Life continues to leverage insurance technology to provide policyholders with a rapid and high-quality service experience, such as optimising and upgrading the 'Policy Health Check System,' and using system analysis results to help policyholders identify the protection gaps in five major areas: life insurance protection, accident protection, medical protection, long-term care protection and pension protection. Fubon's professionally trained agents will then be able to recommend suitable insurance products to mend the gap as early as possible and improve the risk tolerance of the Taiwanese people.
Fubon Life's goal is to become a people's brand. In addition to fulfilling its responsibilities in assisting clients with strengthening their risk protection, Fubon Life also continues to deepen sustainable management such as ESG. It looks forward to leading the development of the industry through sustainable actions in governance, environment, and society. Benson Chen, President of Fubon Life, said: "Enterprises co-exist and prosper with society and the environment. The greater the influence of the company, the heavier the responsibility it shoulders. The award not only recognises our achievements, but also extends our responsibilities. Fubon Life will continue to take into account the company's operation, social responsibility, and environmental friendliness, and follow the United Nations 'Sustainable Development Goals (SDGs)' as a development strategy for insurance and community services, with a view to solving social change issues in many ways and serving the common good of the society in Taiwan."
The app acts as an online insurance education and health promotion tool
Fubon Life has long practised dementia care activities from the perspectives of prevention, assistance, support, and knowledge transfer. For five consecutive years, it has co-operated with the Federation for the Welfare of the Elderly, Taiwan's main public welfare organisation for elderly welfare, to give away dementia patient bracelets in 100 hospitals across Taiwan. It is recommended patients wear the bracelet immediately after being diagnosed by physicians. After this model was introduced, the bracelet-wearing rate has increased by 42 percent, and the recovery rate for lost dementia patients is now very high, effectively reducing the psychological pressure of caregivers. This year, the scope of this service has been expanded, and more county and city government resources across Taiwan have been integrated to provide better support for families with dementia patients.
Knowledge and understanding are the starting point for improving dementia care, and the general public's understanding of dementia is generally insufficient. Considering the many opportunities for interaction between children and elders at home, Fubon Life is actively committed to educating children on the issue of dementia. This year, Fubon Life joined hands with the Taiwan Dementia Association to expand the promotion of the 'Dementia Education Seed Project,' producing cartoons on dementia education targeted at children and adolescents to be broadcast in all primary schools in Taiwan. It is hoped that through these informative yet entertaining teaching materials, close to one million school children nationwide can develop the right knowledge and practice on dementia care, which will not only promote an atmosphere of happiness within the family, but also help patients with dementia at home to seek medical treatment in time. These efforts have laid a positive foundation for a dementia-friendly society.
At the same time, Fubon Life has also leveraged its core competency in launching spillover policies that promote health and strengthen medical protection for the disadvantaged population. These products encourage policyholders to walk more and quit smoking to enjoy premium discounts and in so doing, achieve the objectives of advanced disease prevention and morbidity reduction. Fubon Life has also developed a health promotion app called 'Fun group' that combines community activities with insurance education and health promotion. The app acts as an online insurance education and health promotion tool, as well as a social platform to promote the concepts of insurance and health management in people's daily lives.
Development of green finance
Fubon Life promotes the sustainable development of green finance in a comprehensive manner. Through four low-carbon strategies including green procurement, an environmentally conscious workplace, paperless services and environmental protection, Fubon Life has launched its environmentally friendly practices and implemented green finance and responsible investment externally, to echo the government's support for renewable energy development. In order to expand the company's influence throughout society, Fubon Life not only integrates the concept of environmental protection into product design and policyholder services, but also provides diversified and paperless financial services for policyholders. It is estimated that green service processes reduced carbon emissions by more than 495 metric tons in 2019, equivalent to 15.2 months of carbon absorption capacity of Daan Forest Park. Fubon Life also organised nationwide river cleaning and plastic clean-up sessions. The company introduced the concept of the 'recycling ecological chain' by turning recycled plastic waste into mobile phone holders.
Through continuous internal and external communication, Fubon Life is able to raise the public's environmental awareness, and the company's practice in promoting environmental sustainability was even recognised with the first 'National Enterprise Environmental Protection Award', organised by the Environmental Protection Administration of the Executive Yuan. Fubon Life has long been concerned about the sustainability of Taiwan's water resources. It has not only led employees in activities such as river cleaning and beach cleaning to protect the environment, but has also cooperated with the Wilderness Conservation Association in 2020 to raise the awareness of river waste disposal issues, becoming the first company in Taiwan to respond. It will join forces with the Wilderness Conservation Association in launching the 'River Waste Quick Screening Survey Project' for three years to investigate public hazards in a low-carbon, paperless manner, integrating the idea of citizen science to protect the ecological system. The project is aimed at finding more concentrated sections of river waste to facilitate efficient cleanup, and expand the company's green influence for the sustainable development of the river basins in Taiwan.
In order to demonstrate the commitment of serving the Taiwan market as a people's brand, Fubon Life has actively invested resources and deepened its corporate influence in terms of product development, service innovation, talent cultivation, social welfare, and environmental sustainability. The results of the company's actions have also been recognised at home and abroad, including being named in Brand Finance's Top 100 Insurance Brands in the World – number one in Taiwan, and winning the 'Health Promotion Award' and 'Green Leadership Award' in the Asia Responsible Enterprise Awards. Fubon Life also won the 'Insurance Quality Award' for three consecutive years in four separate categories. It has also won the RMIM Award for 10 consecutive years and has been voted as the most preferred employer by college graduates. In the future, Fubon Life will continue to focus on the core insurance business and leverage digital technology to create a better user experience for its customers. With the mission of being a good neighbour in the community, it will continue to pay attention to important issues such as dementia and aging, strive to shorten the gap between urban and rural resource allocation, and expand its influence to benefit individuals and families throughout society.