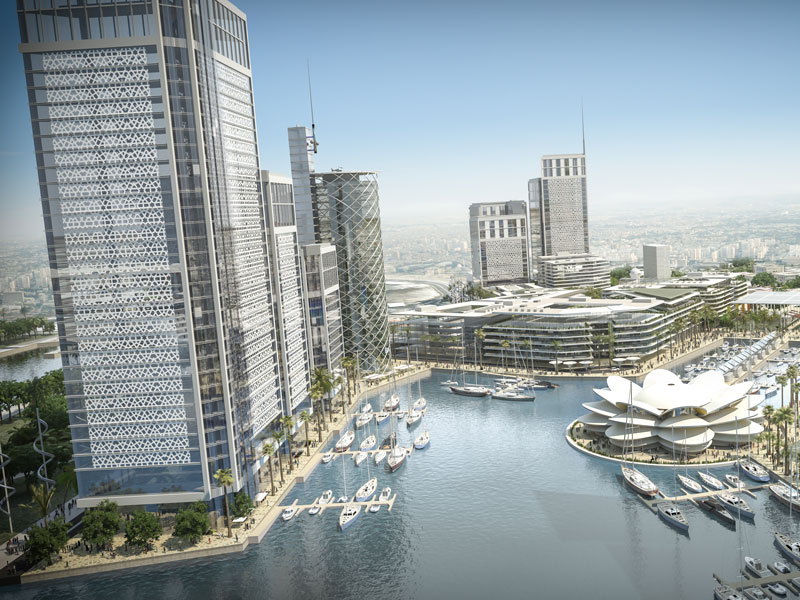 Rendering of the Casablanca redevelopment project. Morocco's national tourism development strategy has seen eight different destinations launched to augment the country's tourism offering &nbsp
Tourism has a tremendous impact on economic development, especially for emerging countries such as Morocco. Benefits of tourism include income generation, job creation and positive impacts on the image of the country.
At the beginning of this decade, the world – and the MENA region in particular – went through a period of uncertainty
In the case of Morocco, the tourism industry has long been a crucial economic sector, alongside the automotive industry, phosphates and agriculture. Imad Barrakad, CEO of the Moroccan Agency for Tourism Development (SMIT), spoke to World Finance about how the North African nation plans to continue growing its tourism industry in a sustainable manner.
How important is tourism for Morocco's wider development, particularly regarding economic diversification?
In 2018, tourism contributed more than eight percent to the country's GDP, a figure that grows to about 15 percent when tourism's indirect contributions to transport, food, handicraft and other related sectors are considered. It is also estimated that tourism employs more than 2.5 million people both directly and indirectly, accounting for almost 25 percent of the total Moroccan workforce. Tourism is considered to be a development accelerator, which contributes to reducing income inequalities between regions and provides alternative employment opportunities.
What measures has SMIT put in place to promote Morocco as a tourism destination?
SMIT's strategic role is to create a business climate that is favourable to tourism investors and operators alike. We assess profitability in advance so we can select the projects that are the most suitable for investment, closely focusing on an investor's profile. We also facilitate access to funding, whether in terms of equity or debt, particularly for government-backed projects.
15%
The tourism sector's direct and indirect contribution to Moroccan GDP
2.5m
Approximate number of Moroccans employed by the tourism industry
25%
of the Moroccan workforce is employed by the tourism industry
Moreover, we help identify potential strategic partnerships and play a role in the launch of public-private initiatives. We help investors access government funding, including subsidies for land purchases and offsite infrastructure costs, as well as tax and customs duty exemptions. In addition, SMIT provides advice and assistance to investors and dispenses market intelligence on suitable opportunities.
What innovative approaches are included in Morocco's national strategy for boosting tourism investment?
The national tourism development strategy has launched eight distinct tourism destinations in order to develop a diversified and high-quality tourism offering that corresponds to both tourists' needs and investors' interests. Also, we have begun participating in international events, specialising in tourism and hotel investment. During the past two years, SMIT has focused on diversifying its targets through promotional activities and roadshows in new target areas in Asia and the Americas, which have been increasingly active in project financing.
How is SMIT ensuring that tourism is developed across the entire country?
At the beginning of this decade, the world – and the MENA region in particular – went through a period of uncertainty. Despite this, Morocco remained resilient; over the past five years, direct foreign investment in the tourism and hospitality sector exceeded $1bn annually. Similarly, hotel capacity has continued to grow steadily over the past decade, with an average increase of approximately six percent each year.
In 2017, Morocco's hotel accommodation consisted of 4,000 lodging units, totalling nearly 260,000 beds. Compared with 2011's 2,500 units and 190,000 beds, this represents an annual average growth rate of nine percent in terms of lodging units and five percent in terms of bed capacity. Similarly, arrivals grew by more than 10 percent, with final forecasts for 2018 suggesting a similar figure. Occupancy rates have reached peaks of 70 percent in the upmarket and luxury sector, improving revenue per available room. Many international hotel brands are sensitive to these figures and have reinforced their presence in Morocco as a result.
What other strategies are being pursued to encourage investment in the sector?
SMIT has set up a land database application called Atlas Land to help identify premium land for tourism projects across all regions of the kingdom. This provides excellent visibility regarding tourism-dedicated land and makes it easier to identify and reserve real estate properties.
In terms of accessing credit financing, SMIT has helped set up a guarantee fund that aims to partially guarantee medium and long-term bank loans intended for tourism project financing. Last but not least, many of the funds that have been initiated by SMIT have been instrumental in boosting investment flows, and have helped reshape the skylines of destinations such as Saidia, Rabat, Tangier and Casablanca.
What is the outlook for the future of Morocco's tourism sector?
Many large-scale projects are currently in progress in Morocco's main tourist destinations, such as Rabat, Taghazout Bay next to Agadir, and Tamuda Bay in North Morocco. We look forward to a great future in terms of tourism development, with the industry expected to continue showing robust growth rates. Impressive plans are in the pipeline and SMIT is committed to strengthening its relationships with investors and tourism operators so we can consolidate tourism projects in Morocco.