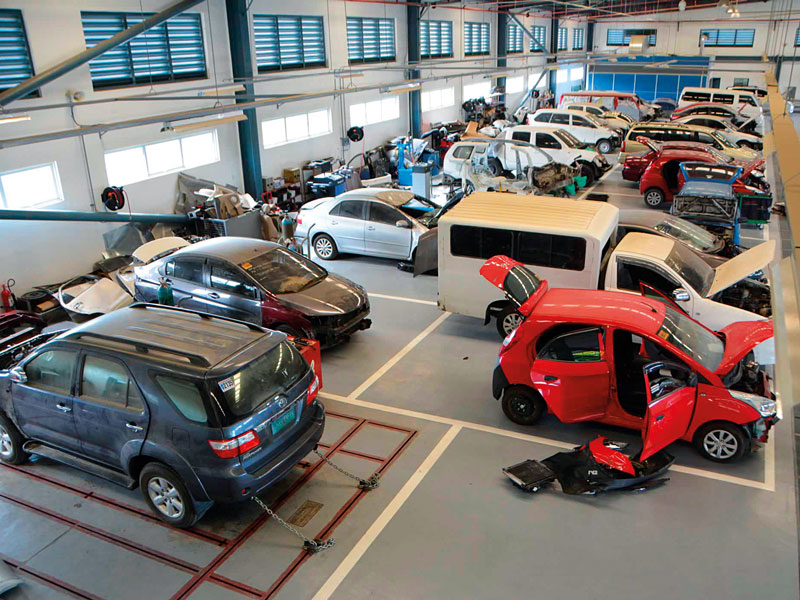 &nbsp
The Philippines might not, at first glance, seem like an obvious location for an insurance company; the nation has a population of 100 million, but only offers a modestly sized market of $1.5bn of gross underwritten premiums. Its geographic location places it directly within the Pacific's Ring of Fire, the earthquake hotspot of the world. On average, 20 major storms hit the country every year. Between the country's underdeveloped infrastructure and limited purchasing power, placing risk within the Philippines is a challenge.
But this difficult environment is exactly what has disciplined Standard Insurance to develop its successful underwriting capabilities. World Finance had the opportunity to speak to John B Echauz, President and CEO of Standard Insurance, and Leticia C Tendero, Director/Investor Relations, about what has driven the company to its current strength and what its plans are for the future.
Challenging environment
In the short term, 2015 proved to be a good year for the non-life insurance sector in the Philippines. While there was heightened competition among industry players, the country was spared a major catastrophic event.
When it comes to the Philippines, however, there is always the potential for the unexpected. Echauz said the tough environment has turned Standard Insurance into an organisation that can make unique contributions to, and compete in, the global property and casualty industry.
"To be able to offer high-quality, catastrophe-responsive insurance to our customers, we adhere to a robust risk-selection process, augmented by the use of our digital catastrophe risk modelling system that combines geographic information system and hazard mapping technology", he said.
To work in such a challenging environment, insurers need to come up with innovative solutions to stay competitive. One area Standard Insurance focuses on is automotive cover, which presents its own regional challenges. "Inadequate infrastructure in the form of a limited road network that causes heavy traffic and minimal flood control systems can result in a high level of motorcar collision and flood losses", explained Echauz.
Between the country's underdeveloped infrastructure and limited purchasing power, placing risk within the Philippines is a challenge
The automotive industry is a growing one in the Philippines, with sales regularly exceeding expectations. According to a joint report released by the Chamber of Automotive Manufacturers of the Philippines and Truck Manufacturers Association, automotive sales for the month of June 2016 posted a 36 percent increase from the same month last year. Overall, the sector reported 27 percent year-on-year growth.
Echauz said managing the claims that accompany these new vehicles on the road is important. "Aside from reducing claims frequency by interventions that seek to improve our customers' driving behaviour, we reduce claims expense by maintaining a facility that restores some vehicles previously declared as total losses and recycles others for spare parts."
Standard Insurance's Technical Training Centre (TTC) is a four building, six-hectare state-of-the-art complex used for the refurbishment and resale of vehicles previously declared to be total losses. The facility can also dismantle and sell parts from vehicles declared as total losses. The TTC can currently repair an average of 30 units per month. These refurbished units are now being sold to employees under a lease-to-own package at preferential terms. Eventually, the cars will be sold on the open market, making TTC a loss-recovery and claims reduction centre that will increase income from salvage recoveries.
This is one of the ways Standard Insurance is leading the local industry. "Being one of the country's largest motorcar insurers, our company has developed the ability to process a large number of policies and claims annually", Echauz continued. "Our cost per transaction is quite competitive vis-à-vis global comparables."
Technology innovation
For a national insurance company in a market growing as quickly as the Philippines, making sure infrastructure is in place to meet the needs of clients is important. Tendero explained Standard Insurance is working on innovative IT systems to support its staff and customers.
"Since 2009, we have been developing and maintaining a proprietary general insurance IT system called iINSURE, the core of which was patterned after a system we inherited from Zurich Insurance Group when we acquired its Philippine operations in the early 2000s", Echauz said. "Contemporary, flexible and affordably built in-house, iINSURE provides us the ability to meet the existing and future needs of our customers. Our all-digital business, our nationwide claims servicing processes, our automated motorcar adjustment system, our telematics product and our integrated digital work environment for our associates are possible because of iINSURE."
Important systems like this are in place because of the growing impact Millennials are having on the insurance industry; they are now part of the growing middle class in the Philippines, particularly those involved in the business process outsourcing (BPO) industry. They are becoming increasingly connected and slowly changing the way insurers sell their products and manage claims.
Engaging Millennials in the non-life insurance sector has so far proved a challenge, with many shunning traditional distribution channels such as face-to-face transactions. Instead, insurers are realising simple, affordable and on-demand products are the best way to get people engaged in their insurance. It's a change the insurance industry will have to make worldwide in order to stay relevant.
Standard Insurance has recently fully implemented another innovative IT solution: to ensure accurate and uniform repair estimates at the speed the internet has taught us to expect, Standard Insurance developed the Responsive Appraiser of Photo Inspection Data (RAPID) system. It is a tablet-based, point-and-click solution for in-house motor adjusters. RAPID's use has resulted in claims being processed within two hours, with a target turnaround time of 24 hours, nationwide. The use of RAPID has led to fewer customer complaints, higher customer satisfaction and savings of between five and 10 percent, thanks to the reduction in errors.
Global marketplace
While the Philippines is certainly prone to natural hazards, the country, its people and its industry have always bounced back from adversity. "It is this environment that has led Standard Insurance to carefully make conservative investments in insurance property. It continues to carry out selective underwriting with a focus on maintaining and developing a spread of risk, thus sustaining profitable growth. Avoiding a huge single loss is very important, so monitoring the amount of risk undertaken to limit exposure is key", Tendero stressed.
Aside from strategically selecting risks, equally important is having a reinsurance capacity that adequately covers the company's portfolio. A reinsurance panel that is financially strong and can immediately respond during worst-case scenarios, or when most needed, keeps the company running well. Hence, prior to renewal of treaties, the Reinsurance Team reviews Standard Insurance's existing and expected insurance portfolio vis-à-vis reinsurance support needed. The team also carries out studies of possible catastrophic events and their worst-case scenarios in relation to its portfolio so proper and sufficient reinsurance structure and capacities are set in place.
These are important attributes to have as competition between Filipino insurers intensifies thanks to aggressive marketing promotions and diving rates in some sectors. As the leading automotive insurer in the country, Standard Insurance has been focusing on proper underwriting and intelligent pricing.
Standard Insurance has also been changing its processes to remain competitive. For associates working with the company, Standard Insurance is set to implement the Digital Integrated System Platform, which is designed to eliminate all the remaining manual processes within the company. The information will be available to all associates at any time, and will reduce the amount of paper used across the company.
Future prospects
Between developing its domestic systems and maintaining disciplined risk management, Standard Insurance continues to better position itself to do business on an international scale. The company has been recognised globally for its excellence in insurance service and innovations in meeting the evolving and growing demands of the industry. It has been accorded a National Scale Claims Paying Ability rating of A- and an International Scale, US-dollar denominated Claims Paying Ability of BB-, both with stable outlooks.
Echauz said these high-quality international standards have positioned the company to operate more effectively on a global scale. "Our business process outsourcing subsidiary, Insurance Support Services International Corp, taps the Philippines' large pool of English-speaking educated professionals to provide customer service, claims processing and other insurance-related services on an outsourced basis to US and Australian insurance companies", he explained. "The Philippine BPO industry is expected to generate revenues of USD25bn, employ 1.4 million people and account for six percent of GDP in 2016."
Between all this, the company is in an excellent position for growth. "Our company is excited about growing domestically and also about participating more and more on the global stage", said Echauz. "We are a cooperative partner of a giant Swiss insurer, a BPO partner to a dominant Australian pet health insurer, a BPO partner to a large US insurance IT system provider and a partner to a leading Japanese software company that specialises in recycled motorcar spare parts.
"The possibility of acquiring a foreign insurer, improving it using our technology and substantially increasing its operational capabilities out of the Philippines has, for us, suddenly become conceivable."