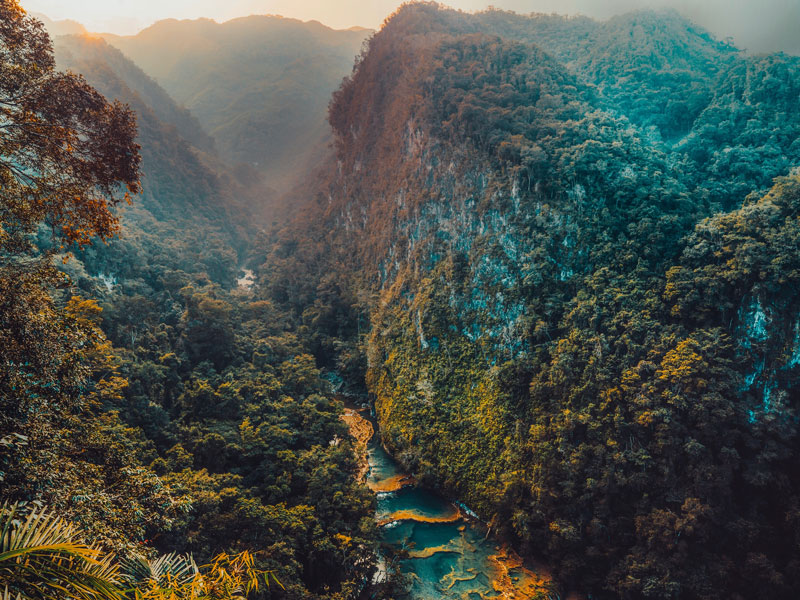 Cobán, Guatemala. The country is one of a number of Central American nations that has seen a dramatic spike in internet connectivity since 2010&nbsp
Interview with:
Juan Carlos Páez, COO, BAC Credomatic
February 5, 2019
After many turbulent decades of civil conflict, social unrest and political upheaval, Central American countries are now in a period of significant transformation. Since the turn of the millennium, these nations – Costa Rica, El Salvador, Honduras, Nicaragua, Panama and Guatemala – have made great strides in quelling violent conflicts to usher in an era of improved social and political stability. This increased constancy has had a largely positive impact on the economies of Central America, with most nations enjoying consistent economic growth in recent years. Indeed, prior to the 2008 global financial crisis, Central American GDP per capita grew at an average rate of three percent annually, marking a strong and stable period of growth for the region. While the financial crash initially had an adverse effect on these emerging economies, Central America is once more experiencing steady growth, bolstered by flourishing free trade agreements and practical regulatory changes.
The demand for secure online payment options places greater pressure on financial institutions to keep up with rapidly evolving customer expectations
Alongside this remarkable social and economic transformation, the region is also currently undergoing a significant digital revolution. Internet and smartphone usage has exploded throughout Central America, with households across the region coming online at an impressive rate. Thanks to lower internet costs and a boom in mobile internet connectivity, internet penetration rates have almost doubled since 2010, with dramatic spikes seen in countries with previously limited connectivity, such as Nicaragua, El Salvador and Guatemala.
As the number of Central American internet users continues to grow by the day, the region is beginning to open itself up to a wealth of exciting e-commerce opportunities. Online sales are booming, with customers increasingly opting to make purchases from their mobile devices. However, despite its considerable growth across the region, e-commerce faces many challenges in Central America, ranging from online security issues to substantial regulatory hurdles. The demand for secure online payment options also places greater pressure on financial institutions to modernise their systems and keep up with rapidly evolving customer expectations. World Finance spoke with Juan Carlos Páez, COO of BAC Credomatic, about the challenges and opportunities of Central America's digital transformation.
How has the e-commerce space evolved in Central America in recent years?
Over the course of the past decade, e-commerce has grown exponentially in Central America. There are many exciting opportunities for this new market to develop and evolve, and online sales continue to boast double-digit growth throughout the region. Considering the recent spike in both internet penetration rates and mobile phone usage, we can fully expect the e-commerce sector to increase in value over the coming years, as more customers are persuaded of the benefits of e-payments and online shopping.
70%
of BAC-Credomatic-owned point-of-sale systems are contactless-ready
80%
of BAC Credomatic's card base is now contactless
Central America is made up of six small, open economies, each of which depends on imports for most of their consumer goods. As such, e-commerce has proved particularly appealing to customers, as it enables them to purchase goods that might otherwise be unavailable to them, or only available in limited quantities at their local department stores. Often, large retailers are simply unable to stock certain items due to limited customer demand, but these goods can be easily obtained online by those who want to purchase them. What's more, online retailers also offer customers competitive prices, large product inventories and the convenience of shopping from the comfort of their own home. This is proving increasingly enticing for many time-strapped Central Americans.
In which areas in particular have you seen the most change?
In recent years, the app economy has begun to drive significant changes in the e-commerce market. Popular apps, such as Uber and Uber Eats, have made major inroads in the region, quickly becoming a part of everyday life for many smartphone users. Costa Rica – which boasts an impressive internet penetration rate of 86 percent – now has the highest percentage of Uber users in Latin America, gaining almost 800,000 users in just three short years. In-app purchases, such as Uber rides, have spurred e-commerce transactions across the region, substantially increasing the number of 'card not present' payments processed in Central America. Furthermore, a number of innovative payment options are beginning to flood the market, as financial institutions look to make card transactions more convenient and time-efficient for their customers. At BAC Credomatic, we have recently introduced the innovative payment solution MiPOS, which is a small, Bluetooth-enabled device that turns any smartphone into a card-processing device. Innovations such as these will help to make card transactions and e-payments more practical and secure for customers throughout the region.
It is also important to recognise that the very definition of e-commerce itself is constantly changing. On the one hand, face-to-face card transactions have evolved from magstripe to contactless, improving security and transaction speed. This improvement in 'card present' transactions is rivalled by the convenience of face-to-face e-commerce transactions, which include those provided by Uber and Compass, BAC's automated RFID payment device for car parks. As these new e-payment technologies become increasingly more mainstream, they are set to redefine the world of e-commerce as we know it.
Have you had to overcome any regulatory hurdles in order to compete in this space?
Regulations can certainly pose a challenge for financial institutions looking to modernise their services, as technology often moves faster than regulators are able to legislate. For instance, when a new customer wants to join a bank or open up a new account, they are required by Central American legislators to provide a physical signature.
This time-consuming step significantly slows down the customer onboarding and verification process, and could greatly benefit from the introduction of digital signatures.
Once customers have successfully opened their account, there are further regulatory challenges to overcome. In one of the countries we currently operate in, the law requires that we take a signature to compare with a customer ID for every transaction – even low-level, commonplace ones. This is proving to be a significant barrier to introducing contactless payments, as customers are still obliged to sign for every transaction that they make, thus prolonging the payment process. As we look to further digitalise our operations and modernise our payment methods, we will be working closely with regulators across Central America to find effective solutions to these issues, and to further explore the benefits of innovative digital payment methods.
What are some of the innovative services that BAC Credomatic offers?
As the first company to offer credit cards and a native mobile banking app in the Central American region, BAC Credomatic has long been at the forefront of financial innovation.
More recently, we have been quick to adopt and take advantage of emerging technologies. In just two years, 70 percent of our BAC-Credomatic-owned point-of-sale systems have been upgraded to contactless-ready, while 80 percent of our card base is now also contactless. In order to capitalise on the recent boom in contactless transactions across Central America, we have also made sure to enable contactless payments on our innovative mobile banking app. Set for launch in early 2019, our newly redesigned app will include a digital wallet feature, allowing our customers to effortlessly make e-payments and complete in-store transactions using their smartphone.
In 2016, we launched Viajes BAC Credomatic, an exclusive travel platform where customers can redeem loyalty points, earning rewards such as discounted flights, hotels and tourist packages. This innovative website not only taps into the recent e-commerce boom that is sweeping through Central America, but also helps to strengthen our relationship with our valued clients, as their loyalty to BAC Credomatic is recognised and rewarded with a range of exclusive offers. Our rewards website has received more than 1.3 million visits in the past year alone, enabling customers to make use of our membership rewards scheme to redeem points and receive exclusive discounted travel opportunities.
How does BAC Credomatic manage to continually innovate in the competitive world of digital financial services?
At BAC Credomatic, we are constantly gathering crucial information that allows us to make practical decisions about investing in new technologies. In this endeavour, we have developed a three-pronged strategy based on how we combine the use of internal and external resources. Within BAC Credomatic itself, we have a team of almost 300 highly skilled developers who are engaged with improving all aspects of the bank's active digital platforms, from our mobile app to our social media presence. This dedicated team has already proved successful in growing BAC Credomatic's digital competencies, and there are many more exciting developments in the works as we look to ramp up our modernisation efforts.
Externally speaking, meanwhile, we are working with a number of innovative fintech companies and other suppliers of cutting-edge technologies. At BAC Credomatic, all of our external partnerships are subject to careful consideration, and we are committed to seeking out the most talented and forward-thinking companies to collaborate with.
Finally, we have also created an ecosystem of non-bank companies to serve as our internal fintech. These companies benefit from independent stewardship and are given a level of flexibility in their operations, allowing them to prioritise innovation and forge ahead with their digital development projects. This seamless and efficient three-pronged strategy has established BAC Credomatic as a leader in financial innovation, facilitating mobile payments and e-commerce opportunities as Central America continues its digital transformation.