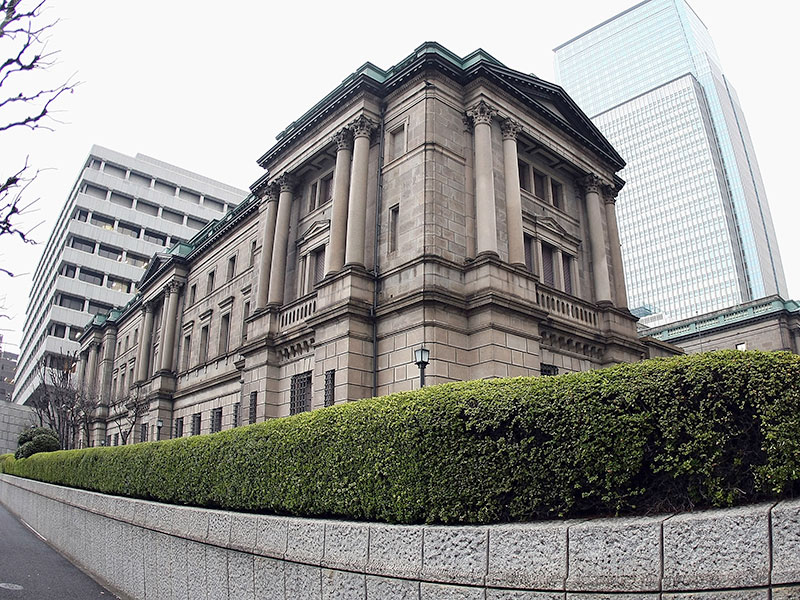 The Bank of Japan's headquarters in Tokyo. The central bank announced that policy rates would stay put and revealed hopes of an optimistic future for the economy&nbsp
On December 20, the Bank of Japan announced that policy rates would stay put, in addition to releasing forecasts for a rosier future for the economy. The bank's statement predicted a "moderate expansion" of the economy and that domestic demand would continue its positive trend, with "a virtuous cycle from income to spending being maintained in both the corporate and household sectors".
While an improved outlook could signal an end to Japan's era of expansive monetary policy, commentators
remain hesitant
Despite administering a large-scale monetary stimulus, the bank continues to grapple with extremely low inflation, which is currently around zero percent. This struggle appears to be coming to an end, however, with new forecasts predicting that inflation will reach its target of two percent in the medium to long term.
The bank will continue to apply its negative policy rate of -0.1 percent, with long-term interest rates remaining at "around zero" percent. Furthermore, the scale of monetary stimulus is to remain steady, with government purchases of government bonds, equities and corporate bonds to continue at a yearly pace of JPY 80trn ($679bn), JPY 6trn ($50m) and JPY 3.2trn ($30m) respectively.
The improved outlook has been attributed in part to expectations that exports will increase in response to healthy overseas economies. Domestic demand is also expected to receive a further boost due to the continued effects of the government's fiscal stimulus, as well as positive financial conditions. The bank appeared optimistic about the nation's business outlook, noting that business fixed investment is on an upward trend due to high corporate profits and improved business sentiment.
While this improved outlook could signal an end to Japan's era of expansive monetary policy, commentators remain hesitant. According to the Financial Times, Bill Adams, Senior International Economist at PNC in Pittsburgh, said: "Until Japan shows signs of a sustained and self-reinforcing cycle of rising wages and consumer prices, the Bank of Japan will leave policy in its current, highly expansionary stance."
It is therefore unsurprising that the bank did not hint at any future tightening of policy, with its statement claiming that the monetary stimulus would continue "as long as it is necessary for maintaining that target in a stable manner".