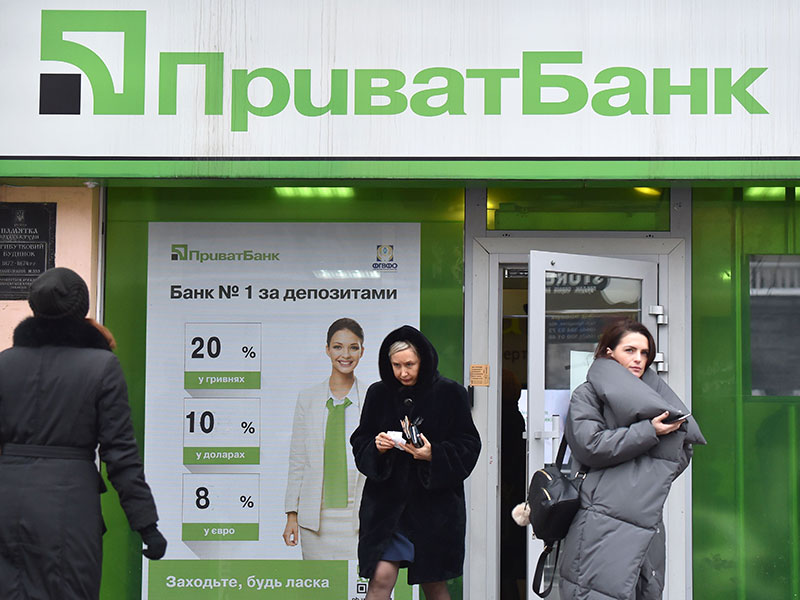 The Ukrainian Government has announced it will nationalise Privatbank, the largest bank in the country&nbsp
PrivatBank, Ukraine's largest deposit holder, has been nationalised in full after being declared insolvent by the National Bank of Ukraine. On December 18, the Cabinet of Ministers of Ukraine approved the takeover, leading the government to acquire 100 percent of the bank's shares.
The state is to contribute to the recapitalisation of Privatbank and take on full control of its operations, with Ukraine's former finance minister Oleksandr Shlapak taking over as president of the bank.
Privatbank currently holds the deposits of 20 million Ukrainian citizens, making up almost half of the Ukrainian population
A joint statement by the Ministry of Finance of Ukraine and the National Bank of Ukraine claimed: "This move will ensure the security of funds and savings deposits placed with this bank, help avert systemic risks to the banking system, and will pave the way for preserving financial stability in the country."
The bank currently holds the deposits of 20 million Ukrainian citizens, making up almost half of the Ukrainian population. Notably, this includes the deposits of 3.2 million pensioners, all of which will remain fully protected. "They all will have unrestricted access to their accounts", the statement explained.
Privatbank is the most systemically important bank in Ukraine, and has been widely regarded as being too big to fail. Ukraine has experienced ongoing struggles relating to the health of its banking sector, which threaten to further exacerbate the nation's fragile economic state. The Ukrainian economy remains unstable amid the nation's ongoing conflict, and was recently hit by a sharp recession, wiping out 17 percent of GDP over the course of just two years.
The decision to nationalise PrivatBank was made in response to a worsening in the state of its balance sheet, which has seen ongoing solvency issues. The bank's precarious position was brought on by irresponsible lending and related capital losses. It is reportedly struggling under the weight of billions of dollars of unpaid insider loans, which have burned a $3.39bn hole in its finances.
Addressing the fragility of the nation's financial sector has been a key target of a $17.5bn loan programme from the International Monetary Fund. Over the past two years, the Ukrainian Government has been undergoing a major cleanup operation, and has shut down more than 80 banks that were allegedly involved in illegal activities.
Ukrainian Finance Minister Oleksandr Danyliuk said: "The government will allocate funds to stabilise the bank, and the required amount of financing for the recapitalisation of the bank have been earmarked in the budget… The budget parameters will remain within the targets set by the IMF programme."
The takeover of the nation's largest bank marks a crucial move in ensuring stability for the country's future, as a crisis in PrivatBank would have had far-reaching implications to Ukraine's already struggling economy.