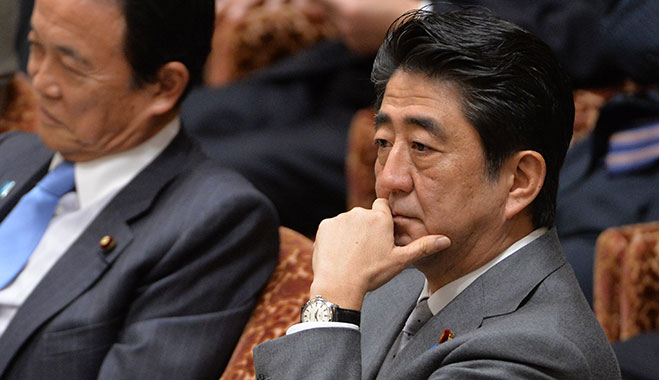 Prime Minister Shinzo Abe's economic policies may lost public support following lower-than-expected last quarter results&nbsp
News of Japan's disappointing growth stats in the middle of February sparked further unrest among analysts and led many to believe that Prime Minister Shinzo Abe's aggressive fiscal and monetary measures will fall short of their intended effect. Granted, the short-term results with regards to inflation are encouraging, given that the BoJ looks on course to meet it's two percent inflation target by 2015 and consumer prices grew at their fastest rate in five years late last year. However, having exhibited early signs of growth owing largely to exports, it's now up to consumers to take the reins and lead the Japanese economy to long-term stability.
Japan's last quarter
Up 1.7%
Exports
Up 0.5%
Household spending
Abenomics has succeeded in reeling the economy from impending collapse, although the vast majority of growth has come by way of exports, which picked up just 1.7 percent last quarter after a 2.7 percent annualised fall in the third quarter. For Japan to level out at the desired two to three percent annual growth outlined by Abe, internal consumption must see something of an uptick in the coming months and years ahead.
Household spending during the October to December quarter expanded just 0.5 percent, which, given that analysts expected 0.7 percent, illustrates just how cautious Japanese consumers are when it comes to spending. In order to boost private consumption and dispel the lingering air of caution, higher prices must be coupled with higher wages so as to lessen the squeeze. And whilst cash earnings saw an annualised rise of 0.5 percent in November, the ever-so-slight boost follows four months of consecutive decline and, when excluding bonuses, means that Japanese wages overall remain unchanged.
Whilst the economy this coming year looks on course to exhibit levels of growth unseen since 2010, rising costs alongside falling wages will see public support for Abenomics plummet for as long as this remains the case. As such, the government is pushing for companies to boost their wages come spring, although many will be hesitant to do so until they're convinced of the economy's emboldened prospects of long-term prosperity.
To compound problems in the consumer space, Japan's sales tax is scheduled to rise to eight percent from five in April, in order to reduce the world's highest debt burden. Not only will the tax hike impact growth on a short-term basis, but also serve to deter consumers from spending further still. The timing comes at an especially inopportune time here in light of Japan's lacklustre growth, and the repercussions could serve to push consumer confidence to new lows.
Expect an uptick in private spending in the months ahead as consumers race to beat the rise, however, once the eight percent rate is put in place, Japan will be forced to contend with even lower sales, and the prospect of additional stimulus measures looks likely to say the least.