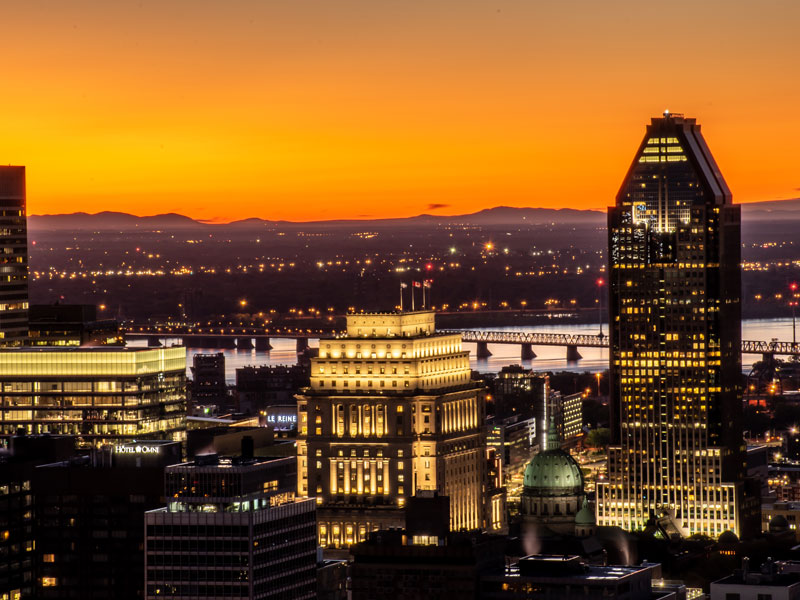 &nbsp
At the start of 2020, the Canadian economy looked set for a solid 12 months. Growth was predicted to pick up slightly from 1.5 percent in 2019 to 1.8 percent (see Fig 1), with the real estate market, in particular, promising investors decent returns. But then the COVID-19 pandemic began to sweep across the globe, undermining economic expectations the world over.
In Canada, despite governmental support packages, the uncertainty caused by the pandemic has led to financial challenges for individuals and businesses. Livelihoods have been lost and many industries will never be the same again. Even when discounting company closures and bankruptcies, a three-month lockdown will cost the Canadian economy an estimated CAD 90bn ($66bn).
In light of the unprecedented situation facing the country (and the world), many financial institutions in Canada have put additional measures in place to support their customers through these difficult times. BMO Bank of Montreal is one such institution, and has offered refunds, deferrals and other support benefits to clients in need. In many ways, the pandemic has strengthened the bank's existing commitment to the wellbeing of its customers and employees.
The pandemic may well lead to permanent changes in the financial sector – ones that banks need to prepare for now. World Finance spoke with Michael Bonner, Head of Canadian Business Banking at BMO, about the measures the bank has put in place in response to COVID-19.
Has the pandemic changed your approach to business or clients?
So far, it has been an extraordinary year for all of us across the globe, with COVID-19 impacting all aspects of life, from the personal to the professional. Unsurprisingly, it has been a challenging time for many of our clients: while dealing with the personal effects of the pandemic, they have also been working to ensure a safe workplace for employees, customers and suppliers.
For BMO, the pandemic hasn't changed our approach so much as reaffirmed it. We often talk about how the bank is great in good periods and even better when challenging times arise. This is clearly one of those times, and we have made it our priority to reach out to all of our clients to let them know we are here for them. Our focus hasn't just been on the financial: we've held many virtual sessions for our business clients to provide guidance on how they can manage the various challenges of COVID-19. This includes access to economists and medical experts, as well as government officials who can help them navigate the myriad financial relief programmes available.
What has made you most proud of BMO's response to the pandemic?
Our purpose is to boldly grow the good in business and in life; our employees across the bank quickly adjusted to ensure that our clients in both the US and Canada were taken care of. In record time, BMO launched a robust set of financial relief programmes for our clients and partnered with the government to facilitate federal relief programmes.
One thing the crisis has shown us is how quickly we are able to respond to change and remove barriers to innovation
Immediately, we had employees from across our teams working together to proactively reach out to our clients and ensure they were aware of the much-needed support. Within a matter of weeks, we had launched an online application with automated fulfilment. Through that system, we've funded over CAD 2bn ($1.46bn) and facilitated support for 56,000 clients.
Given that social distancing is not going away – only easing – we've also focused on helping clients sign up for direct deposits so government payments can be more easily accessed. What has also been exciting is seeing how many of our clients have been able to pivot to a new way of selling, either by adapting from a physical location to online sales or by producing new products. We're pleased to have been able to guide them through the transition, and I'm proud of how our teams came together to support our clients.
Last year, we talked about BMO's digital technologies and data. Have you seen a change in how your clients access your services in 2020?
Partly as a result of the unprecedented circumstances we find ourselves in, we've seen an uptick in digital engagement of about 15 percent over the past year. We need to continue driving innovation in this space – not just because of the crisis, but because clients are looking to bank on their own terms. It's about convenience, customisation and control.
Technology enables success for both the bank and our clients. We've seen increased interest in all our digital solutions, from online applications and approval to e-signatures, quick bill payments and biometric authentication. One thing the crisis has shown us is how quickly we are able to respond to change and remove barriers to innovation. As our staff share their good ideas, we will look to launch them. The key is to continue focusing on what clients need, to be agile and to operate as one bank across multiple teams and specialities.
You've talked about BMO's approach to client experience before. How are you using data and analytics to enhance your interactions with clients?
As a bank, we're in a unique position in terms of the data and analytics available to us for businesses and industries. We're starting to look at ways to use that information to offer a more personalised service to clients. That means looking at inputs relating to our industry, including products used by similar companies, to make recommendations to clients that enable them to grow their business at an accelerated and sustainable pace.
If using data in this way sounds impersonal, it's not. For BMO, banking is a relationship-based business and we pride ourselves on being human in all we do. The real value of analytics is the client conversation it enables. By identifying the products and services that similar clients use, our salespeople can have more informed and helpful discussions with clients. We put insights into our workforce's hands so they can help our clients choose better options for better outcomes.
Which industries does the bank focus on, and do you anticipate this changing in the post-pandemic environment?
We serve clients in all industries and specialise in areas where our clients value deep expertise. COVID-19 doesn't change that, and we continue to see strength in areas of specific focus. We are the number one bank in Canada among indigenous businesses and we continue to put a focus on critical growth sectors such as healthcare and technology, which are currently experiencing transformational change.
In addition, we are about halfway through a three-year project to support female entrepreneurs, in which we have committed to investing CAD 3bn ($2.19bn). This has been one of the most impactful and satisfying investments we've made – to date, we've authorised about CAD 1.8bn ($1.32bn) of investment, and we are about 60 percent of the way through our original investment. The BMO for Women initiative has also had an impact on our own organisation, encouraging us to focus on ensuring representation at all levels of leadership.
Our growth priorities depend on our continued momentum in managing deposits and cash flow. Our strategy centres on winning profitable operating deposits by targeting industries that have significant deposit volumes and value great cash flow strategies.
What are BMO's plans for the next year?
The Canadian economy's resilience during this time is a testament to the strength of the small and medium-sized enterprises that are the bedrock of our business. This segment will continue to be our core focus, with exceptional client experience remaining our primary objective.
This year has cemented some of our most deeply held business beliefs: we truly believe that trusted advice is not a commodity, and we believe the choice of bank is one of the most consequential decisions a business owner can make. As partners, we help our clients manage their challenges and opportunities at every stage, whether they are building, growing, stabilising, expanding or selling a business. Our focus on client relationships is where we have built our brand and our strength, and that is where we will continue our leadership.