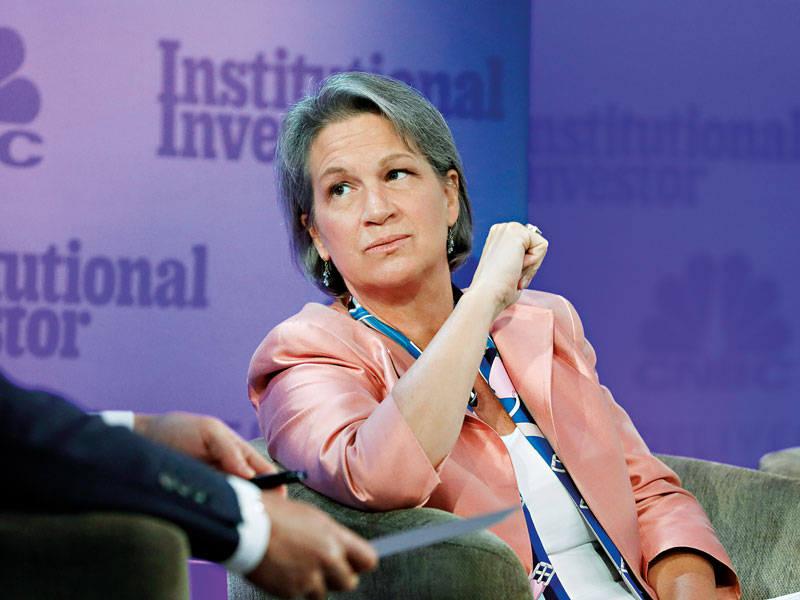 Suni Harford, first female president of UBS Asset Management&nbsp
When Jane Fraser steps into her role as Citigroup's CEO this February, she's set to make history as the first woman at the helm of a major Wall Street bank. That's big news for the industry, and it's not the only example of recent female success stories in finance; in November 2019, Alison Rose made a UK first by becoming head of NatWest Group. The same year, Suni Harford became the first female president of UBS Asset Management. In January 2020, Stephanie Cohen stepped up to co-lead a new consumer banking and wealth management division at Goldman Sachs, putting her in line to compete for the CEO crown in the future.
These announcements mark promising progress – but they also highlight the reality that they're still glaring exceptions to the rule.
The figures speak for themselves; women represent less than one in five positions in the financial services C-suite, according to 2019 data from McKinsey, despite the fact they make up nearly 50 percent of entry-level roles. In the investment sector the image is bleaker still, with women holding just 10 percent of senior roles in venture capital and private equity firms, according to a 2019 study by data firm Preqin. Add that to the fact the gender pay gap continues to reign supreme – with men earning 23.1 percent more than women in financial services on average, according to recent analysis by the BBC – and it's clear there's still a way to go. Institutions are under mounting pressure to improve the situation.
In 2018, the UK Treasury select committee published a women in finance report examining how the industry could improve its diversity credentials. More recently, David Swensen – head of Yale's $31.2bn endowment and one of the US's most eminent investors – threatened to pull money from businesses not increasing women and minority group representation in the coming years.
The maths gap
It's clear the issue is at the forefront of the agenda – but what more should the industry be doing, and why are women still being held back from the industry's top spots? The problem starts with the pipeline, according to Brad Barber, professor of finance at UC Davis' Graduate School of Management and author of the study 'Family, Values and Women in Finance.' His research found that only 30 percent of recent finance majors were women, with fewer girls than boys pursuing maths, leading to a "math gender gap."
"Across countries there is a correlation between the math gender gap and the representation of women in finance," he told World Finance. "This suggests cultural attitudes, which vary across countries, may discourage women from pursuing math-oriented careers like finance. It's also possible (even likely) that the general culture of finance, particularly the stereotype of Wall Street as a male-dominated culture, is not appealing to women." The UK Treasury's women in finance report indeed found that "alpha-male culture" continued to be an issue in the industry – especially around bonuses, where the style of negotiation was seen to "result in higher rewards for men and act as a deterrent for women."
Changing that image, then, is crucial in attracting more women into the field. And that starts with education, according to Amanda Pullinger, chief executive of 100 Women in Finance, a global network working to empower women in the industry. "It's about saying, how can we change perceptions around finance and inspire young teenage girls to pursue it as a career?" she said. "We know there are negative perceptions, but it's an industry that can have enormous impact on the world. There are lots of roles out there, and it's about getting young women inspired to consider them as a career."
Barriers to progression
Yet even among women who do enter the field, the majority don't progress to the highest ranks, according to Alexis Krivkovich, senior partner at McKinsey and author of several studies, including 'Closing the Gap: Leadership Perspectives on Promoting Women in Financial Services.'
"Our 2019 data showed that companies in the finance sector start off with even representation between men and women," she told World Finance. "But this drops by more than half by the time we get to the C-suite."
The research found several reasons for this – but perhaps the most glaring barrier was the fact that many entry-level women simply didn't aspire to the top spots, leading to a divisive "ambition gap." According to the study, only 26 percent of entry-level women surveyed envisioned themselves in a top executive position, compared to 40 percent of entry-level men. This could be due to several reasons, with issues balancing family and working life the number one hurdle, according to the research.
There are lots of roles out there, and it's about getting young women inspired to consider them as a career
Yet perhaps the biggest issue is the fact there are still relatively few female role models in the finance industry to aspire to. In a women in banking survey by the Institute of Leadership and Management (ILM), 70 percent of women cited the greater proportion of men in senior financial roles as a barrier to progression, and 41 percent said a lack of female role models was part of the issue. This creates a self-perpetuating circle. "As women go through the ranks, particularly on the investing side, they tend to be the only one in that group or the only one in the room," said Pullinger. "And that sense of being the only one, particularly if you don't have other women to look up to – that's where a lot of women become discouraged, I think, and find it really hard."
She believes increasing the visibility of women in senior positions, for example by encouraging public speaking and creating peer networks, is an important step in changing cultural stereotypes and encouraging more women to take the leap.
Sponsoring success
Having role models, of course, depends on women getting to these positions in the first place. And for that, the industry needs a bigger emphasis on sponsorship, according to Krivkovich. "Companies should be instituting formal mentorship and sponsorship programmes for younger tenure women," she said. "They should also be coaching managers and senior leaders on how to encourage women to progress." McKinsey's research found that women who received advice on career advancement from managers and senior leaders were more likely to be promoted – but only 34 percent of senior-level women said they had received advice, compared with 44 percent of men.
And it's not just about women supporting women; given men continue to dominate financial leadership positions, they're critical in helping bring about change.
The ILM report found that a "lack of understanding between men and women within the industry" was one of the key obstacles to creating a more inclusive culture, concluding that "while it may seem sensible for women to be mentored or coached by other women, this is not necessarily the best solution."
Pullinger likewise believes getting male peers involved is crucial in the march towards gender parity – especially when it comes to blasting entrenched stereotypes and encouraging women to take up less traditional roles. "In investment, I know so many women who have been pushed or encouraged to go into certain female-dominated areas, like the investor relations side," she said. "What I want to see is a generation of young women, inspired by other female portfolio managers and analysts, coming into the industry and not being put off by the fact there aren't many women on that side."
Good for business
In any case, getting men involved in the fight for parity might well be in their interests. Several studies have shown businesses with greater diversity produce better results; McKinsey found companies in the top quartile for gender diversity on executive teams were 21 percent more likely to have higher profitability.
A 2019 report by Stanford Graduate School found that companies with more women performed better on the stock market, with investors considering these firms more ethical and more likely to think outside of the box. That's likely to become even more important in the coming years, as Gen Y and Z come to dominate the market; in a survey by public relations firm Weber Shandwick, 67 percent of millennials said they were more likely to work at a company that had a formal, stated goal of improving gender equality in the C-Suite.
There are other arguments in favour of hiring more women in financial leadership. A study by economists Peter Kuhn and Marie Claire Villeval found that women tended to take a more collaborative, team-oriented approach – which could have several benefits when it comes to leading the future workforce.
As Pullinger puts it, "I think the world of work is going more and more to a structure where collaborative leadership is needed. And I think it's understood that it's no longer about command and control – that's not how you create better results."
Turning point
Institutions are waking up to this, with several recent senior promotions among women – not least Jean Hynes, set to become CEO of Wellington Management in June 2021, Deborah Zurkow, named Global Head of Investors at Allianz Global Investors in January 2020, and Bea Martin, who became Global Treasurer of UBS in December 2020.
"I have seen a lot more conversation between women and their partners around the distribution of what happens in the home as a result of COVID-19 and more people working remotely," said Pullinger. "For those willing to have that conversation, I'm hearing that this could actually be a blessing in the long term."
Krivkovich agrees this could be a game-changing era. "This time is a unique moment in our history where the future of representation hangs in the balance," she said. "We are at a crossroads – if companies are thoughtful about their approach to diversity, equality, and inclusion, they have a lot to gain. But if they don't address the unique challenges surfaced by COVID-19 – which in many cases has exacerbated the 'double' shift mothers usually take on – they could lose a significant portion of women from the workforce."
Time will tell how institutions respond, but it's clear that pressure is mounting – and those burying their head in the sand might have some very big questions to answer in the coming years.