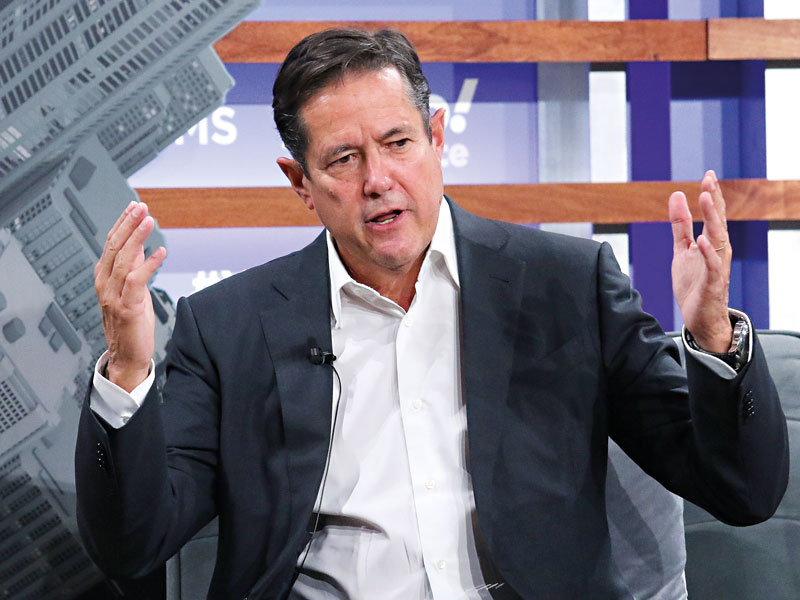 Barclays CEO Jes Staley&nbsp
In the early 1970s, NASA engineer Jack Nilles proposed telecommuting as an alternative to centralised office working. His vision was to reduce traffic, air pollution and energy consumption in city centres by establishing satellite offices, spreading the workforce more evenly across the country and heralding a better work-life balance. His book, The Telecommunications-Transportation Tradeoff, sparked widespread forecasts from futurists about the potential death of the office and the utopian birth of remote work. But the predictions didn't quite come to fruition as envisaged.
Until now, half a century later, when a global pandemic has forced us into our studies, sheds, lounges and bedrooms, and brought about what many are hailing as the most significant workplace revolution of our time. 88 percent of businesses across the world made the switch to home working after COVID-19 was declared a pandemic, according to an international survey by Gartner. And for many it has ended up being more than a passing phase, with both employers and employees waking up to the reality that the office-based 9–5 first brought about in the Industrial Revolution – and maintained for the 200-plus-years since – may have finally passed its sell-by date. Several big-name companies have already announced plans to go remote. Twitter and Square said employees would be allowed to carry on working from home forever if they chose, while Mark Zuckerberg said in a public video in May 2020 that as many as half of Facebook's employees could be working remotely for the next five to 10 years. On the same day, Shopify CEO Tobi Lutke tweeted that "office centricity is over, the future of the office is to act as an on-ramp to the same digital workplace that you can access from your #WFH setup."
Long-term shift
These aren't just one-offs; 74 percent of companies asked by Gartner said they would switch at least some of their employees to permanent remote working after the pandemic. And it's not just a one-way system, with 77 percent of employees (and 82 percent in the finance industry) expressing a desire to continue working from home more than they did prior to the crisis, according to recent data from McKinsey.
This revolution hasn't come out of nowhere, of course. Workers have been calling for greater flexibility for years, with millennials fleeing the confines of the office 9–5 en masse to join the ever-growing gig economy – which has been expanding three times faster than the traditional workforce in the US in recent years, according to a 2017 report, Freelancing in America.
Companies who aren't bound by geography also have a global pool of talent to choose from
Prior to the pandemic, 80 percent of employees wanted to work from home at least some of the time, according to a State of Remote Work 2019 study by Owl Labs – but only 3.4 percent of the US workforce actually did work remotely, according to FlexJobs. Now all that's changed – and how things play out in the future will be interesting to see.
The plus points
Research showing the potential benefits of remote work isn't hard to come by; a study by Stanford University found that remote workers were 13 percent more productive than those working in offices, while American Express found that staff working remotely on its Blue Work programme (which lets employees choose from different styles of work) produced 43 percent more than those in the office, according to Global Workplace Analytics.
Additional flexibility
According to the same source, British Telecom, Best Buy and Dow Chemical all noticed a 35 to 40 percent increase in productivity among their teleworkers. And that's just one of a number of advantages, according to Timothy Golden, Professor at the Lally School of Management. "Research has shown job satisfaction is increased by teleworking," he told World Finance. "It provides additional flexibility to the worker, and often they're able to better balance work and family and sort of manage that boundary."
He also points to another key factor – staff retention. "Remote work is known to decrease turnover among employees," he said. "That's because employees have more choice and autonomy in how they conduct their work, and also because there's more flexibility around location. If someone wants to move city, they can do so without leaving their job."
Owl Labs' 2017 State of Remote Work report found that companies supporting remote work had a 25 percent lower employee turnover than those who didn't. Given the average company spends more than $4,000 on recruiting a new employee (according to the Society for Human Resource Management), improving staff retention rates could save businesses significant sums. It could also make attracting top talent easier in the first place. 35 percent of employees (47 percent of millennials) would be willing to change jobs if it meant they could work remotely full-time, according to a State of the American Workforce report by Gallup. More than a third would take a pay cut if the job allowed them to work remotely at least some of the time, according to Owl Labs' 2019 findings.
Companies who aren't bound by geography also have a global pool of talent to choose from. "Remote work widens the availability of talent to companies," said Golden. "Potential employees could be anywhere in the world – they don't have to be in the same city; they don't even have to be in the same time zone."
Then there are the more tangible cost savings; a State of Telecommuting report in 2015 found that companies saved an average of $11,000 per year for every teleworking employee. Dell has reportedly slashed its real estate spend by around $12m by offering employees the option to work remotely, while health insurance giant Aetna has saved almost $78m in real estate costs on the bank of its remote-working model, according to a report by Reuters. It's not hard to see why so many are making the shift.
The challenges
Yet remote work doesn't come without its challenges. Lack of face-to-face contact can take its toll, according to Golden. "One of the most common disadvantages is the sense of isolation," he said. "There's also increased difficulty communicating. It takes a bit more proactivity in terms of reaching out to others to ensure that your work relationships stay healthy." Jeremy Stein, Managing Director of the British Contract Furnishing Association (who commissioned a report on the future of the workplace as a result of the pandemic), agrees. "Research highlighted collaboration and communication as the biggest obstacle to working from home effectively," he told World Finance. "This was attributed to missing out on important information and a lack of informal communication points. A lack of personal development was also cited as one of the downsides." McKinsey research meanwhile found that those working from home were more likely to be working "around the clock, and feel the need to be available 24/7," according to senior partner Alexis Krivkovich, putting employees at risk of burnout. Others have expressed concerns around data privacy and the potential security risks of relying too heavily on video-conferencing technology.
The future workplace
For these reasons, many predict that a successful future workplace is likely to combine the benefits of remote work with the perks of office life. Barclays CEO Jes Staley has already stated intentions for the bank's staff to return to the City at some point (despite reportedly saying in April 2020 that "the notion of putting 7,000 people in a building may be a thing of the past"). He said on a call announcing half-year results in July 2020: "We do need to get people together physically, I think, to evolve and improve culture and collaboration," adding the bank would still maintain "a major presence in places like Canary Wharf."
Stein likewise believes a central meeting point will still have its place. "The office is not dead," he said. "One of the key themes seen is that the office of the future will act as a hub where teams can get together to build team culture, cohesion, collaborate and integrate new team members. What we are seeing is the demise of the 9–5, five days a week, where people commute in on overcrowded transport systems to sit at their desk for the day."
But for some, the positives of going fully remote might just tip the balance. A survey by financial services firm Hitachi Capital found that more than one in 10 SMEs in the UK want to make almost all of their staff permanently remote. A third said they envisaged having over 50 percent of their staff working permanently from home. Jeanne Meister, founding partner at Future Workplace and author of The 2020 Workplace, believes we shouldn't underestimate the change. "The COVID-19 coronavirus is becoming the accelerator for one of the greatest workplace transformations of our lifetime," she said in a recent Forbes article. "How we work, exercise, shop, learn, communicate, and of course, where we work, will be changed forever." That might sound dramatic, but we're living in unprecedented times. Will the office as we know it still exist in a decade? That remains to be seen, but one thing is clear – we're on the verge of a major shift that's finally putting flexibility over facetime, and it won't only be 1970s futurist Jack Nilles smiling at the prospect.