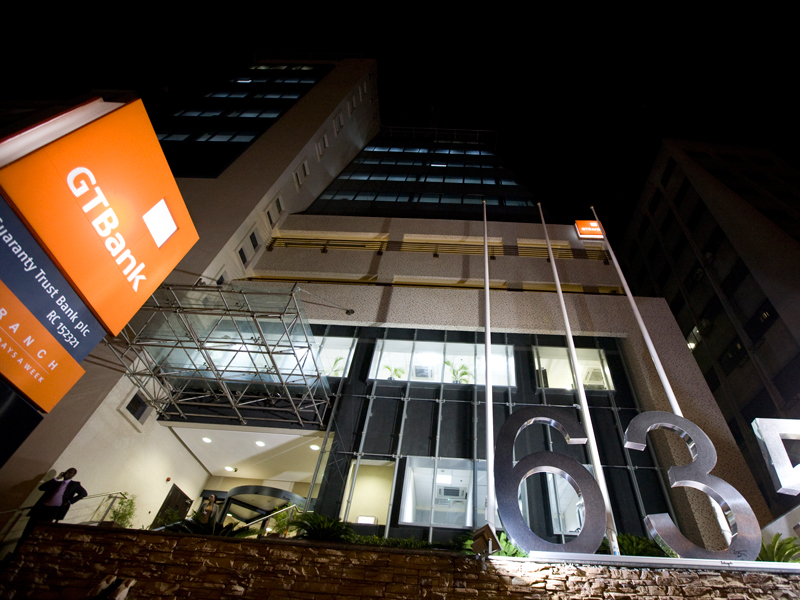 Guaranty Trust Bank's headquarters in Lagos, Nigeria. The bank is enabling more people across Africa access to crucial banking services &nbsp
Interview with:
Segun Agbaje, Managing Director and CEO, Guaranty Trust Bank
For decades, one problem in particular has plagued developing economies: namely, how can we bank the unbanked? After years of searching, a cloud is shifting and the answer is becoming clear. Effectively, technology is the key to solving financial exclusion once and for all.
For every country, financial access is the very foundation upon which economic development can occur
For every country, financial access is the very foundation upon which economic development can occur. Without it, citizens cannot open bank accounts, which impacts their employment opportunities. They cannot start a business, which affects their livelihoods. They are denied insurance, as well as the chance to securely build savings for expenses, such as a child's education. Banking services are therefore critical at every level of society. But how can financial institutions cross the gap between the banked and unbanked population, no matter where they are located nor what their circumstances may be?
Fortunately, we now have a bridge, and it comes in the form of mobile technology: through innovation, banks in Africa are finally able to reach people in the most remote parts of the continent. It is no wonder then that the continent is at the forefront of the digital banking revolution.
"Without a doubt, the easiest and most effective medium for financial inclusion is mobile technology," said Segun Agbaje, Managing Director and CEO of Lagos-headquartered Guaranty Trust Bank (GTBank). "Mobile technology has had a tremendous impact on driving financial inclusion across several countries, starting with Kenya and more recently extending to Ghana. In Nigeria, the impact has been just as significant. With more than 140 million active mobile phone users in Nigeria, financial service providers have utilised mobile technology in order to reach the unbanked adult population, which, 10 years ago, was almost 70 percent of the population. Today, it is less than 50 percent."
Thanks to USSD
Essentially, the use of mobile technology to deliver financial services is one of the biggest developments in banking that Africa has ever seen. Indeed, it has permitted banks to offer far more value to their customers, while also enabling them to extend their products and services to the unbanked.
Elaborating further, Agbaje said: "Take GTBank, for example. Prior to the advent of mobile banking, financial services were not very accessible to most people outside the major hubs of city centres. They were largely unaffordable for the majority of the population too. But now, due to innovations in mobile banking, not only have we successfully reduced the cost of onboarding, we have also reduced the cost of banking for our customers, particularly those in the retail segment."
Given the increasing importance of this trend, banks are now swiftly moving away from brick-and-mortar branches in a bid to acquire new customers and provide an ever-expanding list of services via mobile phones. This in turn has made banking services cheaper, faster and more accessible to more people across the continent.
Among the most important innovations in mobile banking is the introduction of unstructured supplementary service data (USSD). The technology is making waves across the African landscape for its ability to increase access to financial services. Using USSD, which is a global system for mobile communication technology, banks are able to exchange text data between application programs within their network and their customers' phones. Applications can range from mobile chatting, such as WhatsApp, Line and KakaoTalk, to pre-paid roaming, payment and location-based content services.
Crucially, unlike SMS messages, USSD messages are sent via a real-time connection. This enables a two-way exchange of data that is far more efficient and responsive than SMS communication. At present, USSD is the best available communications technology that delivers mobile financial services to lower-income customers and unbanked segments of society. It is unsurprising, therefore, that in developing nations the majority of large mobile financial services deployments are now using USSD as their primary communication tool.
Yet even with the adoption of this technology, hurdles remain. "The cost of data and smartphones remains a challenge to the widespread adoption of internet banking in Africa, even in spite of the fact that most people have mobile phones," said Agbaje. "Nevertheless, I believe this cost will become less of a challenge as data becomes a commodity and the price of smartphones continues to fall."
According to Agbaje, another major challenge is the control that telephone companies exert over USSD communication. "These organisations need to see themselves more as providers of the technology, instead of as competition to banks," he explained. "I strongly believe that all parties involved can reach an outcome that works for everyone, though this may require some regulatory coordination."
Aside from mobile banking and USSD technology, GTBank is making bold investments in data analytics, which is best seen in the organisation's new, cutting-edge data centre. "Running on a 10G network capacity, this centre empowers us with the information we need to assess both how and when we can best serve our customers. Essentially, it guides us in making the important decisions that drive the success of the bank," Agbaje told World Finance. "We are also developing and deploying interactive and intelligent bots, which will help us deliver banking services that are not only faster, easier and cheaper, but also more personal and tailored to the individual needs of our customers."
Moving up
As with any major market shift, teething problems are inevitable. In the financial industry, for example, banks must now contend with a constantly evolving set of customer requirements, together with a necessity to move quickly and invest heavily in new technology – all the while complying with increasingly stringent banking regulations. And yet, despite such unavoidable complications, GTBank has made some major breakthroughs in recent years. "There has been a very significant transformation in the bank; we have transitioned from a high-end wholesale bank with two million customers some six years ago, to a robust retail business with more than 12 million customers," said Agbaje. "Today, we have evolved into a wholesale bank that is powered by a very strong retail base."
Banks must now contend with a constantly evolving set of customer requirements, together with a necessity to move quickly and invest heavily in new technology
Making this move has not been easy; it has required time and careful planning. As such, at the centre of the bank's retail growth strategy is an unwavering goal to digitalise financial services on the continent. "Today, we aren't just serving our retail customers through digital channels – we are going one step further by building a platform that connects businesses with consumers. We are also integrating additional services into our value offering," said Agbaje.
When asked about GTBank's biggest achievement to date, Agbaje replied: "The fact that we have, through sheer determination and an overriding commitment to create sustainable value for all our stakeholders, built an enduring institution that epitomises best practices of transparency and governance. It's one that people all over the world are proud to identify with."
He continued: "I am also proud of the fact that over the years we have built a very robust retail business, which is not only driving the progress of the bank, but also playing a fundamental role in deepening financial inclusion across the country. Another area that I think you'll see us become stronger in is our SME business."
GTBank's 737 USSD banking service has also had a significant impact on how the organisation serves its customers. By leveraging the growth of mobile penetration in Nigeria, GTBank has been able to provide customers with simpler, cheaper and faster ways to bank, while significantly reducing the cost of serving them as well. "We continue to lead the industry in mobile technology by constantly expanding the products and services we provide to our customers," Agbaje explained. "We have been the major drivers of mobile banking in Nigeria, with our 737 USSD-based service leading the way in enabling Nigerians in every part of the country to open accounts, transfer funds, purchase airtime, pay utility bills, withdraw cash and so much more using their mobile phones. We are also working with major stakeholders in the financial sector to develop more superior solutions to tackle what is the last major challenge facing financial inclusion, which is deposit taking."
In addition to making considerable headway in terms of mobile banking, GTBank's growth plans have been sustained. Indeed, its expansion in Africa continues to positively impact its profitability, as well as its brand equity. In December 2017, for example, the bank commenced business operations in Tanzania, which became the 10th African nation in which the bank has a footprint.
Looking forward
Today, technology is central to the financial industry – not only in Africa, but all over the world. "While it is universal, I think that what is unique about the role of technology in Africa's financial landscape is that, up and down the continent, people are leveraging it to create innovative financial solutions. These solutions can overcome legacy challenges, such as our inadequate infrastructure, and solve age-old problems, like the low levels of financial inclusion. Ultimately, it is going to become difficult to separate these solutions from the technology that delivers them," said Agbaje.
In developed economies, there has been a lot of noise around fintech firms, as well as, in some cases, a phobia of them. "Despite all the talk, fintech companies haven't necessarily had the big impact that many expected," said Agbaje. "They look to improve and provide basic financial services, which banks have traditionally done and continue to do well. In my opinion, I see more collaboration and partnerships with fintech firms. In our bank, for example, we have an in-house fintech team that is continuously exploring new opportunities to work with fintech firms and adopt product offerings that fit with our own vision."
This kind of thought process is what enables GTBank to keep looking ahead – so much so that, when asked about the future of banking, Agbaje replied: "For us, the future is already here." He continued: "We're aware of the potential threat posed by non-bank digital players on traditional retail banking revenues. But even so, we are enthusiastic about the amazing opportunities birthed by the digital revolution."
To this end, GTBank is investing significantly in its digital capabilities, not only to mitigate possible threats but to also unlock new and exciting opportunities. For example, in the past year alone the bank has developed two new mobile applications and launched its aforementioned state-of-the-art data centre. It also carried out several extensive upgrades and optimisations to its existing digital solutions.
"Building these digital capabilities has allowed us to offer our customers banking services that are not only faster, easier and cheaper, but also more personal, smarter and readily accessible anywhere, anytime and from any device. More importantly, though, it sets us up for the future of banking: this is something we believe is a single integrated platform that connects customers not just to core banking offerings, but also to everything that they need to thrive, whether they are business owners, service providers or end consumers," said Agbaje. "We are determined to lead this future; it informs our decision to go beyond being a bank to becoming an e-commerce and financial services platform that is focused on integrating value-added services into our core banking offerings."
With innovation being central to its culture, GTBank is always working on something new. Currently, it is leading a project to use digital devices, such as wearables, to deliver banking services. Another project underway involves reviewing how machine learning and artificial intelligence can improve the processing of the bank's most vital services. Finally, Agbaje and his team are engaging in more partnerships and collaborations with other service providers in order to find new ways of adding value to the bank's existing services.
Community drive
There has never been a wider divide in wealth distribution, making it even more important for organisations to invest in the communities in which they operate. "At GTBank, corporate social responsibility (CSR) is the underbelly of our operations, and we approach it not just as a form of philanthropy, but as a core part of how we go about our business," said Agbaje. "For us, CSR is fundamentally about touching lives. We always ensure that our programmes and initiatives have a real and positive impact on improving lives and uplifting communities."
In developed economies, there has been a lot of noise around fintech firms, as well as, in some cases, a phobia of them
GTBank's CSR is supported by four pillars: education, community development, arts and the environment. The team believes these to be essential building blocks for the development of communities, in addition to being prerequisites for economic growth. To support the first, the bank funds programmes that increase access to quality education and improve learning outcomes for students. Another focus involves initiatives that encourage young people to stay in school.
"In terms of community development, we champion causes, support people on the margins of society and work with organisations that share our core values to bring much-needed positive change to our host communities," Agbaje explained. "We see art as an avenue for unlocking people's creative potential, we support several initiatives through which we not only connect with, enrich and educate individuals, but also promote cultural exchanges that break down societal barriers and build global relationships."
When asked what Agbaje himself is most proud of in terms of the bank's CSR initiatives, without hesitation he replied that it was GTBank's work around autism. "Our programmes on autism have helped more than 14,000 people learn and understand how to manage and care for people living with autism," he said. The bank has also provided free one-on-one consultation services to more than 3,200 children, and has led an ongoing campaign to tackle the stigma facing those living with autism.
GTBank also hosts football tournaments, which engage more than 70,000 young people all year round, keeping them in school, teaching them the values of excellence and fair play, and creating an avenue for the discovery of young talent and future professional footballers.
"I am also very proud of what we are doing with the GTBank Food and Drink Fair and the GTBank Fashion Weekend, through which we offer free business platforms to small business owners so that they can connect with consumers and business experts from around the world," Agbaje added. "One of the most exciting things about these events is the remarkable stories we hear from small-business owners, which include testimonies about how rewarding our free business platforms have been for them."
Given the bank's dedication to such initiatives, it is clear that community is at the heart of GTBank's operations. "We have tried to create an oasis in the continent," Agbaje explained. "We like people to see us as an organisation that does things properly. This doesn't mean we don't make mistakes, but we won't go out of our way to do things improperly. In everything that we do, we want to be known for our integrity, hard work, discipline, transparency and as a platform
for enriching lives."
Crucial talent
As any successful organisation knows all too well, talent is the foundation upon which everything else can be built. But the mere act of hiring well-educated, experienced members of staff is only the first step on a long and critical road. "Talent is important in every industry, but talent in itself is never enough," said Agbaje. "The world is littered with people who have abilities, but who actually end up achieving very little. With talent, you need passion, hard work and discipline, and these are values that we cherish and live by every day at GTBank."
For GTBank, it starts with selecting people who have studied at the best academic institutions, as this is a key indicator of their underlying commitment and work ethic. "We also recruit from every academic discipline, because we believe in the diversity of thought and experience that people from different academic fields bring," Agbaje explained. "We are always helping to train, improve and develop our people from the moment they set foot into the bank and right through the course of their careers at GTBank."
The bank achieves this by ensuring that its employees are empowered with specialised skills. "We also teach management skills; we do this in-house, online or in collaboration with other universities around the world. All this is done with the objective of creating an organisation that is truly first class," Agbaje told World Finance. "We first pursue excellence, discipline and hard work; by putting these things at the forefront of our operations, we believe we will always achieve equality. We strongly believe that people should be judged on the basis of what they can offer and not by their gender or tribe."
It is this ethos of equality and meritocracy that keeps GTBank disciplined in its mission to promote financial inclusion in Africa. With major banks steaming ahead with this mission, each day it is becoming clearer that the future of banking in Africa is bright. "We are nowhere near maturity, and Africa has a large population that provides far more opportunities than challenges to growth," Agbaje noted. "That said, over the past decade alone, the banking sector in Africa has witnessed a steady rate of expansion in reach and depth, and it will continue along this route as we take greater advantage of mobile and digital technology."
It is for this reason that Agbaje believes he hasn't even begun to scratch the surface in terms of what the bank can achieve. He said: "As we start to migrate from traditional banking to becoming a digital solutions platform for e-commerce and financial services, we will have the scalability needed to drive exponential growth.
"I also believe that we will continue to lead the future of banking, not just because we will continue to pursue technological advancements and digital capabilities that keep us ahead of the curve, but because we will always stay true to the values of hard work, transparency, integrity and putting the customer at the heart of everything that we do."