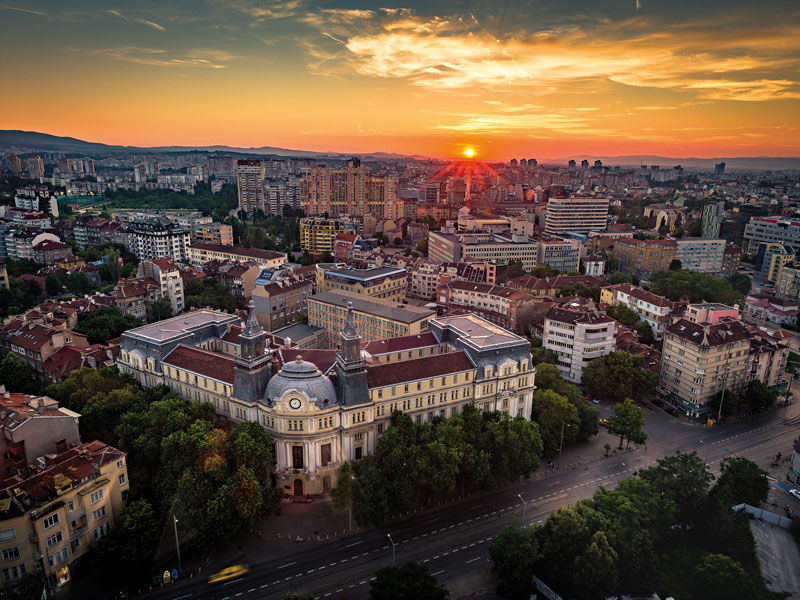 &nbsp
Author:
Petia Dimitrova, CEO & Chairperson of the Management Board, Postbank
Our constant desire to develop, be sustainable and to seek innovation is one of the more typical traits of Postbank and has been for more than 30 years now. During this time, we have proven ourselves as one of the most successful systemic banks in Bulgaria. Logically, we also grew to be a reliable partner, employer and socially responsible company. Furthermore, we have established ourselves as an institution that customers trust and offer them solutions for their future. This would not be possible without the efforts of our entire team. This is why I would like to thank all my colleagues, customers, shareholders and the strong international group of Eurobank to which Postbank belongs.
We offered our customers several next-generation innovations: we were the first bank to introduce Smart POS that turns a smartphone into a POS terminal, the first certified bank to offer instant payments, and the first metal credit card in the Bulgarian market. Another innovation we launched is our unique next-generation mobile wallet 'ONE Wallet' with which customers have an even better customer experience and we will soon be announcing further upgrades. Our customers have active and flexible control over their funds 24/7 which is an irreplaceable convenience nowadays.
Furthermore, in the past two years we started a complete overhaul of our branch network and invested in modern digital express banking zones which were immediately recognised as a preferred alternative to banking at a register. Thanks to the intuitive devices in these zones, our customers can easily and quickly carry out a major part of the main banking operations after simply identifying themselves with their debit or credit card, without having to be registered for internet banking.
Green future
The products and services we offer our customers are developed in line with the contemporary market needs. Excellent customer experience is a permanent part of the bank's corporate policy. We will continue developing it, investing in new technologies and a green future aligned with our ESG strategy.
Our main goal is to be as useful as possible to our customers, providing them an excellent experience and offering them modern solutions, spaces and concepts that best meet their needs at any time and any place. Therefore, we maintain uncompromising standards regarding the quality of our broad spectrum of products and services. Being leaders in the field of digital banking is not only a challenge, but also a motivation to continue growing in this field because our customers appreciate it and expect it from us.
We help businesses adapt by applying no-waste, energy efficient and smart technologies
Our well-functioning model is to use the most advanced technological infrastructure in balance with the human factor, offering clean, fast, personalised and secure services 24/7, servicing our customers – both individuals and companies – large, medium and small, and to contribute to improving the perspectives for the Bulgarian economy and society.
Our strategy is to actively manage our impact on the environment, not to restrict sectors from lending. We realise that implementing the green transition is a complex and lengthy process and we see our role as one in which we help businesses adapt by applying no-waste, energy efficient and smart technologies, investing in innovations of all kinds.
We are confident in the role we have to play in carrying out the green transition – it affects all economic agents, not only businesses but households as well – and without our participation it would not be possible. The significance of introducing energy efficient and smart solutions in both companies and households alike is especially noticeable now, when energy prices are unpredictable, inflation is high, and consumers are trying to find ways to minimise their expenses and save their funds. This is why we offer a broad range of different products to meet the needs of our customers.
Environmental, social and governance (ESG) initiatives become increasingly important within the banking sector since institutions correct their strategies and practices in order to have even better results. Financial institutions have the opportunity to use these initiatives and make them strengths in the market. We recognise our key role in setting the example for our customers and strive to offer eco-friendly products in our loan portfolio in order to be in line with market trends and our customers' changing needs.
This is why, and in relation to the abovementioned market trends, social commitment regarding ecology and the changing needs and interests of more and more customers investing in energy efficient improvements and homes, we will soon launch the market-first green mortgage. This innovative product offers financing for purchasing an energy efficient property (class A and above) or other energy efficiency improvements on existing property (for example purchasing solar panels), aiming at improving the energy characteristics of the real estate. Customers will receive a special interest discount on the interest rate of the mortgage and will be able to save on their monthly expenses for the mortgage.
An efficient offering
We have analogical solutions for business – we offer both standardised products and such that cater to the specific needs of our customers and are in line with the specificity of their activities, so we have a solution to all kinds of situations: purchasing energy-efficient machines, electric vehicles, introducing energy efficiency measures in manufacturing premises, we have solutions for improving process efficiency and energy and raw material consumption. In early 2023 we will also launch a 'green' corporate loan for business.
I would like to point out that Postbank was the first to de facto start the wave of consolidations in the market – initially with the deal for the Bulgarian branch of Alpha Bank in 2016 and later with the acquisition of Piraeus Bank Bulgaria in 2019, carried out for a record-breaking four months which demonstrates our solid expertise. These acquisitions were especially important for us as they provided us a larger market share, bigger branch network, more customers, new opportunities to invest and digitalise and better customer service.
Our main goal is to grow organically but we are ready for new consolidations and will not miss a single convenient acquisition opportunity. The Eurobank group also undertook a series of acquisitions of other banks in the region in 2021.
Last year Postbank completed 30 years of successful presence in the Bulgarian market. On this occasion, a special event was organised and echoing comments made then, Eurobank Group takes pride in Postbank's achievements during these 30 years and enjoys its leading position in the Bulgarian market. The group will remain open to market opportunities to further grow if and when they arise.
It is important to us that shareholders appreciate what we do and wish to support us in our plans for developing business in the Bulgarian market.