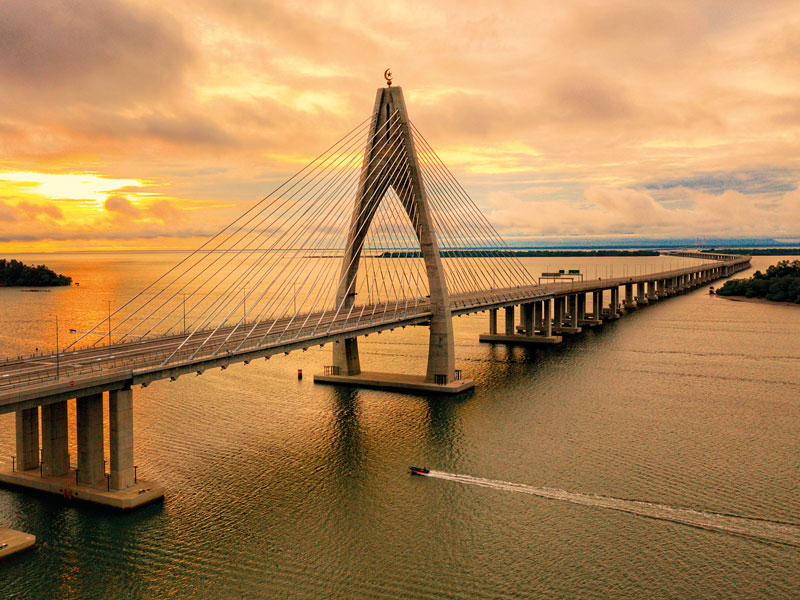 &nbsp
From a humble shop lot office in 1994 to becoming the largest conventional bank in Brunei and a leader in Brunei's banking industry, Baiduri Bank has grown in strides over its 25 years of operation in Brunei Darussalam and its achievements have been recognised by numerous international publications.
"Our successes and position in the economy can be attributed to our commitment to local projects, interests and clients, our responsiveness to react to changes and the foresight to anticipate changes in the global and regional economy, as well as our global outlook," Ti Eng Hui, CEO of Baiduri Bank, told World Finance.
Baiduri Bank's core businesses comprise retail banking, corporate and institutional banking, while its wholly owned subsidiaries Baiduri Finance and Baiduri Capital specialise in consumer financing and investment solutions respectively. Today, technology plays a pivotal role in the successes of economies and businesses, and in improving financial accessibility for the general public, banks need to adopt more technological solutions to cater to customers' evolving needs and requirements.
Technological advancements
With technology now playing a more pronounced role in how businesses and individuals conduct their banking, Baiduri Bank has developed several user-friendly mobile applications in keeping with the digital banking movement. The bank's latest tech offering, Baiduri b.Digital Personal, is a digital banking and lifestyle platform. With a plethora of new features that put emphasis on enhanced customer experience and engagement, the Baiduri b.Digital Personal mobile app sets out to be the go-to solution targeting the young, tech-savvy generation who demand mobile services as their default way of banking. Additionally, Baiduri Bank also has a dedicated internet banking platform for businesses, known as Business i-Banking, which provides a modern, convenient and secure channel for businesses to manage their banking needs efficiently.
Meanwhile the Bank's subsidiary, Baiduri Finance, also offers a standalone mobile app, the Baiduri Finance Mobile App, a tool catering primarily to hire purchase payments, among others. Understanding and being able to cater to the unique needs of the Bruneian customers is crucial to the success of any new offerings, and with automobile financing being a necessity for many, the Baiduri Finance Mobile App provides an easier and faster alternative to meeting their hire purchase needs.
Among their other digital innovations is the introduction of Brunei's first online securities trading platform. "Through our subsidiary, Baiduri Capital, we provide the opportunity for our customers to invest in major stock markets including Singapore, Hong Kong (including the Shanghai-Hong Kong Stock Connect), Malaysia and the US," Ti explained. "Our secure online trading portal allows customers to obtain quotes, place orders and review their account status and balance at their convenience."
This solution, as well as others, is part of our plan to create a future-ready, dynamic and highly skilled workforce
Baiduri Bank is still the first and only bank in Brunei to offer an e-payment solution through MerchantSuite, an online platform facilitating the issuance of invoices and card payments without requiring a dedicated, and often costly, e-commerce website. MerchantSuite enables local small and medium enterprises to extend their market reach by allowing shoppers to pay online with any Visa, Mastercard or American Express cards. Baiduri Bank is also partnering with DST, one of Brunei's largest telecommunications providers, to launch an e-wallet.
This partnership allows Baiduri Bank, the country's largest card issuer with the largest merchant base, and DST to share resources and create the largest digital payment ecosystem in Brunei with connectivity to regional and international payment platforms. While technology has been the driving force behind practically all modern-day innovations within the banking sector and beyond, a crucial aspect that must never be taken lightly is data security. Baiduri Bank is the first and only bank in Brunei to be PCI-DSS certified, reflecting the bank's steadfast commitment to uphold the global data security standard for processing, transmitting and storing cardholder data. Baiduri Bank is certified to the latest industry standard, PCI-DSS Version 3.2.1.
Building for the future
In line with the nation's agenda to build a highly skilled workforce, Baiduri Bank has invested heavily in human capital development. "We have an agreement with world renowned Moody's Analytics for the provision of a structured e-learning solution for our employees under various divisions of the bank. This is a first of its kind for a Brunei bank," Ti told World Finance.
"This solution, as well as others, is part of our plan to create a future-ready, dynamic and highly skilled workforce in line with one of the goals of Wawasan 2035, the nation's long-term development plan for an economy that is dynamic and sustainable," Ti continued. Other initiatives include the implementation of SAP Success Factors, a world-leading provider of human capital management systems covering core human resource processes and talent management, as well as the launch of the Baiduri Management Associate Programme, a year-long development programme aiming to provide successful candidates with a solid foundation in banking through job rotations under the guidance of experienced managers.
In support of the nation's economic agenda to diversify beyond the oil and gas sector, Baiduri Bank continues to play an active role in various local business development programmes. The bank has introduced the Baiduri SME Empowerment Series in partnership with Darussalam Enterprise (DARe), a statutory body with the aim to nurture and support local enterprises in the early and middle stages of the business life cycle. Ti said, "This initiative is aimed at implementing a series of skills training workshops designed to complement existing training programmes offered by DARe, thereby providing a more comprehensive, well-rounded training curriculum to local entrepreneurs, empowering them to achieve greater success in their business ventures."
Baiduri Bank also offers a wide range of solutions for local SMEs to optimise their cash flow and finance their growth. Some of the financing solutions include working capital financing, instalment loans, property loans as well as trade financing options such as indent financing and accounts receivable financing. Through these financing solutions, local SMEs have access to short and medium-term capital to fund their operations or grow their business. Other products designed to serve SMEs include business credit cards, payroll processing and other day-to-day banking services such as fund transfers and bill payments.
Active support measures
Speaking on the bank's response to the COVID-19 pandemic, "We activated our Business Continuity Plan (BCP) for a pandemic on March 12, 2020 after the World Health Organisation declared COVID-19 a global pandemic. But prior to the activation of BCP, Baiduri Bank had already begun taking precautionary steps as early as January 2020, when Singapore announced its first confirmed case," Ti said. The bank activated split operations with alternate teams working in separate physical locations away from the primary site. The bank also performed professional sanitisation of all branches including its subsidiaries. Mandatory temperature screening, social distancing measures, as well as fabricating acrylic shields at teller counters to form a protective barrier, were swiftly implemented across all branches.
The bank also provided personal care kits for all employees as part of its efforts to ensure their health, safety and well-being. In support of efforts led by the Ministry of Finance and Economy and the Autoriti Monetari Brunei Darussalam (AMBD) to assist financially impacted individuals and businesses during the COVID-19 outbreak, Baiduri Bank has introduced several support measures to help mitigate the impact. For eligible individuals who are financially affected by the pandemic, the bank introduced a deferment of principal payment for personal and mortgage/property loans, an option to convert credit card balances to term loans and deferment of hire purchase principal payments through Baiduri Finance.
The bank's support measures for corporate clients include a deferment of loan principal repayments for companies in all business sectors. Additionally, businesses under eligible categories including tourism, hospitality, air transport and food and beverages were also given waivers of fees and charges for trade and payment transactions. These measures were primarily intended to help alleviate the short-term cash flow problems for local businesses that were adversely impacted by the COVID-19 outbreak. In addition, the bank also implemented a fee waiver for online fund transfers between local banks to encourage its customers to utilise digital channels such as online or mobile banking or via the ATMs, in line with safe distancing measures.
Brand refresh
Baiduri Bank launched its refreshed brand in September 2020, following an intensive year-long process of planning, research and assessment in partnership with an international team of brand consultants. It is a culmination of a journey to find out how the Baiduri brand was seen by its business partners and employees and definition of a truer representation of who the bank is and what it stands for.
Ti continued to explain to World Finance: "Our community, and the world around us, is changing and we too must change with it. As we prepare ourselves for the next phase of growth, we want to take the opportunity to have a closer look at our core capabilities in the context of the changing world, and ask ourselves how we can redefine our vision to stay relevant, and to better communicate the strengths and values that make Baiduri unique. We also want to rally our people behind a shared purpose, so they are inspired to do their best to create meaningful impact in the communities we serve."
Well positioned for opportunities
Baiduri Bank's global outlook coupled with deep local insights, strong commitment to the domestic market and quick adoption of new technologies have contributed to its success as the leading conventional bank in Brunei. On the digital payment front, the bank fully supports the primary objective of AMBD's Digital Payment Roadmap to create a digital payment ecosystem by 2025. With plans to continue development and enhancement of its electronic payment capabilities and e-banking services, the bank is on course to be a leading player in the digital banking realm in Brunei.
With a strong credit rating of BBB+/A-2 from Standard and Poor's, coupled with high liquidity, Baiduri Bank is well positioned to capture opportunities in the market and drive sustainable growth as the leading and preferred financial partner of Bruneian businesses and consumers.