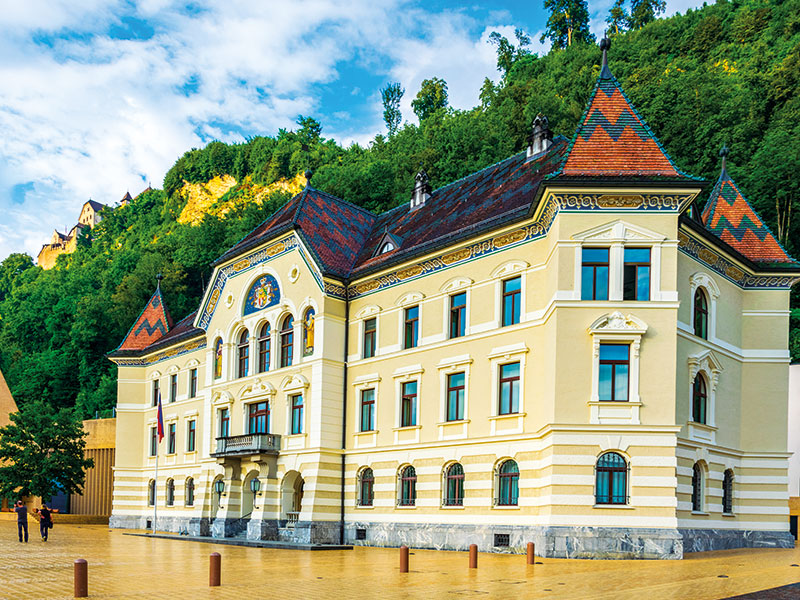 The Liechtenstein Bankers Association actively supports the Waterfootprint Liechtenstein initiative, practising its drink and donate mantra&nbsp
Author:
Simon Tribelhorn, CEO, Liechtenstein Bankers Association
Climate change is an issue that is rightly on everyone's lips. We need to transform our economies and societies swiftly – only then can climate change be combatted and the Paris Agreement become a reality. In order to achieve this, an investment of around €180bn ($201bn) is needed in the EU alone, a substantial chunk of which should come from the private sector.
But sustainability is more than just climate protection. The UN recognised this by adopting 17 Sustainable Development Goals (SDGs) in 2015. These provide a shared blueprint for nations to work in tandem to achieve a more sustainable future for all. They also recognise that ending poverty must go hand-in-hand with strategies that improve health and education, reduce inequality and spur economic growth. Hence, the goals attempt to address the societal challenges we face globally and to leave no one behind.
Shared responsibility
The Liechtenstein Government published its first interim report on the implementation of the SDGs in July, highlighting how sustainable development has been a key priority for some time. For instance, by promoting solar energy since 2015, Liechtenstein has become a global leader in the energy source. Liechtenstein has also launched pioneering public-private partnerships for environmental causes.
Liechtenstein's financial community and regulatory authorities have considerable expertise in combatting illicit financial flows
To mark World Water Day in March 2017, Waterfootprint Liechtenstein was launched. The principle behind the project is simple: 'Drink tap water. Donate drinking water.' With this campaign, Liechtenstein is aiming to become the first country to provide access to clean drinking water to every resident, improving the living conditions of around 37,500 people in the process.
Waterfootprint Liechtenstein is well on the way to achieving its target: to date, more than 22,000 'waterfootprints' have been activated. The government, schools and numerous organisations, including the Liechtenstein Bankers Association, support the initiative and practise the drink and donate mantra.
Collaboration and cooperation
Another of the country's progressive projects is the Liechtenstein Initiative for a Financial Sector Commission on Modern Slavery and Human Trafficking, which aims to end human trafficking and modern slavery for good. The project is a partnership between the governments of Liechtenstein, Australia and the Netherlands, along with the United Nations University Centre for Policy Research and a consortium of banks and philanthropic foundations. The Liechtenstein Bankers Association and its members are part of these supporting organisations – for good reason.
According to the UN, more than 40 million people globally live in captivity, are exploited by forced labour or suffer another form of injustice. Some 25 million people are forced into labour, 16 million of whom are in the private sector. Although 58 percent of slavery cases take place in India, China, Pakistan, Bangladesh and Uzbekistan, around one million people in Europe also live in similar conditions.
The International Labour Organisation estimates that around $150bn is traded annually worldwide through slave labour and human trafficking. This is where the financial sector comes in: it can be implicated in various ways, such as by handling money generated from such practices, or by financing goods and services whose supply chains include modern slavery or human trafficking. In fact, modern slavery and human trafficking are the largest contributors to money laundering and terrorist financing in the world today.
Driving change
In light of the global nature of this crime and the need to access financial data in order to identify abuse, the involvement of the financial sector is essential. Liechtenstein's financial community and regulatory authorities have considerable expertise in combatting illicit financial flows, and can play a pioneering role in tackling these crimes. This can be through the promotion of high due diligence standards, the development of responsible investments or the promotion of inclusive financial technologies. For this reason, Liechtenstein banks and the Liechtenstein Bankers Association actively support the Liechtenstein Initiative.
The Financial Sector Commission on Modern Slavery and Human Trafficking has been holding global consultations since September 2018 to discuss how the sector's approach can be reformed to facilitate responsible lending and investment through industry-wide innovation. Based on these consultations, a catalogue of measures that places the global financial sector at the centre of worldwide efforts is now being devised. This catalogue will not only help to bring those who exploit others to justice, but it will also advise financial institutions on how to protect themselves against these investments and transactions.
It is time to ban unworthy working conditions and forced labour. A ban would also contribute to more climate protection, as legitimate jobs can be regulated to ensure less environmental pollution is caused and taxes are paid. The Paris Agreement can therefore be adhered to, and the holistic approach of Liechtenstein can be used to best implement the much needed-working and climate reforms.