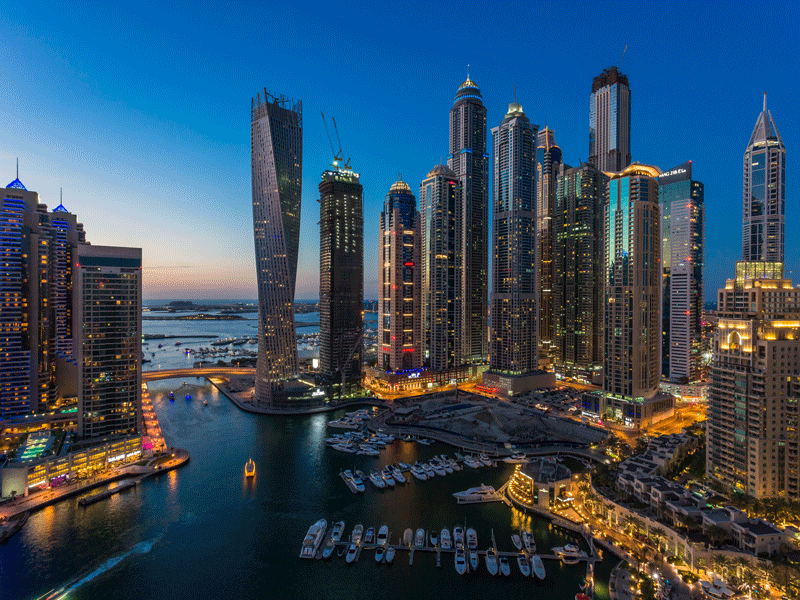 A fall in market prices can greatly affect monetary supply in oil-dependent countries. However, the UAE's burgeoning financial sector has helped to mitigate any potential liquidity issues&nbsp
Author:
Subroto Som, Head of Retail Banking Group at Mashreq Bank
January 17, 2018
The United Arab Emirates (UAE) may be less than half a century old, but it has already chartered a course for rapid economic development. Petroleum plays a significant role in its growth as, according to OPEC, about 40 percent of its gross domestic profit comes from its oil and gas output.
However, the economy of the UAE is about much more than just oil. The country already has the most diversified economy of all Gulf Cooperation Council (GCC) members, with construction, manufacturing and tourism all increasing in significance. In fact, non-oil growth in the country is expected to remain above three percent for the medium-term future at least.
Technological innovation is a key area of importance for banks in the UAE, with many institutions making huge investments in order to stand out from the competition
The financial sector is playing an increasingly vital role in the domestic economy, as it enables consumers and businesses access to the capital they require. By placing innovation at the core of its business, Mashreq Bank has swiftly become one of the UAE's leading financial institutions. Although the bank recognises that the industry has evolved markedly over the past 50 years, it believes that the development of new technologies will usher in much more dramatic change in the coming years. World Finance spoke to Subroto Som, Head of Retail Banking at Mashreq Bank, to discover more about the innovative approach the bank is taking.
Responsible growth
In oil-dependent countries, a fall in market prices like the one experienced recently can greatly affect monetary supply. Fortunately, the UAE's burgeoning financial sector has helped to mitigate any liquidity issues. The total assets held by banks between 2014 and 2015 increased by 7.5 percent, with consumer confidence in the banking sector growing
all the time.
Being the oldest bank in the country, Mashreq is playing a significant role in the development of the banking sector, as Som observed: "Throughout its 50-year history, Mashreq has differentiated itself through innovative financial solutions, making it possible for customers to achieve their aspirations." He added: "Today, Mashreq has a significant presence in 11 countries outside the UAE, with 21 overseas branches and offices across Europe, Asia, Africa and the US."
Retail banking has become a key part of Mashreq's portfolio, with branches in Egypt, and Qatar. The organisation's solid track record of financial performance has also played a key role in facilitating its international expansion, allowing businesses and consumers to trust it with their assets. It is also the reason why the bank has been able to sustain its performance in the face of market slowdowns and regional headwinds, with net profit rising to AED 557m ($151m) in the first half of 2017.
However, growth must not be pursued recklessly. Corporate social responsibility (CSR) should be at the heart of all initiatives. In keeping with this spirit, Mashreq uses information provided by the Al Etihad Credit Bureau to assess each customer's creditworthiness before supplying any loans.
"In 2017, Mashreq became the only financial institution in the UAE to be accredited with Dubai Chamber's CSR label for the sixth consecutive year," added Som. "Mashreq has several financial literacy schemes, including the digital initiative Foloosy. The campaign aims to prevent people from taking on too much debt."
Indeed, the financial crisis of 2008 provided a huge wake-up call to the global banking sector. Institutions can no longer chase unsustainable profits. Instead, investments in community initiatives, philanthropic endeavours and environmental causes are receiving greater prominence.
Endless innovation
Technological innovation is a key area of importance for banks in the UAE, with many institutions making huge investments in order to stand out from the competition. Today, Mashreq is committed to becoming a leader in digital banking in the GCC region. In 2008, it was one of the first organisations to create a mobile banking app, even though smartphones were not ubiquitous at the time. As Som noted: "Innovation is about reading trends and knowing what will work out in the future."
Although technological solutions are growing at a rapid pace, they are altogether useless unless customers are willing to embrace them. Fortunately, the UAE has a huge tech-savvy populace that trusts digital platforms to handle their financial needs. Som said: "At Mashreq, 91 percent of transactions are done through our digital channels and 90 percent of inquiries are made via mobile and online platforms. We are investing in new capabilities to drive this closer to 97 percent in the next 12 months."
Mobile technology is having a similarly disruptive effect on the sector and is likely to become the epicentre of digital banking as the technology evolves. Som explained: "In the UAE, the infrastructure for digital is well entrenched. Mobile phone penetration is now at a record 233 percent. The latest research reveals that at least 80 percent of urban consumers in the UAE now prefer to do a portion of their banking through digital channels."
Unsurprisingly, a new generation of customers is changing the way banks do business in the UAE. They use a wide range of connected devices and demand ease and convenience to accomplish day-to-day financial tasks. "The oldest customer using our mobile banking application, Snapp, is almost 92 years old, while the youngest is 18," Som added. "This new generation constitutes a broad spectrum of age groups, and we aim to cater to these customers and their changing needs."
Customer trends
As a digital future becomes inevitable, it is clear that customers are no longer satisfied with traditional banking methods. However, shiny new apps and slick websites are not enough.
The expectations being placed on banks are changing, and customers are now much more willing to switch their allegiance if it means they will receive better service. Indeed, size is no longer the main factor for determining a successful bank. Speed, agility and customer experience are all vital. This is why Mashreq has launched its new branchless digital bank, Mashreq Neo, to create the immersive digital experience being demanded by today's connected generation.
Som explained: "Neo goes beyond just a full suite of products and innovative services. It leverages big data, new technologies and advanced analytics to offer a totally digital banking experience to the customer. Our goal is to stand out by offering customers an intuitive and seamless banking experience."
Although the necessity of physical banking may be under threat, Mashreq is not sounding its death knell just yet. As Som observed: "Despite the allure of digital offers, physical channels will continue to play a major role." In fact, the bank believes that human interaction will remain important, especially in complex financial transactions. Technology will not eliminate the bank branching experience; it will simply transform and improve it.
The road ahead
Even as technological growth creates opportunities for banks to grow and expand, it also poses a threat to the established order. Digital solutions are emerging rapidly, and whichever banks or financial institutions figure out how to utilise them best will be the ones that end up capturing a large proportion of the market. In the world of banking, there is only one certainty: disrupt, or be disrupted.
Since its founding, Mashreq Bank has seen many challengers come and go, and watched the industry change massively. Although fintech firms may offer something different to conventional financial institutions, that doesn't necessarily mean they pose a competitive threat.
"We have something that fintech companies don't have access to: enormous stores of in-house data, including customer demographics, transaction information, product usage and credit behaviour," said Som." Having said that, the next logical step is for fintech companies and banks to work closely together to reduce pain points and deliver a better customer experience."
Mashreq has managed to cement its position as an industry leader in recent years, but the bank is well aware that further industry changes are on the way. Investment in artificial intelligence, robotics and other technologies has been made over the past two years in preparation for the digital future.
Mashreq's reliance on human resources is on the wane as technology begins to play a greater role in the financial sector. Efforts to transform and digitalise internal capabilities will also include the automation of requests made through front-line staff in physical branches, which should result in a reduction of manual paperwork and save on recurring costs.
The strong uptake of digital banking in the UAE presents significant opportunities for Mashreq, but it will not be an easy process. Becoming a digital banking leader requires a deep commitment to a hugely transformative process. Mashreq's aim is to harness new technology to re-invent the customer experience, simplify and streamline internal processes, and re-purpose branch networks. As Som said: "Consumer behaviour is changing fast and the ability of banks to influence this is exciting. Technology allows us to do that."
Ultimately, many digital solutions now being used in the UAE have been available for a long time, but they are rapidly becoming more affordable and, as a result, are being made accessible to a larger audience. It is taking the banking sector to a place that was once a technological impossibility. It is quickly becoming the reality.