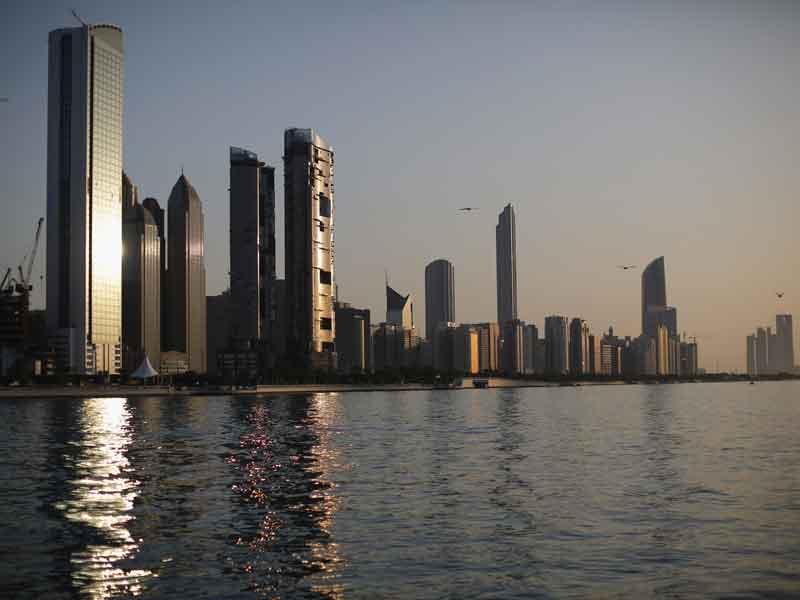 Abu Dhabi, where Union National Bank's headquarters are based&nbsp
Author:
Mohammad Nasr Abdeen, CEO of Union National Bank
December 5, 2017
The financial services sector is an important part of the UAE economy, one that helps much of the region's growth. In 2016, according to the Ministry of Economy, this industry contributed 9.8 percent of GDP and 12.8 percent of non-oil sector domestic product.
The UAE's banks are particularly influential in the sector's overall performance, with commercial institutions playing a pivotal role. Indeed, loans from commercial banks are responsible for nearly 90 percent of total lending in the financial sector.
Last year was not easy for the financial industry as the UAE was hit by new and challenging market realities. These included low oil prices, China's economic slowdown and regional conflicts – the latter of which has weighed heavily on local and international indices.
In recent times, such issues have plagued much of the world, but concerns in the UAE were all the more prevalent considering that its economic growth has been on a persistent downturn since 2015.
Fortunately, the sector has proved to be well equipped to deal with conditions of every kind. As a result, forecasts are now increasingly optimistic, and many expect the region to bounce back by 2018.
In a recent IMF note, the institution predicted that the growth of the UAE's non-oil sector will rise to 3.3 percent in 2017 from 2.7 percent in the previous year, reflecting increased domestic public investment, as well as a pick-up in global trade.
Resilience in times of pressure
In spite of enormous margin pressures, increased impairment pressures and higher funding costs, banks in the UAE have remained immensely resilient. The UAE's banking sector is expected to experience a slight pick-up in lending growth in 2017, given higher oil prices and an anticipated loan growth of seven percent, compared with six percent in 2016.
Union National Bank (UNB) is one of the most stable banks in the UAE, a fact that is reflected in its consistently strong ratings and performance.
UNB has managed to deliver solid results by maintaining strong liquidity and proactively managing its asset quality. Executives at the bank are aware that the road ahead is paved with both risks and opportunities, and they are responding to potential issues by considering sustainability as a vital part of their business strategy.
UNB's operating profit as of June 30, 2017 was up by seven percent, while loans and advances went up by three percent, mainly due to an increase in operating income that included both net interest income and non-interest income.
The UAE Government is expected to pursue many of the biggest investments in infrastructure in the coming year, which have been major sources of profit for the banking sector up until now. However, the uptick of this policy could only be small given the impact of higher interest rates and a slowdown in government spending.
UNB recognises the importance of corporate social responsibility and has done its utmost to promote excellence through various initiatives
The government will also continue to encourage credit for SMEs, many of which were forced to fold in 2016 owing to the dearth of affordable financing solutions. That said, banks remain cautious in their lending to this segment.
UNB's strategic growth plans will continue to play a key role at the heart of the region's capital and financial markets by offering strategic and efficient access to growth opportunities, the best customer services and innovative products and solutions in the UAE and beyond.
UNB's business activities are fully aligned with Abu Dhabi's Economic Vision 2030 guidelines and its prioritisation of the Emirate's socioeconomic progress. UNB's vision, mission and strategy provide a clear roadmap to help it achieve its goals.
The bankruptcy law that came into effect in March 2017 will serve as an instrument of stability and risk mitigation, and provide for the creation of a pre-emptive settlement regime under which creditors will actively work with their customers in restructuring debts.
As the courts oversee the whole process, this would mean greater assurance of repayment for lenders, while businesses are saved from the immediate threat of bankruptcy, allowing them to maintain normal operations.
Al Etihad Credit Bureau (AECB) has started to issue credit scores to UAE citizens and residents. Consumers' credit data has been submitted to the bureau by 59 entities, and 64 institutions have subscribed to the bureau's services.
Customers are now more prudent in borrowing due to uncertainty in the economic outlook, and banks are cautious in lending as they have more information available from AECB.
The implementation of AECB in the UAE is expected to stabilise bank lending, especially with regards to personal lending. Adoption of the Basel III standards for net stable funding ratio and liquidity coverage ratios (to be implemented by January 2018 and January 2019 respectively) should progress smoothly, as most UAE national banks prepare themselves for the implementation of liquidity guidelines.
Raising the game
These changes require banks to be honest about their performance predictions for the future, and not base them on their figures for previous years. Getting banks to think realistically is good for the overall health of the sector. Where there are weak predictions, banks can try to bolster their potential growth through innovation.
One way in which many have done this is by digitalisation: improving the customer experience through operational efficiencies within branches and internal offices.
By focusing on this area, UNB hopes to achieve sustainable and realistic growth in the core lines of its business, such as retail, corporate, commercial and private banking, as well as Sharia-compliant Islamic financing.
The bank is particularly focused on maintaining sustainable returns on average equity and average assets, increased non-interest income, diversity revenue streams, as well as keeping a close eye on costs.
UNB adopts an integrated and multi-dimensional approach to developing its strategy by understanding the needs and expectations of its stakeholders. The bank is greatly committed to promoting customer care and engagement, which it sees as fundamental to building loyalty and trust, as well as innovating to make banking easier and more accessible.
UNB continually updates its website, expanding offerings through mobile and internet banking solutions, and introducing Apple Pay and Samsung Pay. In addition, it has upgraded some of its ATMs so that customers can update Emirates ID records through them.
Some of the key initiatives under implementation are CRM solutions, voice biometrics at UNB's call centres, queue management systems in its branches, and a state-of-the-art platform for online banking for corporate customers.
UNB continues to be recognised locally and globally by leading industry bodies for its accomplishments in the areas of business excellence, customer service and product innovation.
UNB's sustainability framework and implementation of sustainability management principles are based on caring about its stakeholders. UNB will continue to plan ahead to maintain financial solidity and grow shareholder value.
UNB recognises the importance of corporate social responsibility (CSR) and has done its utmost to promote excellence through various initiatives with key stakeholders and the community. The bank has identified several areas that require improvement, including the environment, community, disabilities and Emiratisation.
Last year, the bank took part in numerous CSR activities, becoming a platinum sponsor of Educate a Child and joining Earth Hour, which encourages businesses to turn off non-essential electric lights for one hour. This was done to promote awareness of climate change and the greater need for environmentalism.
A bold expansion
In addition to its CSR activities, UNB has been ambitious about its future, and has recently made the bold move to expand in Shanghai, becoming the first bank from the UAE to open a branch in mainland China.
Using a foreign-currency licence, UNB will provide corporate banking services there, as well as trade finance with Sino-Middle East counterparties that operate within the increasingly important UAE-China corridor.
UNB will also continue to promote bilateral investment opportunities that exist for Chinese companies in the UAE, especially in contracting and project finance.
This latest expansion fulfils the organisation's decision in 2008 to open a representative office in China, making it one of the most forward-thinking in the region.
Executives at the bank believe that the institution's success and growth depend on its ability to create value for stakeholders. UNB achieves this through its plethora of well-informed products and services, contribution to economic growth, social initiatives and careful consideration of the environment.
The bank continually endeavours to address the needs of its stakeholders, making it one of the finest institutions in the UAE and beyond.