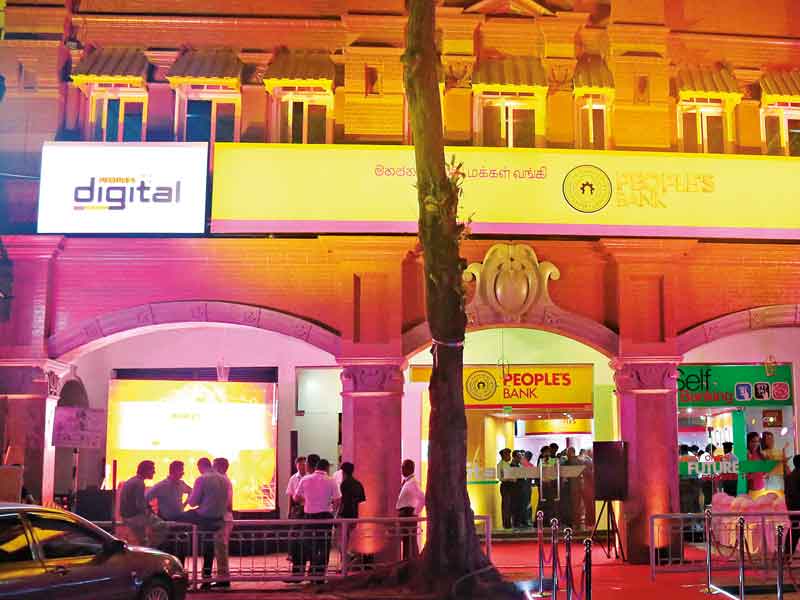 People's Bank now offers self-banking units that house cash deposit machines, kiosks for money transfers, mobile cash transfer facilities and ATMs&nbsp
Author:
Hemasiri Fernando, Chairman of People's Bank, and N Vasantha Kumar, CEO/GM
December 7, 2017
Banking is experiencing a major transformation, with institutions adapting their structures to keep up to date with new demands and requirements from the public.
Sri Lanka is no exception: the country's banking sector is now working hard not only to meet clients' expectations, but also to be one step ahead in offering innovative products and services.
In 2016 alone, internet and mobile banking grew by 75 percent in Sri Lanka, indicating that people and businesses are adopting new tools and facilities at a fast pace.
Financial institutions have also been challenged to achieve sustainable and socially responsible goals in order to build stronger relationships with the environments in which they operate.
World Finance spoke to Hemasiri Fernando, Chairman of People's Bank, and N Vasantha Kumar, CEO/GM, about the digitalisation process and the opportunities ahead.
What challenges does the Sri Lankan banking industry face at present?
The past few decades have seen customers become more discerning and, as a result, their expectations and demands are evolving fast. Customers expect higher returns on deposits, better facilities for advances and innovative portfolios of products and services that maximise the use of technology.
Financial institutions must always stay one step ahead to meet these changing demands, resulting in aggressive competition within the industry.
In rural areas, informal funding channels continue to hold sway due to their low cost. As a result, the banking industry must compete with the non-bank financial sector, which has been growing significantly in recent years.
Fintech companies, which are able to offer convenient borrowing options to daily wage earners who lack the security or necessary credentials to borrow from conventional banks, are also posing quite a challenge to the banking industry.
What opportunities currently exist?
With the world moving towards an increasingly digital environment, banks that don't move with the times will be left behind. But simply making use of new technologies is not enough – keeping up with or, better still, ahead of trends is the key to maximising the opportunities technology presents.
We are looking after our stakeholders, catering for their needs with an updated portfolio that depicts world-class standards
People's Bank places great value on digitalisation because it is through digital channels that we can reach out to customers who have been previously excluded from formal banking.
We are able to offer financial solutions to this demographic at a low cost, allowing us to expand not only our product and service portfolio, but also our reach. Improving the speed of service and delivery is also an essential prerequisite to building and maintaining a sustainable competitive advantage.
How has People's Bank worked to tackle the challenges it faces?
People's Bank is living up to its axiom of being the pulse of the people. The bank is in the process of launching a fully digitalised banking service that resulted in the launch of the Digital Centre.
Furthermore, our portfolio of services has expanded significantly to include self-banking units that house cash deposit machines, kiosks for money transfers, mobile cash transfer facilities that extend to customers and non-customers, and ATM machines for cash withdrawals. These units provide access to financial services 24/7, every day of the year.
Given the constantly transforming environment we operate in, our strategic plan for 2016-20 has been revised and our processes are being revisited to ensure that customers receive convenient and speedy service while we comply with banking regulations.
How is the bank changing to meet new expectations from customers?
Very simply: through digitalisation. We ask ourselves who our current and future customers are, what their aspirations are and what the best way to deliver solutions to them is. The answers converge in a singular digital platform.
Nowadays, technology has no boundaries, nor is it only for certain demographics. In line with current times, customers expect speed and efficiency.
Last year, internet and mobile adoption in banking services increased by 75 percent in Sri Lanka, showing that clients are increasingly relying on solutions at the tip of their fingers.
Now, People's Bank is going further, working to close the gap between urban and rural customers with initiatives designed to meet their evolving expectations.
For example, new digital channels, such as self-banking units which process cash deposits and withdrawals, transfers, inquiries, bill payments and allow for advanced account opening processes, have been installed across the country.
The machines, which scan customers' identity documents, take digital signatures and capture photographs of customers, are only the first stage of the bank's digital banking journey.
After completing this journey, what new opportunities will have opened up?
Digitalisation represents the bank's persistent effort to grow while shaping the industry's environment. We are looking after our stakeholders, catering to their needs with an updated portfolio that depicts world-class standards.
By effectively implementing technologies that not only improve customer service, but are cost-effective and reliable, digitalisation opens up global opportunities to make us a truly international bank
The bank recently posted an all-time high gross income. What led to this achievement?
It's all about creating value. People's Bank is committed to sustainable growth and this is well evidenced by our solid leadership across the industry's indicators, consistent shareholder returns and strong customer relationships.
Each of these factors have helped us build the largest customer base in the Sri Lankan industry, with a total of 18 million customers, and to achieve the highest employee retention.
Such achievements are integral to the success People's Bank has showcased over the past year. One significant factor that must be mentioned is our team's persistence in driving our vision.
The team has pushed boundaries and performance amid intense challenges, reaching impressive new highs. The bank is structured so that it will thrive as the industry develops, and it is this forward planning that led us to achieve LKR 1trn ($6.5bn) each in total assets, deposits and customer advances, something no other bank in Sri Lanka has managed in such a short time period.
These figures attest to our capabilities, which have been developed in line with a comprehensive corporate strategic plan. People's Bank has also achieved other industry milestones: it has built Sri Lanka's largest branch network, launched its first fully digital banking experience and extended the largest self-banking unit network in the country.
Our brand's trajectory has been recognised with various awards, giving stakeholders further proof of our trustworthiness.
What are some of the bank's environmental sustainability efforts, and what have you achieved so far?
In 2016, the bank introduced the People's Green Pulse, a comprehensive environmental sustainability policy that measures, manages and mitigates environmental impact.
Together with the Carbon Consulting Company, and based on a strategy that has the buy-in of a top-down approach spread across every division of the
organisation, the bank has committed to reduce its greenhouse gas emissions through an extensive carbon management programme rolled out over three years.
Having conducted assessments aligned with global protocols and standards, the bank focused on energy, waste and increasing the efficiency of products, services and other resources. For example, the bank's digitalisation process improves its waste management, given that it is paperless.
Additionally, People's Bank launched its green banking concept, which offers concessionary lending to environmentally friendly business projects and promotes the digital banking drive.
It re-launched its young executive saver account, a paperless banking product, which has particularly appealed to Millennials who have a strong green consciousness. The bank is now working to achieve Carbon Conscious certification.
What social and economic sustainability efforts have the bank made, and what success has been seen in these areas?
We are committed to seven of the UN's 17 sustainable development goals. As a respected corporate leader in the financial services industry, we recognise our responsibility to acknowledge the impact of our actions in the country and worldwide.
Thus, our strategy now takes into account a number of global goals, such as fighting poverty, ensuring financial inclusion and promoting decent work. We are also working to close the gender pay gap: we value diversity in the workplace, with 57 percent of our workforce made up of women.
Furthermore, the bank is committed to reducing inequality by empowering communities and granting accessible capital to entrepreneurs and sustainable projects.
People's Bank continues to support the country's infrastructure development, lending to numerous development projects such as power generation, water and road developments. By the end of 2016, the bank had a LKR 202bn ($1.3bn) loan portfolio in this category.
In addition to all of this, the bank continues to host community initiatives, such as developing school infrastructure in disadvantaged areas, supporting projects that appreciate cultural heritage and historic value, and providing assistance in the wake of natural disasters.
From a sustainable development perspective, our focus is on developing entrepreneurship and community-based lending. The bank is using microfinance as an empowering tool, issuing loans mainly for female entrepreneurs.
In partnership with several NGOs and state entities, the bank facilitates community-based lending programmes, which have issued 45,000 loans in key industries including tourism, services, housing and property, agriculture and finance.
What do the next 12 months look like for People's Bank?
Our corporate strategic plan, combined with state-of-the-art technology and an excellent workforce, has formed the blueprint for success. Digitalisation will undoubtedly be the facilitator for us to become internationally competitive in product and service offerings. We now expect to end 2017 with our digitalisation platform fully operational.
Market conditions predict volatility, and the global scene looks uncertain. Key economies are seeing downturns or, at best, stagnation. For Sri Lankans, however, a prudent yet visionary national agenda will undoubtedly bring benefits.
We see renewed confidence in the country, with rising foreign direct investments and global conglomerates showing interest in doing business in Sri Lanka, while the government shows a strategic vision in introducing a stronger economic structure. All of this suggests a promising horizon, in line with our digitalisation process, to move onwards and upwards.