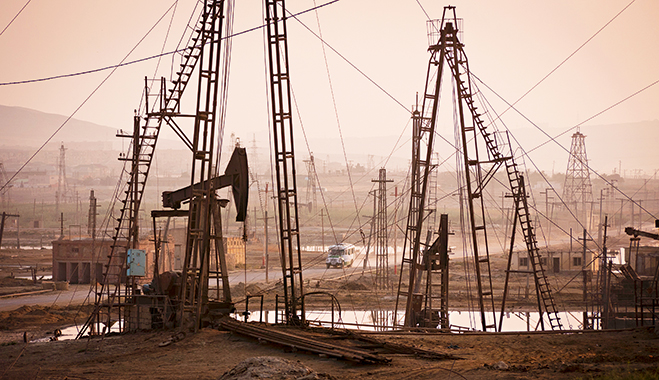 Oil fields on the outskirts of Baku, Azerbaijan. Oil and gas is big business in Azerbaijan, but its government is keen to promote industries such as manufacturing and agriculture to ensure the country's future is sustainable&nbsp
Author:
Farid Akhundov, Chairman, PASHA Bank
August 27, 2014
For many countries that were formerly part of the Soviet Union, it has been hard to establish themselves as independent, modern economies with such a dominant and overbearing former ruler. While some struggle to forge their own way towards economic prosperity, there are others that have been blessed by a wealth of natural resources.
One such country is Azerbaijan, which benefits from a large amount of oil and natural gas (see Fig.1) that has helped to transform the country over the last two decades. However, the country is well aware of the risks that stem from being overly reliant on a finite natural resource. The government has been actively trying to diversify its economy in recent years away from an overreliance on energy and towards more of an even balance with manufacturing and agriculture.
World Finance spoke to Farid Akhundov, Chairman of PASHA Bank, one of the country's leading financial institutions and a company that is spearheading the drive towards opening Azerbaijan up to the wider international investment community.
While Azerbaijan has come to be known for its rich levels of natural resources – it produces around one billion cubic metres of gas a year and 800,000 barrels of oil a day – there is a clear need, recognised by the government, to diversify into other areas, says Akhundov.
"Azerbaijan is an energy country. It has lots of oil and now lots of natural gas. But oil is not a sustainable resource and this is why it is widely acknowledge by the government that there are risks associated with being only a natural resources exporter. The crisis of between 2007 and 2009 affected Azerbaijan slightly after affecting the world market. The realisation of the need to diversify away from a reliance on the oil and energy sector became clear. The government at the time had a regional development strategy and it has actively been pursuing the aim of diversifying the economy into other things."
Akhundov says that Azerbaijan's manufacturing sector has a strong history that should be tapped into once again
A need for diversification
Akhundov says that Azerbaijan's manufacturing sector has a strong history that should be tapped into once again. "Azerbaijan already has traditionally a lot of heavy industry, and especially oil machinery. I remember a Soviet statistic that the country had a concentration of oil machinery factories as high as in the US."
Agriculture also plays a major role in the country's economy, although more needs to be done to turn production into profits. "Azerbaijan is traditionally an agricultural country, with currently as much as 40 percent of the population working in agriculture. But agriculture only yields five percent contribution towards total GDP. This is a huge disparity and so there is a need to diversify away from energy. This all resulted in the government actively promoting regional investment, and there have been various processes to encourage that. Agriculture, for example, is totally exempt from tax."
Another area that the government has been focusing on is the country's lacklustre infrastructure network. After years of underinvestment, it is now dedicating a lot of its resources towards transforming the infrastructure network of the country. "We see now that oil and gas are being pumped to the global market, but there is a great need to create infrastructure inside the country. The government has started to invest money into the infrastructure, which after the Soviet Union was not in a good state. Now the government has almost completed gas distribution to villages in the mountain regions, so that everyone has gas," says Akhundov.
He adds, "Road construction is carrying on across the country, and roads are a major contributor to the regional development. We have airports built in different cities across the country, and there are more being built. The government is also negotiating with international experts about a new, modern railway system throughout the country. This has been a government-driven investment, and less so from the private sector. Up to 75 percent of investment in the country is done by the government."
Although the government has played a central role in building Azerbaijan's economy, the private sector is starting to play its part too, especially in the banking sector. State-run firms providing financial solutions to businesses have largely dominated Azerbaijan's nascent banking industry. However, a gap in the market emerged for a firm that could offer high quality, corporate banking services to larger clients. That is where PASHA Bank came in, says Akhundov. "The company itself is new and the sector is relatively new. Everything that's happening in Azerbaijan we would not have seen 25 years ago. What we realised when we were setting up the bank was that there are opportunities for a commercial bank to start offering services to corporate entities. Before there was just a big state owned bank, but the assets of that bank were declining in share terms of the banking sector. That was mainly through smaller banks only being capable of handling the needs of smaller retail clients rather than corporate clients.
"We realised that there was an opportunity to work with corporate clients, and to start offering investment banking services. Some companies were larger than the banks, and so they demanded new and modern products, wanted to access capital markets, and to raise bonds to finance their operations." The group have also looked at how banks can aid each other in financing, as Azerbaijan lacked a proper interbank market. "Since the inception of the company we have also moved into wholesale banking. We realised that there was not an adequate interbank market in Azerbaijan and to liven it up was an opportunity for a new bank like ours. It allowed us to help set the rules of the interbank market in the country with others. That helped to develop the institutional banking part of the business."
Ticking all the boxes
While Azerbaijanis have welcomed the new range of banking facilities on offer to them from the likes of PASHA Bank, there has also been a considerable amount of interest from overseas to invest in the country. "When we started offering investment banking products, such as underwriting bonds for our clients in local and foreign currencies, then we realised that investors were not only in Azerbaijan, there were also foreign investors that were looking at the country as a potential prospect. The country had oil, good solid macroeconomics and the level of debt to GDP was very low. There were lots of attractions in terms of the macroeconomics of the country. There has always been a lot of potential for investors in the country for good returns," says Akhundov.
"That gave us an opportunity to start positioning ourselves as a gateway to Azerbaijan and as a partner to local companies, foreign businesses, and also as a bank that is capable of understanding the needs of foreign investment houses and financial institutions. In around 2009 and 2010 we started building up our trade finance portfolio, and we also started working with export agencies for various countries, including France, Germany, Italy and Chinese. That gave us a lot of exposure."
PASHA Bank has also been helped by the global knowledge that its senior management has spent time working abroad. "The management team has a lot of international experience. This brought us to believe that we could do be successful during our first three-year strategy. Now we are entering into the last year of our second three-year strategy. We believe that we have become the definitive destination for enquiries about the country and for Azerbaijani risk and corporate risk", says Akhundov.
Providing a gateway to the country is obviously an area that PASHA Bank is keen to develop, but it is also looking at broadening its services to other countries. Akhundov believes that instead of merely being an Azerbaijani bank, PASHA Bank sees itself more as a "regional" player. "We have positioned ourselves as understanding corporate entities and bringing Azerbaijani corporate risk to the capital market. This is initially in Azerbaijan, but we believe we can do it in capital markets outside of the country. We view ourselves now as a regional bank, and not just as an Azerbaijani bank. We have been operating in Georgia for three years and we have identified a bank in Turkey that we would like to own. We have applied for the corporate investment banking license with the Turkish regulator, and we're now waiting for approval.
"This will allow us to underwrite the risks of a corporate entity, do trade finance and participate in the capital markets in Turkey. We believe that we'll be well positioned to handle this business. There's a lot of trade between these countries." PASHA Bank expects to continue developing its five core areas of operation, namely small business banking, medium sized commercial banking, corporate banking for large companies, investment banking, and wealth management services. "The growth is right in the company, and we believe this trend will continue in the coming years. There will be more and more need for banking services for businesses in the future," Akhundov says.
With such ambition, both at home and abroad, PASHA Bank can be expected play a leading role in the region's future prospects. "Our ambitions are to grow in these five directions, spread our operations into new countries, as with Georgia and Turkey, and to make sure we capture a big chunk of trade opportunities both internationally and regionally."