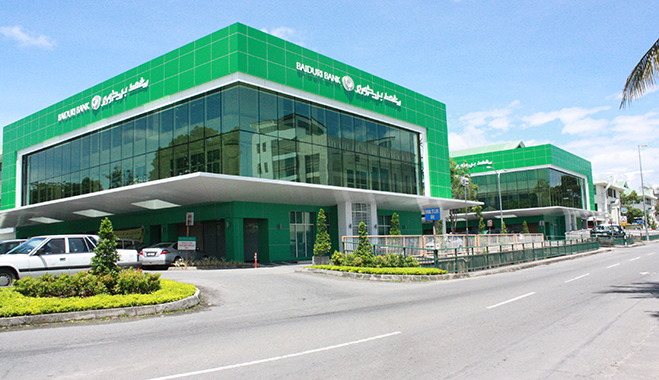 Baiduri Bank Headquarters in Kiarong. The bank has the largest card member base in Brunei&nbsp
Brunei's banking sector has historically been strong. This is due, in large part, to the relatively affluent population who can afford to bank with more than one bank as a safety net. At the beginning of 2014, there were eight commercial banks in the country, including an Islamic bank providing full banking services. One foreign bank withdrew from the market in March, leaving seven players to serve a population of just slightly over 400,000. But industry experts in the Brunei banking industry say it is still a very crowded place.
Soon after the establishment of the Autoriti Monetari Brunei Darussalam (AMBD) as the regulatory authority for the banking industry in 2011, the industry saw a series of new measures imposed by AMBD governing personal loan and credit card business, aimed to protect borrowers from over-indebtedness and to promote a savings culture. A 2013 directive set a maximum lending rate and minimum savings and deposit rates among banks. This reduced the net interest margins for most banks, putting pressure on them to reconsider the size and breadth of their operations, resulting in a number of foreign banks right-sizing their operations and one withdrawing from the market altogether. Many bankers saw the departure as a new opportunity to expand and have upped the ante on hauling in those lucrative customers. And to keep with the changing business environment, banks have been leveraging technological innovations and putting new emphasis on customer service in the hope of retaining their customers.
One such bank is Baiduri Bank, which in recent years has made great strides to cater to all segments of society and become one of the leading banks in Brunei. Established in 1994, Baiduri Bank is part of the Baiduri Bank Group, one of the largest providers of financial products and services in the sultanate. Its shareholders include major players such as Baiduri Holdings, Royal Brunei Airlines, Royal Brunei Technical Services and the French banking giant BNP Paribas. With this strong backing, the bank has worked hard to invest and commit to local projects, interests and clients, in addition to offering global expertise, earning themselves a reputation for financial innovation and pioneering that would benefit the local economy.
90%
of businesses in Brunei are SMEs
413,000
Population of Brunei
"We are committed to providing innovative and comprehensive financial products and services to the Brunei community," said CEO Pierre Imhof in an interview with World Finance. "We are committed to help Bruneians achieve the best in their worlds – be it business, personal finance or family, at different stages in their life."
Tech-savvy consumers
The bank aims to be a financially inclusive organisation through its three main core businesses – retail banking, corporate banking and consumer financing; catering to institutions and corporations, students, working professionals and high-net-worth customers in Brunei. In its efforts to serve all segments of society, Baiduri Bank hold franchise to four different card payment operators: American Express, Visa, MasterCard and UnionPay. Other banks typically only franchise two card brands, which has helped Baiduri achieve the largest card member base, as well as merchant base, in the country. By offering a range of services including online banking, mobile banking, electronic payment services and a marketing app, which features a branch and ATM locator, promotions, product programmes, foreign exchange rates and e-coupons, the bank hopes to meet the on-going demand for innovative and hassle-free banking.
"Bruneians, especially the younger generation, are generally very tech-savvy and can easily learn to use new gadgets. Carrying out banking via the internet or over the mobile phone is already a common thing here. More and more people are turning to electronic banking because of its convenience and mobility. You see fewer and fewer people at branch counters. Usage of cards for payment of products and services is also increasing rapidly and most major banks have introduced electronic branches where customers serve themselves. Mobile banking service is also gaining popularity and I can only see this trend moving forward," said Imhof, who also implied that the bank has several other technological projects in the making, but didn't elaborate further on the details. In this respect, developing technological initiatives has been a way for the bank to maintain and increase its customer base, particularly when looking to attract younger clients.
SMEs in focus
Another key customer group is SMEs, which is a particularly profitable focus for Baiduri. With more than 90 percent of all businesses in Brunei made up of SMEs, developing a relationship with this sector is key when striving for growth. As such, SMEs have been a priority for Baiduri Bank, which offers products and services designed specifically to serve SMEs. These include advice on financing plans with preferential terms, as well as a free of charge payroll processing service, bulk deposit service, an interest bearing checking account and business internet banking to assist companies in managing their banking more efficiently. The aim is to give entrepreneurs and those alike, more time to focus on building their businesses.
"Baiduri Bank has continuously played an active role in the development of SMEs, which the bank views also as our social obligation to the country to nurture and develop local businesses. For the past 10 years, Baiduri Bank has partnered with a leading local company, Asia Inc Forum on an SME partnership programme aimed at nurturing and grooming Brunei's SME's through business awards, networking gathering, business forums and workshops," said Imhof.
Under the Enterprise Facilitation Scheme and the Micro-Credit Scheme, both in collaboration with the Ministry of Industry and Primary Resources, Baiduri Bank has been providing assistance to local entrepreneurs to give them a head start in their business. Also, an online payment gateway enables businesses to collect payment online from their customers via a wide range of credit, debit and prepaid cards through their website and by conjoining a series of merchant services, SMEs are able to conduct business with minimum hassle and financial expenses.
Commitment to the cause
This form of SME support is part of the firm's strong investment in local society, and its broad corporate social responsibility policy. Community projects include raising funds for local charities; a local business development programme that seeks to develop Brunei's SMEs; active promotion of financial literacy among the Bruneians through public seminars and road shows, as well as sponsorships of local groups, competitions and NGOs in order to foster talent among youths.
Particularly interesting is the bank's partnership in the Junior Achievement programme, which seeks to instil the spirit of entrepreneurship among students through an after school programme. Besides providing financial support, Baiduri's staff members volunteer at schools to develop financial literacy, work-readiness and entrepreneurship among students.
To this end, Baiduri Bank Group hopes to foster further growth in coming years, particularly within the SME industry. This comes on the back of a recent rating from Standard & Poor's, which recognised the strong financial performances of Baiduri Bank, as well as steady growth year after year. While many banks saw profitability slide in recent years, Baiduri Bank saw a 12.2 percent increase over 2013 and recorded an operating income of BND98.2m ($78.6m) – an impressive achievement in the current environment (see Fig. 1). These positive developments have opened new doors for the bank, according to the CEO.
"Baiduri Bank's recent achievement of a credit rating of BBB+ for long term and A-2 for short term, with a stable outlook from Standard & Poor's, opens up new opportunities for the bank to look beyond Brunei. BBB+ is an investment grade, which means that Baiduri Bank may go to international market to offer its bond, which will be fully recognised by international investors. The rating is just a notch behind some of the major global and regional banks in the region and it is the first time that a bank in Brunei obtained such a rating," said Imhof, highlighting some of his ambitions for the bank.
Conclusively, with financial strength, international recognition and innovative projects underway, there's no doubt that 2014 will be another record year for the bank.