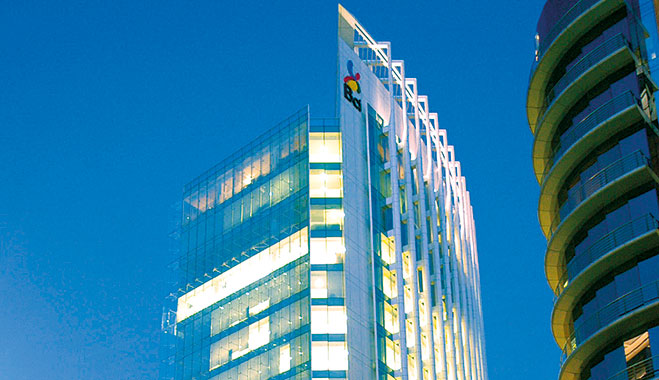 Banco de Crédito e Inversiones's headquarters in Santiago, Chile. The bank is encouraging an open economy through globalisation&nbsp
Author:
Andrés Atala, Head of Investor Relations, Banco de Crédito e Inversiones
July 11, 2016
In the past decade, important agreements between countries, as well as major advances in technology, have enhanced the development of an open and globalised economy. This transformation is an invitation to many companies to expand their operations beyond their geographical boundaries and expand their services further afield.
There are many reasons for a company to adopt a strategy of internationalisation, but they all generally relate to generating new sources of income, geographic diversification, economies of scale and lower production costs. The relative importance of each will ultimately depend on the particular industry in which the company operates.
Some 79 years on from its foundation, Banco de Crédito e Inversiones (BCI) is today one of the most important banks in Chile, with numerous subsidiaries that complement and support its business. BCI boasts more than 360 offices in Chile, five international representative offices, thousands of customers and over 10,500 employees, who responsibly help to maintain the bank as one of the principal players in the Chilean financial system.
In 2015, BCI's internationalisation strategy successfully culminated in one of the most important and complex processes in the bank's history – the acquisition of City National Bank of Florida. Having secured approval from the US Federal Reserve, BCI became the first Chilean company to buy a bank in the US, consolidating its position in the US market. What's more, the acquisition has made BCI the Chilean financial entity with the greatest presence in the US, and also one of the leading Latin American banks in Florida, with consolidated assets of just over $9bn, shared between City National Bank and the BCI Miami branch.
The authorisation for BCI's purchase of City National Bank reflects the financial soundness that has made it a leading bank in the region
Finding Florida
In appraising the new business opportunities this opens up for BCI, it should be noted that Florida is the third-largest state in the US in terms of population and the fourth-largest for bank deposits. The state's GDP is three times that of Chile, and Miami's GDP is similar to Chile's. As a location, Florida is very attractive for BCI; it has a positive investment forecast and a well-regulated market, and is often seen as the entry point for international trade with Latin America.
The purchase price for City National Bank was $946.9m, which was paid to the Spanish bank Bankia, which owns 100 percent of CM Florida Holdings, the parent company of the bank BCI acquired. This figure was higher than the $882.8m stated in the initial agreement between BCI and Bankia, and this was due to approval from the US regulatory authorities taking much longer than initially estimated. Nevertheless, over this period the balance sheet and results of City National Bank increased, so the transaction multiples were higher than at the time the purchase agreement was signed.
For the year ending December 31, 2015, City National Bank of Florida had total assets of $6.478bn, net loans of $4.041bn, deposits of $4.483bn, and tangible equity of $845m. Its net income was $47m. At year-end, these figures accounted for around 11 percent of assets, 10 percent of loans and 13 percent of deposits for BCI. City National Bank also has a high level of tier-one capital, accounting for 17.6 percent, much higher than that of comparable banks. Although this comfortable capitalisation has greatly affected return on average equity, it will give us large growth in this market over the next few years, provided we maintain a sound capital base.
Incorporated in 1946, City National Bank of Florida has 26 branches in the state, as many as 479 employees, excellent brand positioning, and a consolidated management with a renowned track record.
Its business focus is on small and medium-sized companies, real estate, high-net-worth customers and the preferential segment, and BCI plans to help City National Bank of Florida to carry on growing in these very attractive segments. Moreover, with its location in Florida, the bank will be able to foster an important connection with Latin America for those who want to invest in the US, and vice-versa.
Given the demanding nature of US regulation, the authorisation for BCI's purchase of City National Bank reflects the financial soundness and high corporate governance standards that have made it a leading bank in the region. It also signifies an important recognition of the solvency of the Chilean banking system and its correct supervision.
BCI's move into the US complements the bank's presence in Brazil, Colombia, Spain, Mexico and Peru, with China being added last year. This network will prove invaluable in meeting our customers' needs and making their business abroad easier.
By means of branches, five international representative offices, different partnerships and cooperation agreements, and an extensive network of correspondent banks, BCI has a diversified offering of financial services for the import and export businesses of our customers, and for the investments they make abroad or for foreign investment in Chile. This global network has also enabled BCI to diversify its investment and loan portfolio to good effect.
Welcome to the world
The BCI Miami branch was established 16 years ago to support the commercial operations of Chilean customers, whether individuals or corporations, in the US and other international markets. It has customary bank services, including deposits and transactional accounts in the world's main currencies, cash transactions, online banking, credit lines, and foreign trade services.
The branch has a multicultural team of over 50 staff members, all of whom bring significant experience to the table. In addition, as previously stated, BCI has representative offices in Europe, Latin America and Asia. The objective is to support the bank's customers in those regions, and to facilitate investment throughout.
Ever since they opened, these offices have helped to develop investment and business for our Chilean customers abroad. They have also helped create a local risk portfolio, with a geographical dispersion that helps to diversify BCI's business portfolio and facilitate the structuring of customised solutions for large companies.
Similarly, the new office in Shanghai aims to support Chinese companies that might want to do business in Chile, particularly those with relations to local Chinese banks. In the same vein, BCI has a service desk at Banco Popular de España, which aims to provide banking support to Chilean customers who are seeking to start or develop commercial operations in Spain. The same model applies to Chile, with a service desk at which BCI receives Banco Popular de España customers in Chile who are starting operations in our country.
Supporting this, BCI has established trade relations with over 1,000 correspondent banks worldwide. This extensive network gives BCI customers access to the financial services they need for commercial operations in different markets.
By utilising its vast network of global partners and its ties with the many countries in which it operates, BCI has become an important partner not just for individuals and companies in Chile, but worldwide. While internationalisation is indeed a challenging task for any who attempt it, the rewards far outweigh the challenges.