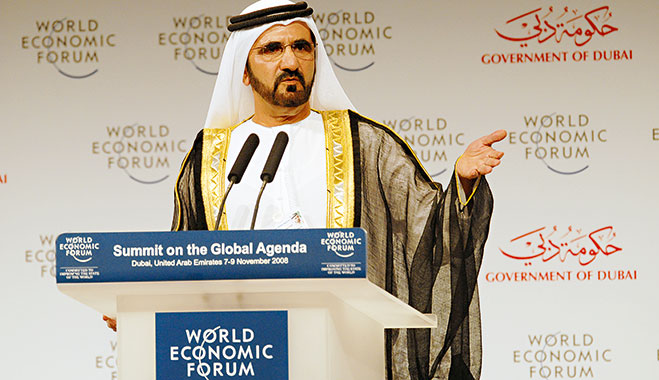 Sheik Mohammed bin Rashid Al Maktoum, Prime Minister and Vice President of the UAE. He intends to make Dubai the world capital for Islamic finance&nbsp
Interview with:
Fathi Ben Grira, CEO, MENACORP
January 14, 2014
The Dubai Financial Market and the Abu Dhabi Securities Exchange are ranked among the best performing markets in the world for 2013. World Finance spoke to Fathi Ben Grira, CEO of MENACORP, about his company's operations.
What is your analysis of the performance of the Dubai Financial Market and the Abu Dhabi Securities Exchange?
The easiest answer to this question would be to say that these markets dropped so much since the financial crisis that the upside could only be important. I would prefer to say that the UAE's markets, the DFM and the ADX, finally caught up with the good results of the country's economy.
Businesses (be they real estate, tourism and hospitality, industry, retail or manufacturing) are booming, supported by strong fundamentals. Investors, seeing that the economy was back on track, started to have faith in the markets again and soon realised that it was more than a rebound – it was a strong trend from which they could make good profits. Several listed companies were clearly undervalued, so it was a good opportunity to get a cheap entry ticket.
Other factors have to be taken into consideration as well, such as the upgrade by the MSCI Index of the UAE markets from a 'frontier market' classification to an 'emerging market' status. This upgrade, effective May 2014, will automatically attract more international financial institutions into UAE markets. This announcement created a positive momentum and reinforced investors' confidence.
On a different note, Dubai was strong favourite to be the city hosting the International Exhibition in 2020. Dubai finally won its bid to host Expo 2020 over Izmir in Turkey, Sao Paolo in Brazil and Yekaterinburg in Russia. According to a report issued by Bank of America Merrill Lynch, Expo 2020 would increase Dubai's economic growth by 0.5 percentage points per year and two percentage points in 2020. The same report put the total cost of financing the Expo at $8.4bn, or 8.9 percent of GDP.
Such figures have been confirmed by one of the most prominent business figures in the UAE (if not the world), HH Sheikh Ahmed Bin Saeed Al Maktoum, Chairman of Emirates. The event would also create more than 277,000 jobs in Dubai, 40 percent of which would be in the hospitality sector and 30 percent in construction, two of the key sectors of the local economy. Investors are well aware of all these figures and translated them into opportunities on the stock markets.
Our company, MENACORP, was a proud official bid supporter for Dubai Expo 2020. In this capacity, we recently organised an event on the Dubai Financial Market's trading floor to voice our full support for Dubai's bid a few days before the official result was announced. Investors, who were present at the DFM that day, were extremely bullish on the positive impact of the Expo and confirmed that it was one of the catalysts that encouraged them to come back to the market. MENACORP's brokerage division is the leader for securities brokerage in UAE markets.
How did your firm benefit from the recent surge of activity on the DFM and ADX?
Our brokerage division is the largest in the country in terms of trading value, sales capabilities and size of clients' portfolios. We are competing with 50 other brokerage firms, some of them being controlled by major international financial institutions or top tier UAE banks. In such a competitive environment, to reach 15 percent of market share is not bad at all. But I believe we can do more. All our employees are working hard for that. Our brokerage team, led by our Managing Director of Brokerage, Nabil Al Rantisi, is comprised of the finest professionals you can find in the Middle East and North Africa region.
With the strong surge in trading volumes, and because of the high scalability of our brokerage business, our profitability has increased substantially; crossing the 50 percent of net profit margin. The profits realised are reinvested, first to make sure that our clients receive a premier quality of service, and second to expand our activity to other markets and other products. The whole idea is to remain constantly ahead of the competition.
In recent months, a potential merger between the DFM and the ADX has been mooted. Is this something you expect to happen?
We have been hearing this for years now, but this time I think it's pretty serious. The relevant authorities and all the parties involved seem to agree that a merger between these two exchanges is much needed and will increase the visibility of the country as a financial hub on the international stage. It will attract more liquidity and will encourage domestic companies tempted by a listing abroad to stay in the UAE. In terms of operations, it will also make everybody's life easier. In my opinion it's a question of months before a clear roadmap will be announced regarding this merger.
The UAE is also home to a third exchange, the Nasdaq Dubai. Could you tell us more about it?
The Nasdaq Dubai can be approached from two angles. First, this market presents itself as the international financial exchange of the Middle East: being based in the offshore zone of the Dubai International Financial Centre and regulated by the Dubai Financial Services Authority, the Nasdaq Dubai benefits from state-of-the art infrastructure and a sophisticated regulatory framework that put it on par with the most reputable exchanges in the world.
The Nasdaq Dubai and the Dubai Financial Market co-brand themselves as 'one exchange, two markets'
The second approach would be to consider it as a quasi domestic market. I like it. I like to see it as a local market with different rules due to its international vocation. The Nasdaq Dubai and the Dubai Financial Market co-brand themselves as 'one exchange, two markets', which is a good thing.
If in terms of activity, the Nasdaq Dubai remains behind the DFM and the ADX, it certainly competes in the same category in terms of creativity. I would even give a clear advantage to Nasdaq Dubai in that aspect. The new CEO, Hamed Ali, leads a very enthusiastic team of professionals who seem to have what it takes to establish Nasdaq Dubai as the market of choice for the region. I am sure that we are going to see several double listings on this market in the coming years if not months. It would be really nice to have companies listed in Istanbul, Mumbai, Cairo or Johannesburg choosing to be listed on the Nasdaq Dubai as well. At the end of the day, this is the positioning of Dubai on the global map: to be a bridge between East and West.
During one of your recent public interventions you said "Arab markets should be considered as one single market." Can you be more specific?
When the crisis hit UAE markets few years ago, you could see the flow of cash leaving the country and going to Qatar or Saudi Arabia. Then, with the Arab Spring, we saw money leaving Egypt and Syria for Dubai and Abu Dhabi. In 2013, Saudi Arabia based investors, as well as several important investment funds from Kuwait, came back to Dubai. 2014, meanwhile, might be a good year for Bahrain, as we are noticing a renewed interest for the destination.
Our clients see it that way. We serve them that way. At the end of the day, we are talking about several countries with a population sharing the same language, culture and, for a vast majority, the same religion. This last factor is really important for the key role of Islamic finance in the region. UAE Vice President, Prime Minister and Ruler of Dubai, His Highness Sheikh Mohammed bin Rashid Al Maktoum, has recently expressed his ambition to make Dubai the world capital for Islamic finance.
We can trust him for this to be a concrete reality: few leaders have his track record in terms of achievements, and I am convinced he will get the necessary things done to reach this ambitious goal and surpass potential competitors like London or Kuala Lumpur. MENACORP will play a role in building this vision. I received a clear mandate from our Chairman, Hamad Bin Ghanem Bin Hamoodah, to position our company as the preferred financial services firm for sharia-compliant investors.