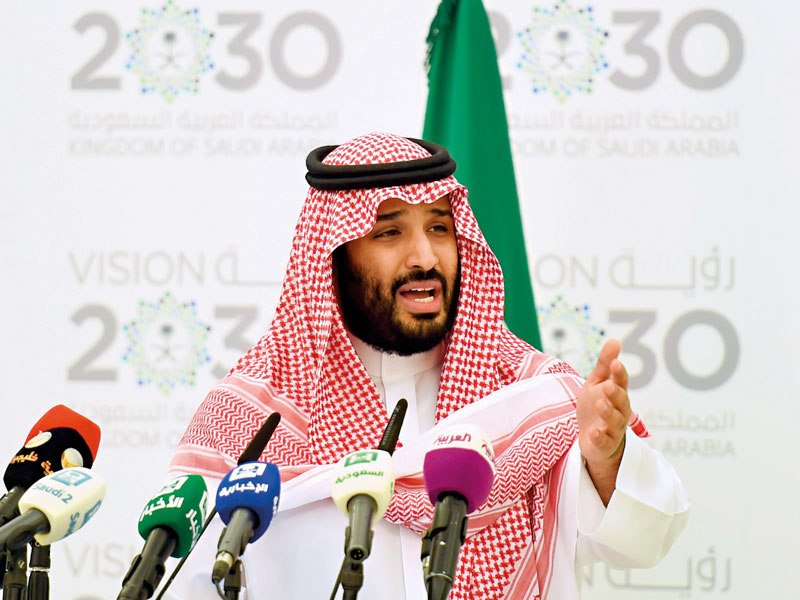 Saudi Arabian Crown Prince, Mohammed bin Salman&nbsp
Author:
Charlotte Gifford
August 14, 2020
In 2019, Saudi Arabia's Crown Prince, Mohammed bin Salman (MBS), seemed close to achieving his plans for major economic transformation. Having raised nearly $26bn for his reform programme through the initial public offering of state oil company Saudi Aramco, the crown prince looked on track to reduce the kingdom's reliance on oil revenues and carve out a place for the Gulf nation as a global entertainment and tourism hub. But the twin blows of the COVID-19 crisis and an oil price collapse are now threatening to pour cold water on his ambitions.
In the first three months of the year, the kingdom entered into a $9bn budget deficit as state spending outstripped income. To shore up reserves, the Saudi Government tripled its value-added tax and suspended the cost-of-living allowance for state employees. In total, government spending cuts amounted to SAR 100bn ($26.64bn) – roughly 10 percent of total expenditure from the original 2020 national budget. Finance Minister Mohammed Al-Jadaan insists the austerity measures, which many Saudis have railed against on social
media, are "painful but necessary".
As part of the cuts, the government has also slashed SAR 30bn ($8bn) from Vision 2030, the strategic framework created by MBS to diversify Saudi Arabia's economy. Al-Jadaan told Saudi television network Al Arabiya that the government was planning to delay some of the projects, which include a luxury resort on the Red Sea and a $500bn futuristic city called Neom, which would be complete with a giant artificial moon. It's the most significant crisis Vision 2030 has witnessed since its inception in 2016, and it could jeopardise Saudi Arabia's chances of achieving economic diversification.
A double blow
Despite its recent diversification push, the oil and gas sector still accounts for roughly 50 percent of Saudi Arabia's GDP. By far the worst impact of COVID-19 on the kingdom so far has been the loss of this income, as crude oil prices were pushed to their lowest level in four years.
"The pandemic creates some short-term damage to the tourism and entertainment sectors, which have emerged as a key focus in the Saudi diversification agenda," Dr Steffen Hertog, an associate professor in comparative politics in the Department of Government at the London School of Economics and Political Science, told World Finance. "This will pass. What is more problematic is the fiscal impact of the [COVID-19] crisis, which has led to a collapse of global oil prices."
To fund its budget, Saudi Arabia needs oil prices to stand at around $85 per barrel, according to the Brookings Institution. In the wake of the coronavirus outbreak, however, the price per barrel plunged to $25. The Institute of International Finance has predicted that Saudi Arabia – along with the other five nations in the Gulf Cooperation Council – will suffer its worst recession ever in 2020 as a result.
Even before the crisis, oil prices had been dwindling, forcing the kingdom to eat into its reserves. Now, the Saudi Government is depleting these reserves at an even faster pace – at the expense of Vision 2030. "While prices might recover in 2021, the large deficit in 2020 means [a] rapid drawdown of fiscal reserves, [decreasing] the room of manoeuvre for large-scale project spending, including for [Vision-2030-related] projects," Hertog said. "This impact will be longer-lasting and require [a] more austere fiscal policy for years to come, which will also mean lower growth."
Putting the brakes on
The COVID-19 pandemic has not just limited Saudi Arabia's capacity to spend on projects – it has also reduced consumer demand for them. Much of Vision 2030 revolves around the idea of building Saudi Arabia into a global transportation and tourism hub, connecting Europe, Africa and Asia. But the spread of SARS-CoV-2 has blighted the transport industry: air travel, for example, is not expected to return to 2019 levels until at least 2023, according to the International Air Transport Association.
The COVID-19 pandemic has not just limited Saudi Arabia's capacity to spend on projects – it has also reduced consumer demand for them
Then there's the impact the pandemic could have on businesses. Over time, austerity measures and reduced consumer spending could take a toll on the private sector. According to the IMF, non-oil-sector growth is projected to fall to 1.4 percent this year, down from three percent in 2019. Public support could also suffer: in a country with no elections, where the social contract between state and citizens usually depends on a high quality of living, the public's ability to tolerate austere policies is critical. If this tolerance wanes, it could seriously dampen MBS' popularity.
A major economic slowdown and civil unrest are both factors that could impact investors' willingness to inject capital into Saudi Arabia. Although budget cuts and delays might seem like short-term obstacles, the longer the country is economically vulnerable for, the further into the distance Vision 2030 will shrink.