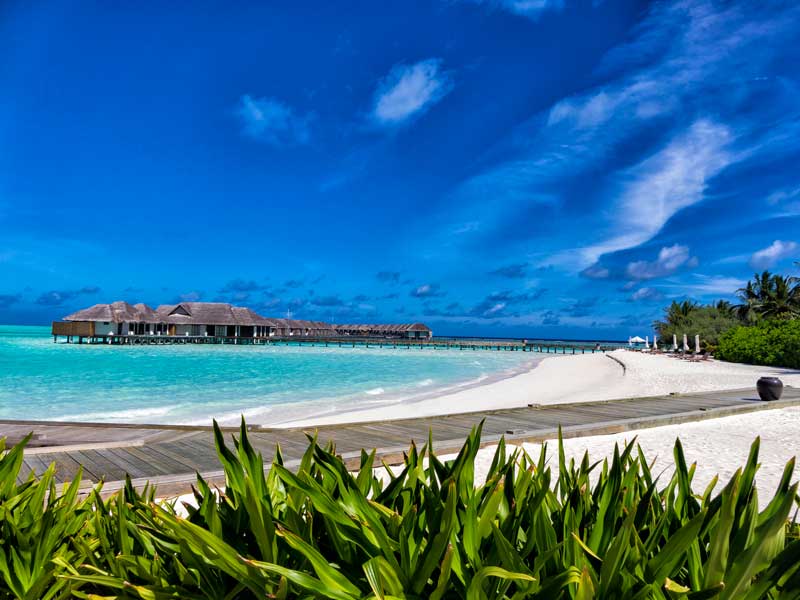 The Maldives is particularly susceptible to the effects of climate change. Hulhumalé is part of the recent push by the country to be more economically and environmentally resilient&nbsp
Author:
Aishath Nayasheen Ahmed, Investor Relations Officer at Housing Development Corp
Hulhumalé is the culmination of recent efforts by the Maldives to reimagine its focus towards being both economically and environmentally resilient, as one of the lowest-lying nations in the world, Maldives is exceptionally vulnerable to climate change and its effects.
That being said, the Maldives is blessed with natural wonders. It is clear the country has effectively capitalised on its beauty, as the tourism sector has been the Maldivian economy's backbone since the 1970s. A positive shift in the country's development focus was observed during the past few years when not only tourists but also investors, entrepreneurs and digital nomads were witness to the emergence of a global city in the making: the city of Hulhumalé.
Hulhumalé is expected to accommodate two thirds of the entire populace of the Maldives. This will also help to centralise the country's residents, who are currently spread across more than 185 islands
Hulhumalé is a reclaimed island located 8km off the northeast coast of Malé, the capital of the Maldives, and 6.5km away from Velana International Airport, the main aviation hub of the country. Phase one of Hulhumalé's reclamation, consisting of 188 hectares, began in 1997 and was completed in 2002. The true birth of this city was celebrated in mid-2004, however, when it welcomed its very first settlement. With a broader vision initiated in early 2015, an additional 244 hectares were reclaimed in just nine weeks. The city lives to tell the tales of people who have found a new home in Hulhumalé, many of whom are originally from the outer islands.
Initially established in 2001, Housing Development Corporation (HDC) is a state-owned enterprise formed by presidential decree. As the official body appointed for the development of Hulhumalé, HDC undertakes and manages the overall planning and building of the city. HDC is currently working towards making Hulhumalé the first sustainable conurbation in the Maldives.
Under the current government's bold and ambitious plans, HDC is focusing on four key areas. In terms of housing, we have initiated a number of government-supported projects, including social, mid-range and luxury residential developments. We are also targeting commercial builds with the aim of creating many new jobs on the island. Recreational areas, including green spaces, parks and sports facilities, are also in the pipeline. Collectively, these unique projects promise to introduce transformative new opportunities on a scale that has not previously been experienced in the Maldives.
From beneath the waves
The Hulhumalé development project initially began in the mid-1990s to alleviate congestion in the capital city and provide housing solutions for the growing population. With more than 130,000 residents crammed into just 5.8sq km, Malé remains one the most densely populated cities in the world. As a solution, Hulhumalé has been intelligently designed to accommodate the growing population with a layout that incorporates modern architecture, engineering and infrastructure. With the increasing social and economic challenges faced in Malé, many of which are caused by space constraints, the city of Hulhumalé has given profound hope to this island nation.
With a target population of approximately 240,000 residents, Hulhumalé is expected to accommodate two thirds of the entire populace of the Maldives. This will also help to centralise the country's residents, who are currently spread across more than 185 islands. Initially, the city's development had a sole focus on residential projects, but has now grown to incorporate large-scale developments concentrating on sectors including tourism, IT, telecommunications, finance, industry and education.
Hulhumalé is currently open for investment. The city presents a variety of development opportunities including a business park, an IT park, a cruise terminal, a marina, tourism zones and a water theme park, as well as major hotels, shopping malls and office buildings. The many distinct projects planned for the city are expected to provide good returns to investors, developers and locals. Promising rapid economic growth, the city is expected to provide approximately 85,000 jobs for the local population.
The city of Hulhumalé has been celebrated as a place of hope and one that promises much for the country's youth. With a vibrant, well-educated and English-speaking population, the city provides opportunities for homegrown entrepreneurs and external investors alike. Today, Hulhumalé boasts canopies, interactive art and 3D paintings by local artists, students and creatives. The city has become synonymous with events, festivals and a variety of socially responsible initiatives.
Environmental ethics
As part of a number of green initiative projects in Hulhumalé, HDC is looking into more environmentally viable forms of transportation. These include the use of electric buses, high-speed public transportation systems and the implementation of bicycle lanes. HDC envisions aligning the strategies for Hulhumalé's development with green architecture to create carbon-neutral buildings.
Plans to reduce the Maldives' carbon footprint are a core focus of Hulhumalé's development, and strong emphasis is being placed on encouraging developers to take an environmentally ethical approach in all stages of their building practices. For the development of Hulhumalé, HDC takes inspiration from the most liveable countries in the world. Most of the cities that are renowned for their excellent living conditions incorporate green and open spaces extensively.
With Hulhumalé, we have chosen to adopt a similar ethos and have provided increased public access to parks where people can walk, cycle, participate in active recreation and interact with other members of the community. One such planned objective is to have 2.5sq m of open space per person. HDC is also working on the implementation of solar photovoltaic systems to be placed in Hulhumalé, following a nationwide commitment to implementing greener technologies in the country.
As part of its corporate social responsibility, Hulhumalé has also opened its very first community centre, called Fahiveni. This centre will serve as an educational, recreational and cultural centre with a cinema, a gym, game rooms, sports facilities and counselling areas. Fahiveni is expected to be a public recreational space as well as a place to host youth awareness programmes, lectures and counselling. HDC also renovates and maintains the existing sports facilities in all neighbourhoods within Hulhumalé.
Channelling the energy and passion of the Maldivian youth into productive activities and providing a safe and supportive environment for them to learn is part of HDC's strategy. Our special photography competition, Urban Art Reaction, encourages the residents of Hulhumalé to capture images of urban life and the natural world co-existing together on the island. Similarly, HDC also runs various community engagement programmes, including blood camps and tree plantation programmes, to support its vision for a close-knit community contributing towards a sustainable future. The aim is not to create a green space that stifles economic growth – rather, we believe that Hulhumalé can become a shining example of how the rural and urban landscapes can sustainably develop alongside one another.
More to come
Strategically located and promising great accessibility, Hulhumalé is directly connected to the Velana International Airport by land and remains within a twenty minute ferry ride of Malé Furthermore, in alignment with the government's plan to create a liveable city for future generations, a special economic zone, featuring an IT park, financial district and knowledge park, is set to become an integral part of Hulhumalé. The Maldives boasts a favourable investment climate, with business profit tax maintained at 15 percent and possible residential benefits for investors. Hulhumalé also has readily available utility connections and allows for extended lease periods and longer grace periods for investment recovery.
Today, Hulhumalé is the most sought-after destination in the greater Malé region. Housing around 100 guesthouses, the city has become a haven for budget travellers, backpackers and family groups. The city has plans to explore further tourism opportunities such as the MICE market, medical tourism market, sports and adventure tourism, as well as the luxury markets. Upcoming projects include many firsts for the country. The construction of a multispecialist hospital, world-class sports facilities, yacht marina, cruise terminal and a water theme park aligns with HDC's plan to introduce urban tourism to Hulhumalé. It is strongly believed that Hulhumalé has the potential to take the Maldivian tourism industry to the next level.
Much more than a smart city, Hulhumalé aims to address the social concerns of the community while simultaneously delivering economic solutions. The city is designed to cater to the country's dominant youth population, but will provide opportunities for all age groups. The mega-projects and developments are expected to boost job prospects significantly, with multinational companies benefitting from a young and talented workforce. The local youth will also be able to contribute to the global tech scene and involve themselves in a variety of unique and promising projects.
At the moment, HDC is working to a very ambitious timeline. The aim is to commence development on all available spaces within the next five years and complete them in another five. This billion-dollar development makes it possible for the Maldives to become a global contender as a developed, sustainable and resilient nation.