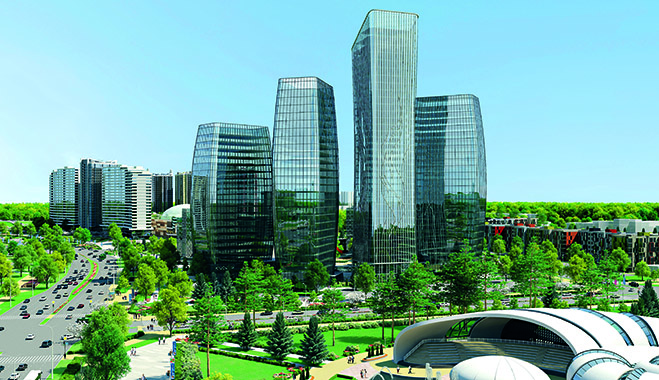 An artist's impression of infrastructure company Dana Holdings' completed Minsk World site; a real estate project that has transformed the old Minsk Airport into one of the largest mixed-use construction developments in the world&nbsp
As one of the first foreign investment and development groups to recognise the potential of emerging Eastern European markets, Dana Holdings has successfully completed over 500 projects since its inauguration and is on track to deliver a number of significant mixed-use schemes over the next few years. In Belarus, as with so many other Eastern European markets, the pathway to sustainable growth begins with full and productive employment, although suitable infrastructure is also a major driver.
Dana Holdings is a leading, fully integrated real estate, investment and development company that specialises in residential, industrial, commercial, educational and mixed-use projects, as well as PPP investments in emerging markets. According to Boyan Karich, Vice President for International Affairs and Development at Dana Holdings, the words that best sum up the firm's focus for 2016 are 'Minsk World'. He told World Finance, "We are very proud of our international winning bid for the development of the old Minsk Airport in the centre of Minsk".
This new Minsk World project is one of the largest mixed-use construction developments in existence in the world today. The gross building area (GBA) of the project will be three million sq m on a plot of 380 hectares, and upon completion will comprise 30,000 high-quality residential units and villas and 305,000sq m gross leasable area (GLA) of Class A office space, all within a new international financial district. There will also be conference, event and leisure centres, schools, lakes and green spaces within a new metropolitan park, plus a 120,000sq m GLA shopping, entertainment and leisure centre.
Operations in Belarus
With a string of reforms in the pipeline for the coming months and years, Belarus promises to realise a series of broad-based and sustainable gains that will positively affect business and consumer response. Writing about the country's up-and-coming reforms and their potential impact on the economy, the World Bank's Country Manager for Belarus, Young Chul Kim, was optimistic about the country's future: "The purpose of a comprehensive reform is to remove the structural constraints which have prevented the Belarusian economy from realising its maximum potential. If the set of key reforms being considered can lead to efficiency, profitability [and] sustained technological progress at all levels of the production sphere, there is no reason why we cannot expect to see Belarus' per capita income double in the medium term."
These reforms, coupled with the work of companies like Dana Holdings, have done much to inspire confidence in the country's future prospects. A mere look at some of its upcoming projects is proof enough that Belarus is headed in a positive direction.
44th
Belarus' position on the World Bank's ease of doing business index
$76.14bn
Belarus' GDP, 2014
$25bn
The current value of Dana Holdings' full portfolio
of projects
Dana Holdings' largest development is currently Mayak Minsk, a one million sq m mixed-use scheme that is adjacent to Minsk's iconic national library. As of December 2015, the project was more than 60 percent complete, and is still developing significantly above target. A new education facility, a major part of the project that was developed jointly with the government, is the largest in Minsk and is already operational. The residential segment of the development is ahead of schedule, while the entire project is on track to be completed by 2017.
A major part of Mayak Minsk is Dana Mall, a 50,000sq m shopping and leisure complex. This is due to open in March 2016, and so is currently the firm's main focus. However, a team of international real estate experts led by Karich is on hand to ensure that the centre will be delivered on time. Dana Mall's unique selling point is its ability to surpass the experiential expectations of its guests. "By closely following international standards and mature market tenant expectations, putting strong emphasis on leisure and entertainment, we greatly add to the overall customer experience, increasing dwelling time and additional spend potential", according to Karich. "As the first truly 'lifestyle' mall in Belarus, it's a classic case of 'build it and they will come', and we are pleased to say that international brand names are coming to Dana Mall."
Inspirational infrastructure
The Minsk World project, meanwhile, is the pinnacle of 40 years of successful developments for Dana Holdings. The firm first began developing industrial buildings in Eastern Europe in the early 1980s, before it progressed onto the construction and renovation of offices and residential buildings across much of the former Soviet Union. Minsk World, as an urban regeneration of the former Minsk Airport, has drawn inspiration from local Belorussian culture and history, but also serves to bring the rest of the world closer to Minsk.
One of the main features will be a beautifully landscaped 50-hectare metropolitan park, which will act as a venue for music festivals, art festivals, equestrian events and many of the other outdoor activities that Belarusians love. Minsk World's architecture draws inspiration from many of the world's leading capitals, with the business centre in particular bearing similarities to elements of London's Canary Wharf. The focal point of this business hub is the new international financial centre, the concept of which was based on the overwhelming success of the Dubai International Financial Centre.
A $5bn investment was required for the creation of Minsk World, which – with the added potential of the financial and business centre – could contribute an additional six to seven percent to Belarus' GDP growth. This is a game-changing development for Dana Holdings and for Minsk itself, which is at present the third-largest city in the region of Commonwealth of Independent States, behind only Moscow and Saint Petersburg.
Leading the pack
In addition to the projects already mentioned, Dana Holdings is also working in Belgrade to implement its two million sq m Tesla City scheme, designed to be the most energy efficient city-within-a-city development in the world. "As an entrepreneurial developer, we are always adapting to market conditions and seeking new opportunities", said Karich. "[As such], our projects in Moscow and Baghdad are lower on the radar for the time being. That said, we are currently exploring a mega development opportunity in Havana."
Naturally, it is important to deliver high-quality spaces while simultaneously utilising the company's vast experience in order to bolster the market as a whole. To this end, Dana Holdings actively employs experienced workers from both Belarus and a variety of mature markets in order to ensure that the firm's malls, offices and residential spaces are suitably prepared for what the emerging market is going to be, rather than what it is currently; effectively future-proofing its assets. This is also true of its commitment to the country at large and the good of the infrastructure industry as a whole: this is why Dana Holdings is the driving force behind the new Belarusian Council of Shopping Centres, as well as the lead sponsor of the inaugural North Eastern European Real Estate Awards Expansion and Investment Forum in Minsk.
As a company, Dana Holdings aims to strengthen the international investment potential of any market that it enters, which is why it has led the way in many Eastern European countries, including Belarus. It is interesting to note that the World Bank recently announced that Belarus is now the 44th best country in the world in which to do business, while the European Bank for Reconstruction and Development has just announced that it will also increase investment in Belarus, following the lifting of EU restrictions in October 2015.
Dana Holdings is confident about the future of Belarus: the IT sector in the country is currently at an all-time high, having recently seen growth 10 times higher than the global average, and it is extremely positive to see US companies flocking towards the nation, such as General Motors, which recently announced that it will be constructing a Cadillac Escalade manufacturing plant just outside of Minsk.
It is a reasonable assumption that other EU and US companies will follow suit by delving into the Belarusian market, just as Dana Holdings has done, thereby further contributing to the country's economic success. Belarus now has the potential to follow the economic path of its neighbour Poland, which would see it moving from an emerging market to an established one within the next three to five years.
Over the next 12 months, Dana Holdings will be present at the majority of key industry events, including the CEE Retail Awards, the Global RLI Awards, MIPIM and MAPIC. Karich said, "Dana Holdings is changing the world, one development at a time. However, we could not do so without the absolute commitment and dedication of our staff – this is why we invest in our people, because at the heart of every great company are great people who make concepts become a reality.
"We face many exciting challenges and opportunities at the moment, but our immediate focus is the launch of Dana Mall in March 2016, which will deliver a premier shopping centre to the people of Minsk. [We also continue to work] on the designs of Minsk World Mall, which will be the biggest shopping, leisure and entertainment scheme in the region."­­