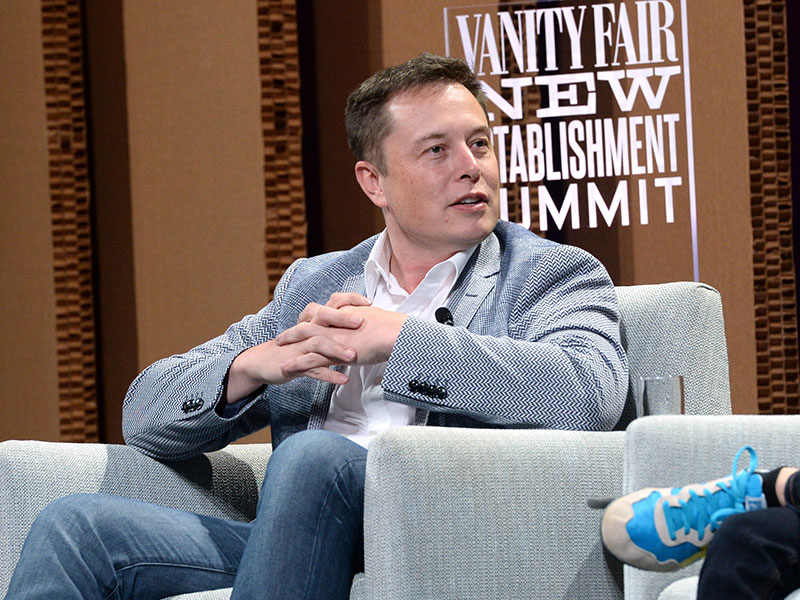 Elon Musk is known for his go-getting attitude when it comes to introducing new technologies. We round up five of his craziest ventures &nbsp
From interplanetary travel to green energy, serial entrepreneur Elon Musk is on a mission to change humanity. Combining unbridled creativity with shrewd business acumen, Musk has emerged as one of the most innovative minds of the modern age.
At the modest age of 45, the dot-com billionaire has amassed an impressive number of business ventures, start-ups and side projects, each focused on revolutionising some essential aspect of human life. At Tesla, the focus is on eco-friendly electric cars, while SolarCity hopes to bring solar power to the mass-market and SpaceX looks to Mars as the next frontier. These goals are certainly grandiose, but big results require big ambitions.
By now, barely a month goes by without Musk announcing a new, pioneering project. These grand plans often start life as a single tweet, but Musk wastes no time in turning fledgling ideas into reality. With two new ventures already announced so far in 2017, World Finance takes a look at Musk's most outrageous projects to date.
Barely a month goes by without Musk announcing a new, pioneering project
Dawn of the cyborgs
While a Mars colony might seem like one of Musk's most far-fetched ideas, another project has beaten it to World Finance's number one spot. In March 2017, Musk revealed his latest mission: to merge man and machine. At his neurotechnology start-up Neuralink, Musk is working on a 'neural lace', a device that can be fitted over the brain to give the wearer superfast computing abilities.
As advanced technology and artificial intelligence become increasingly sophisticated, Musk has warned that humans must "achieve symbiosis with machines" if they wish to stay relevant in the digital age. He has also hypothesised: "Over time, I think we will probably see a closer merger of biological intelligence and digital intelligence." With the creation of Neuralink, this merger may arise sooner than we might expect.

Life on Mars
Elon Musk is on a mission to make human life multiplanetary. Not content with simply sending people on a return trip to Mars, the SpaceX CEO wants to start an entirely new civilization on the Red Planet. Speaking at an astronautical conference in September 2016, Musk outlined his concept for a self-sufficient Mars colony, suggesting his vision could well be realised "within our lifetime".
With Spacex hard at work on the project, Musk's first flight to Mars could take place as early as 2022, with the outcome of this voyage establishing the timeline for Mars colonisation. "If we can get the cost of moving to Mars to be about the same price as a median-priced house in the US of about $250,000, then I think the probability of establishing a civilization would be relatively high", said Musk.
A boring solution to traffic
On December 17 2016, Musk took to Twitter to grumble about the infamous LA traffic. "Traffic is driving me nuts", he griped. "Am going to build a tunnel boring machine and just start digging." While the majority of Twitter users thought he was joking, the idea started taking shape just one hour later, with Musk revealing a marketing platform and a company name – Boring Company. Two hours later, he provided another update, telling his three million followers: "I am actually going to do this."
Traffic is driving me nuts. Am going to build a tunnel boring machine and just start digging…

— Elon Musk (@elonmusk) December 17, 2016
In the months since his Twitter outburst, Musk has made impressive progress with his Boring Company. In February, the fledgling firm began digging a 30-foot-wide hole on the SpaceX Los Angeles premises, marking the first steps towards realising Musk's tunnel vision.
Open AI
For some time now, Musk has been troubled by the potential dangers of artificial intelligence. Likening the technology to "summoning the demon", the entrepreneur has long warned that AI poses the single greatest existential threat to human survival. Given this strong stance on artificial intelligence, it came of something of a surprise when Musk announced the launch of his own AI research company in December 2015.
Supported by more than $1bn in commitments, Open AI is focused on developing AI technology in a safe and responsible way. By making it accessible to all, Musk argues, this levels the playing field against the large corporations looking to exploit the technology for their own financial gain.
760mph train travel
In 2013, Musk announced his plans to revolutionise mass transit. In a detailed white paper, the business mogul outlined his concept for the Hyperloop: an ultra-high-speed rail system that would shuttle passengers between San Francisco and Los Angeles in a matter of mere minutes.
As imagined by Musk, the Hyperloop would consist of two large, pressure-reduced tubes between the two destinations. Passengers would then be ferried through the tubes in capsules at speeds of up to 760mph. The Hyperloop idea has been open-sourced by Musk, and other companies are encouraged to help develop the design.
For more on Elon Musk's life and work, keep an eye out for our upcoming profile in the summer issue of  World Finance