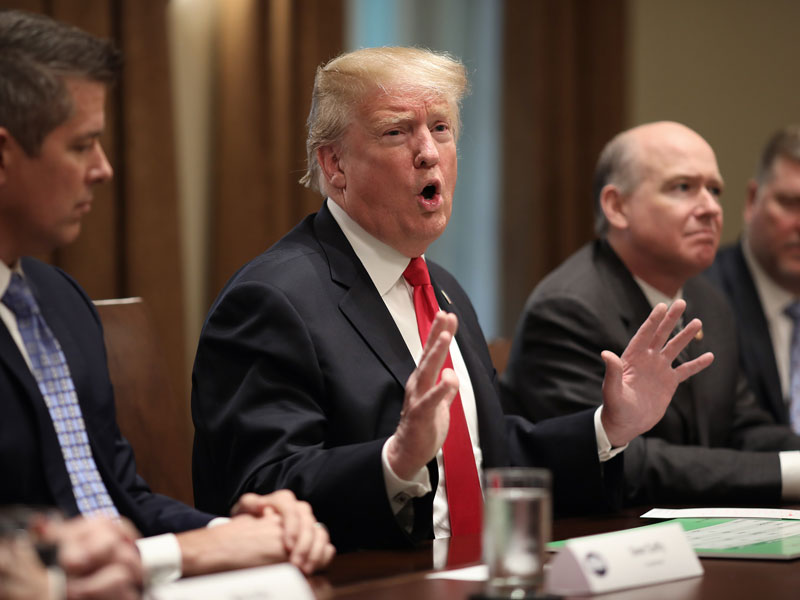 US President Donald Trump speaks about developments in the partial government shutdown during a meeting in the Cabinet Room of the White House&nbsp
The partial government shutdown in the US could plunge its economy into recession if it continues for another month, a former White House advisor said on January 24.
Even a rapid resolution would not be enough to entirely eliminate the risk of recession
Financier Anthony Scaramucci, who served as Director of Communications for the Trump administration for 10 days in 2017, said in an interview at Davos with the Reuters Global Market Forum that the shutdown will cause a contraction in the US economy if it lasts "longer than another month".
Scaramucci added that the shutdown, now in its 34thday, "will lead to slower growth this year globally." Even a rapid resolution would not be enough to entirely eliminate the risk of recession, he asserted, which increases in likelihood in mid-2020.
In a separate Davos panel, David Rubenstein, co-founder of the private equity firm Carlyle Group, warned that the shutdown "will really impair the economy of the US" unless a swift solution is reached.
"We've never had a shutdown for this long," observed Rubenstein, adding that economic models to assess the long-term impact of the action do not even exist.
David Solomon, chief executive of Goldman Sachs, echoed Rubenstein and Scaramucci's concerns, advising that the chances of a recession in the US in 2020 are as high as 50 percent.
Similarly, economists at JP Morgan have trimmed their estimate for Q1 US economic growth to 1.75 percent from two percent due to the impact of the shutdown.
The partial closure on the government on December 22 was triggered by a conflict between Trump and Democrats over the president's demands for a $5.7bn budget allocation to construct a border wall between the US and Mexico. Nine governmental departments are currently unfunded, with over 800,000 federal workers either furloughed or working without pay.
The Democrat-controlled House has proposed a number of bills to reopen the government while talks on border security take place. Trump, however, has refused to reopen shuttered departments until a full or significant down payment on a border wall is granted.
Over 420,000 federal employees, whose roles are classed as essential to keep the country running, have been forced back to work without their salary. These include 50,000 airport security workers and 150 Food and Drug Administration officials, without whom food safety inspections would not take place.
With Trump remaining resolute on his demands for funding for the wall, the shutdown shows little sign of drawing to a close in the near future. Meanwhile, federal workers' financial situation grows ever more precarious, and the long-term risks to the world's largest economy intensify.