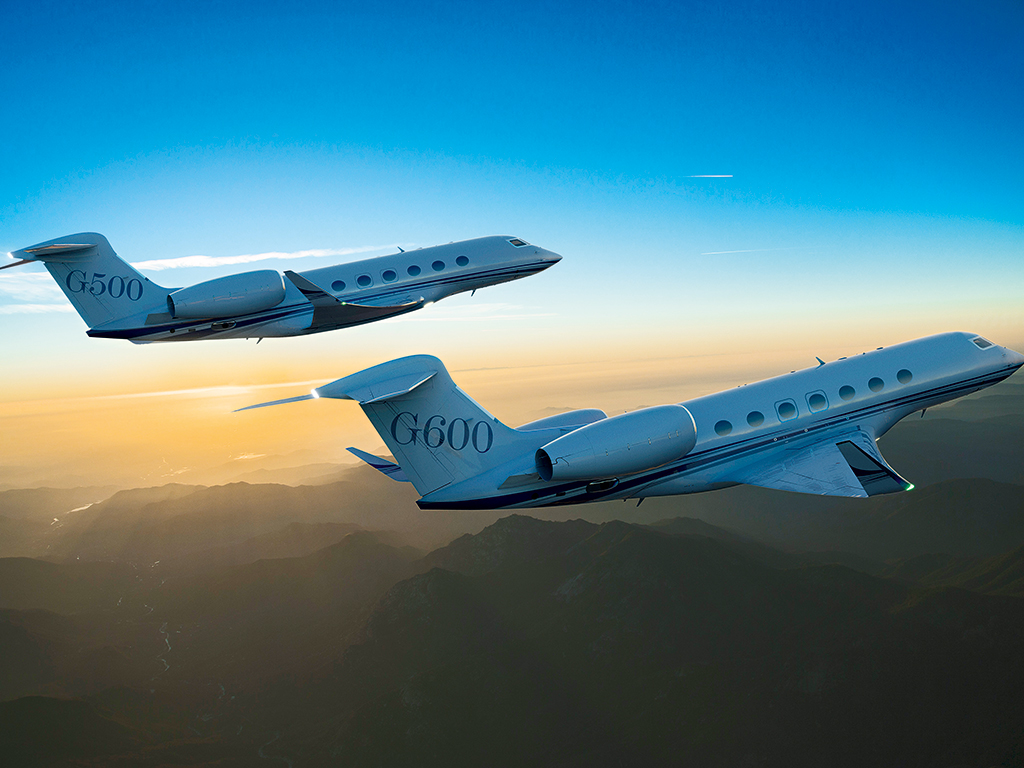 Gulstream Aerospace recently revealed an all-new aircraft family, including the Gulfstream G500 and G600 (above), at its headquarters in Savannah, Georgia&nbsp
Just one week before the business aviation industry's largest North American air show, Gulfstream Aerospace unveiled an all-new aircraft family at its headquarters in Savannah, Georgia.
Here, Gulfstream's Scott Neal, Senior Vice President of Worldwide Sales and Marketing, told World Finance about the new aircraft fleet, and what it means for the business aviation industry.
Tell us about the new aircraft family you introduced in October last year
The all-new family of business jets consists of the Gulfstream G500 and G600. The two new aircrafts optimise speed, wide-cabin comfort and efficiency to offer customers best-in-class performance with advanced safety features.
The G500 and G600 have a unique combination of speed, efficiency and cabin size not found in any other aircraft in the industry
Gulfstream announced the clean-sheet aircraft before a crowd of approximately 3,000 people. During the event, the first G500 taxied up under its own power, and the General Dynamics Chairman and CEO Phebe Novakovic revealed a nearly 70-foot/21-meter mock up of the G600.
What specific details are there on the latest aircraft?
The new aircraft build upon the technology present in our G650 and our latest aircraft, the G650ER. The G500 can fly 9,260km at Mach 0.85 or 7,038km at Mach 0.90. The G600 is capable of traveling 11,482km at Mach 0.85 or 8,890km at Mach 0.90. The maximum operating speed for both aircraft is Mach 0.925, the same speed as Gulfstream's G650 and G650ER.
The G500 and G600 are powered by versions of the new Pratt & Whitney Canada PW800 series engine. The PW800 delivers excellent fuel efficiency, fewer emissions and engine noise, and has a 10,000-hour time between overhaul with no midlife inspection for lower operating cost.
The combination of the new PW800 engines and the Gulfstream-designed wing resulted in industry leading fuel efficiency for both the G500 and G600. Once again, our customers played a major role in the development and creation of these aircraft.
How did customers actually help with the upcoming design?
We started working on these aircraft in 2008 with our Advanced Technology Customer Advisory team, which includes both domestic and international flight departments. The team said they wanted increased cruise speed, better fuel efficiency and more cabin comfort with advanced flight-deck technologies.
The G500 and G600 have a unique combination of speed, efficiency and cabin size not found in any other aircraft in the industry. We anticipate that these aircraft will attract new customers to the Gulfstream family and will provide an opportunity for existing company operators to upgrade the fleet with these new aircraft.
The flight decks are unique. Can you tell us more about what makes them so different?
Gulfstream is the first in the industry to incorporate active control side sticks. They offer enhanced safety and situational awareness over passive sticks through tactile feedback. Since the sticks are electronically linked, the pilot and co-pilot can see and feel each other's control inputs, which helps improve pilot coordination in the cockpit.
Adding to the pilots' more intuitive interaction with the aircraft are 10 integrated touchscreens, which will be used for system controls, flight management, communication, checklists and monitoring weather and flight information. These touchscreens dramatically reduce the number of switches in the cockpit, making it easier and more intuitive for pilots to interface with the aircraft.
When can we expect to see these aircraft enter the market?
The first flight of the G500 is scheduled for 2015. We project we'll receive type certification from the US Federal Aviation Administration and European Aviation Safety Agency in 2017 and begin deliveries in 2018. The G600 flight-test program is expected to begin approximately 12 to 18 months after the G500s, and entry-into-service is projected to be in 2019.
Have you started taking orders?
We have. Following the announcement, we held signing ceremonies with both Qatar Airways and Flexjet that included fleet purchases for the G450, G500, G650 and G650ER aircraft.
Where do you see the long-term customer demand for future products?
Gulfstream has a very robust R&D programme and is always looking at ways to enhance the company's experience for customers. We'll continue to work closely with our Customer Advisory Board as well as our Advanced Technology Customer Advisory Team to gauge their needs and how we can help fulfil them. Right now, we have a broad range of aircraft and a wide range of missions.