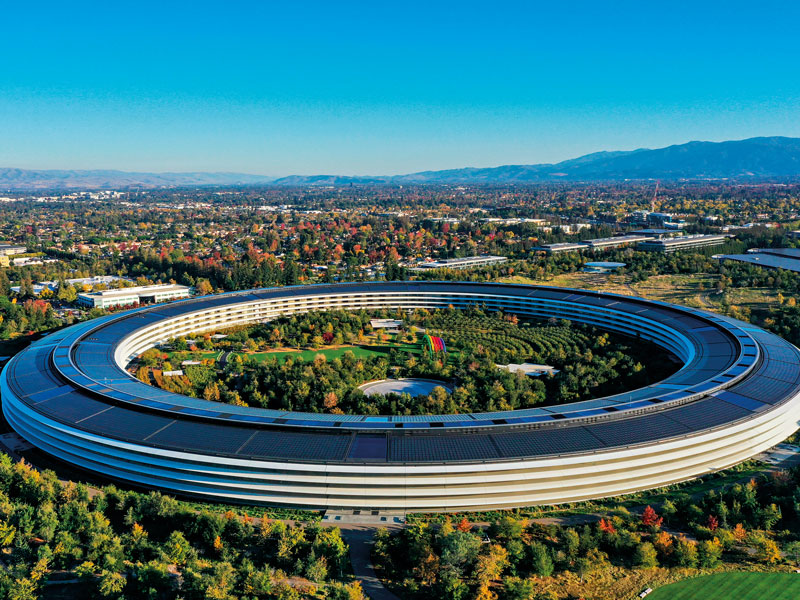 Apple Park in Cupertino, California, US&nbsp
Author:
Natalie Keffler, Features Writer
Silicon Valley has always been heralded as being a secretive place, and the mystery surrounding SV has arguably added to the excitement around the place over the last few decades. However, this culture of secrets has become increasingly dangerous, to the point that it is enabling founders of start-ups in Silicon Valley to commit high-level fraud. The Theranos scandal is what might immediately spring to mind regarding this fraudulent activity, but other founders of startups, including HeadSpin's CEO and founder, Manish Lachwani, have also defrauded their investors, enabled by this covert culture.
More recently though, a shift in the coveted secrecy of Silicon Valley has been seen to be taking place. This shift is arguably a result of Trump's victory in 2016, a rise in tech scandals and tech employees becoming more vocal about issues in the sector. In addition, the COVID-19 pandemic has led to a rise in med-tech start-ups, where investors are more likely to be reputable, and this rise gives these new start-ups the chance to operate on a more open and trustworthy level going forward.
The rise and fall of Theranos
Elizabeth Holmes launched Theranos at age 19, after coming up with a seemingly revolutionary way of testing blood from a simple finger prick. People were enthralled, with business tycoons George Schultz and Rupert Murdoch among the first big financial backers, with Murdoch putting $125m toward the company, despite having not seen an audited financial account of the business at this point. Holmes also sought out other big investors, including the DeVos and the Walton family, because she believed these families would support her in ensuring Theranos could remain a private company. In total, over $900m was invested into Theranos between 2004 and 2015.
Elizabeth Holmes was obsessed with the security at Theranos, asking anyone who visited the company's headquarters to sign non-disclosure agreements
In 2015, Dr. Flier, then dean of Harvard Medical School, expressed concerns, after Holmes failed to answer basic questions about the technology of this device that would test the blood. However, at this stage, it was not suggested she was a fraud and she still received an invitation to join the medical school's Board of Fellows at Harvard University. However, towards the end of that year, the business started to unravel, when a whistleblower raised concerns about Theranos's flagship testing device, the Edison. The following year, in 2016, Holmes was banned from operating blood-testing services for two years by US regulators, and two years later, Theranos was dissolved. In June 2018, Holmes was arrested, along with Tamesh Balwani, her associate, on criminal charges of wire fraud and conspiracy to commit wire fraud. How she was able to get away with convincing investors of Theranos's legitimacy for so long is all testament to the conspiratorial nature with which the company was operated. Holmes took her investors' money on the condition that she would not have to reveal how Theranos's technology worked, and also that she would have a final say over everything to do with the company, according to Business Insider.
In addition to these demands, Holmes was obsessed with the security at Theranos, asking anyone who visited the company's headquarters to sign non-disclosure agreements before being allowed into the building. Interestingly enough, the secrecy that surrounded Theranos was an aspect Holmes had borrowed from her Silicon Valley hero, Steve Jobs, taking this idolisation as far as to dress in black turtlenecks and refuse to take any holiday, both traits of Jobs.
Another recent defrauder in the SV area is Manish Lachwani, the former CEO and co-founder of the tech start-up HeadSpin. Lachwani was arrested at the end of August 2021, for allegedly defrauding investors in order to raise money for his company. Lachwani had overstated privately held financial metrics from the company, including revenue, in an attempt to inflate the company's value. He overstated the annual recurring revenue of HeadSpin by $4m, as well as grossly exaggerating the overall revenue between 2018 and 2020 from $26.3m to $95.3m. The HeadSpin CEO's actions are yet another example of the corruption in Silicon Valley that has further flourished as a result of the cloak-and-dagger nature that continues to surround start-ups. Lachwani's possible prison sentence of 20 years hopefully has some chance of being an effective deterrent against this kind of fraudulent behaviour.
The masters of secrecy
The root of this ongoing culture of secrecy in Silicon Valley dates back to the 1990s, when Silicon Valley first became a hotbed for the technology industry. This inevitably led to the area becoming a highly desirable place for tech journalists to access, but these reporters quickly discovered that if their coverage was anything less than positive and full of praise, their level of access to the start-ups would soon disappear.
There is little doubt from anyone you speak to in the industry that the influence Apple, a Silicon Valley giant, has had on this culture of secrecy has been widespread and in a bid to emulate that success, it is something that all other start-ups have subsequently adopted. Apple's love of keeping things under wraps started with its co-founder, Steve Jobs, as part of his magisterial desire for showmanship, in order to conjure up excitement for a big reveal of new products. Secrecy has historically been of more importance to Apple in comparison to companies selling similar products, such as Samsung, because of the high price tag and the associated reputation Apple has for selling a product that embodies a premium experience. This ultimately means that Apple products have been designed to feel aspirational, and therefore being shrouded in mystery to build up the grand reveal has helped serve this purpose.
However, in recent years, Apple employees have become increasingly open about internal problems, after concerns that the company culture of secrecy has harmed diversity and inclusion efforts. One example of this was demonstrated in September 2020, when a Slack channel was created by Apple employees in an attempt to promote a more flexible working environment. By the summer of 2021, this channel had reached roughly 2,800 members, and when Tim Cook announced that in September this year, Apple would be reopening its offices, Apple's remote work advocacy group, off the back of this channel, sent an anonymous email back to him requesting further flexibility. Ultimately though, it is the company's product launches that Apple is most concerned with keeping secret, and it is these products that they will do all in their power to keep under wraps and away from the watchful eye of the press, and social media.
Change on the horizon?
There has also been a more general turning point to secrecy in the tech world. Following Trump's Presidential victory in November 2016, and a rise in tech scandals, technology journalists felt more compelled to push back the following year against the ossified norm of being unable to criticise technology giants for fear of being ostracised and losing access. More recently, new stories about these technology giants are coming from employees breaking NDAs and risking their jobs by doing so. But if the tech giants continue to self-govern and refuse to grant access to outsiders, this can often feel like the only way to expose perceived wrongdoing.
As a result of the COVID-19 pandemic, there is an increased emergence of med-tech start-ups. Silicon Valley expressed eagerness at the start of the pandemic to invest in future winners of the current crisis, and in March 2020, 12 investment firms pledged to invest over $30m in start-ups with COVID-19 programmes, with Y-Combinator, a start-up accelerator, connecting founders to investors.
One successful example of this is the start-up Shared Harvest Fund, which was founded by Dr. Nana Afoh-Manin, a doctor from Los Angeles, who began the myCovidMD initiative to help provide equal access to coronavirus testing. Mobile health start-up iXensor is another example of a successful med-tech start-up fostered in Silicon Valley, and then incorporated in Taiwan. It has developed a fully digitalised rapid antigen test and accompanying digital platform to aid with COVID-19 outbreaks. However, these med-tech companies and all those that follow, do now face more intense scrutiny in the wake of Elizabeth Holmes and the Theranos scandal. If any good has come from this, it is the raised awareness of due diligence when it comes to start-up investment instead of the vogue for leaping without looking in a desire to catch the next wave of the future (see Fig 1). The old adage of 'if it looks too good to be true, then it probably is,' should be heeded.
This new and healthy scepticism of start-ups has arguably done some damage to prospective start-ups with investors now exercising a greater degree of caution rather than relying solely on an appearance of integrity and what looks like a golden market opportunity.
It is therefore important that this new wave of start-ups emerging do not covet the same secrecy that Silicon Valley start-ups have always strived for, and instead try their hand at transparency in the beginning, so that investors know what they are getting into, giving these nascent companies a chance at real success in the long run.