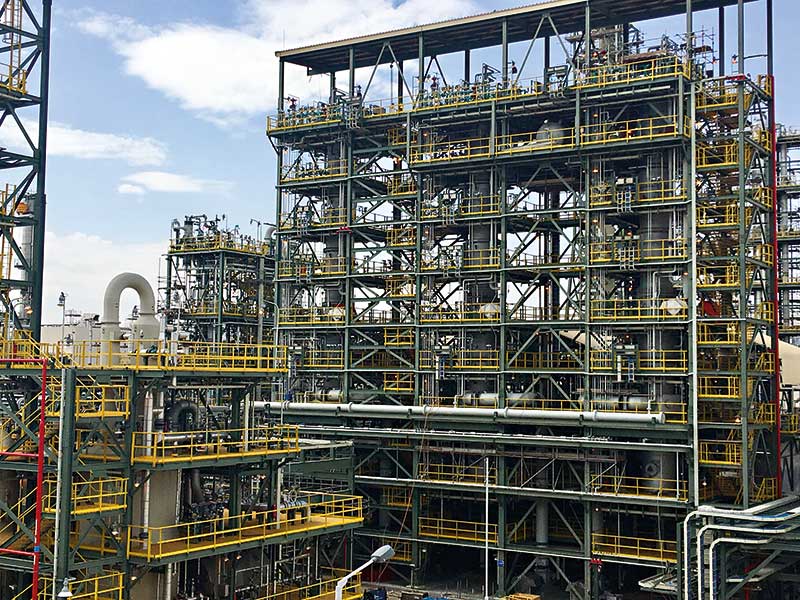 Qatar Solar Technologies' polysilicon facility in Ras Laffan, Qatar&nbsp
Interview with:
Dr Khalid K Al Hajri, Chairman and CEO, Qatar Solar Technologies
The Middle East and North Africa region has long been known for its vast oil and gas reserves, but despite this long-standing reputation, another one is now emerging. Today the MENA region is increasingly well known as a major user and driver of renewable energy, with solar technologies being a particular speciality for countries in the area.
In addition to meeting the exponential growth in demand in domestic markets, several companies in the region are now looking further afield too, and in doing so have become serious players in the global market in a relatively short period of time.
One such enterprise is Qatar Solar Technologies (QSTec), a Doha-based solar company founded by the highly esteemed Qatar Foundation in 2010. Within just a few years, QSTec has grown to become a world-leading integrated solar company with partners located across the globe.
World Finance had the opportunity to speak with QSTec's Chairman and CEO, Dr Khalid K Al Hajri, about the future of solar energy in the MENA region and the role the company plays in developing this exceptionally promising industry.
Oil prices are lower than in the past and we are seeing increased demand for electricity. How has that affected the MENA region?
Research has shown the low price of oil is having very little effect on the renewable energy sector locally, regionally and internationally. In fact, 2016 was a record year for global renewable energy installations. In the past, the installation of renewable energy infrastructure closely followed the trends of oil prices: when oil prices were high, we had more installations, and when oil prices were low, the demand for renewables fell, but this is no longer the case at all.
As we seek to conserve
natural resources for future generations, solar energy has become an obvious choice across the MENA region
Bloomberg estimates that the infrastructure for more than 127 GW of wind and solar power was installed globally in 2016, with 70 GW of that being solar. This means that, last year, around 500,000 solar modules were installed every day around the world. In addition to this, during every hour of every day, two wind turbines were installed. That's amazing when you think about it!
Looking ahead, I see tremendous growth opportunities for solar energy across the region. Bloomberg also estimates that during 2017 we will see more utility scale projects financed in the MENA region than ever before. We absolutely recognise the enormous opportunity and potential of this market, which is why QSTec and its partners are well placed to meet the region's growing solar requirements.
Renewables are developing at a very fast pace. Do you think there is an energy revolution going on around the world?
There most certainly is! Globally, we are experiencing an energy transition and it's incredibly exciting for QSTec to be a part of it. We are actively shaping the future of energy. Bloomberg forecasts that, by 2040, more than 60 percent of our energy will come from renewables, with almost half coming from solar power alone.
There are many drivers behind this remarkable development, including more competition in the market, enhanced policy support in key regions, and technological improvements. Also making a huge difference is the global commitment made by governments via the COP21 Paris Agreement to work together to reduce the negative consequences of climate change.
Along with these significant trends, I would say the key drivers for mounting demand have been reduced costs and energy diversification. Since 2009, solar prices have fallen by 62 percent. With further reductions in solar energy still to come, Bloomberg estimates that, by 2020, solar energy will be one of the cheapest forms of electricity in many parts of the world.
In many countries and regions like MENA, diversifying energy supplies to include renewable energy sources like wind and solar is essential in order to meet increasing demand for energy. Globally, many countries are looking towards adopting a diversified and sustainable energy mix. As we seek to conserve natural resources for future generations, solar energy has become an obvious choice; across the MENA region, we have the climate, the space, and an increasing need for energy.
At what stage is your Ras Laffan polysilicon plant project right now, and what are the plans for the future?
For QSTec, 2017 is set to be a very exciting year. With a capacity of 8,000 metric tons per year, our state of the art polysilicon manufacturing facility is the first of its scale in the region. This development is monumental for the market as the polysilicon facility will be the cornerstone that enables the entire solar value chain to be manufactured in the MENA region. Commissioning is nearly completed, and we have successfully produced our first polysilicon.
500,000
solar modules were installed every day last year, according to Bloomberg
70 GW
worth of solar infrastructure was installed in 2016
62%
Drop in solar prices since 2009
In terms of the future, we have additional space at our Ras Laffan Industrial City site, which will enable us to expand further to produce more than eight gigawatts of solar products – so we have many options available to us for future growth.
I believe that a key challenge for the MENA region is to not only be a user, but to also become an innovative leader in solar energy, which includes leading the field for smart grids and storage. Polysilicon, a high-purity form of silicon, is the key ingredient in the world's most efficient and reliable solar technologies. Given that QSTec produces polysilicon in Qatar, this opens up a wide range of possibilities for the region's solar industry entrepreneurs.
QSTec has a 29 percent share in the European integrated solar company SolarWorld and 45 percent in the world-leading technology firm Centrotherm. What are your plans within that framework?
The MENA region became a global leader in oil and gas by building a solid foundation with companies that shared a common vision for the growth of the industry, as well as that of the region. At QSTec, we took this building block of success and formed a solar consortium of excellence with industry leaders SolarWorld and Centrotherm in order to address the key challenges of improving efficiency and technologies, as well as reducing costs.
Together, we span the entire solar value chain from polysilicon production to solar modules and systems, through to the technology that drives the manufacturing and production of solar technologies. By working together with our research partners in Qatar and around the globe, we can address the solar challenges that still exist today and, in turn, develop solar technologies that will have a positive effect on the lives of millions of people worldwide.
In addition to this consortium, we are also working with other organisations across Asia and Europe that actively contribute to QSTec's vision and future growth. So far, we have had tremendous success with our partnerships; consequently, the future is looking very promising for QSTec.
To what extent do the high levels of dust in the MENA region have an effect on the efficiency of solar modules?
The dust has very little effect on solar modules; the amount of solar energy that we can produce in Qatar is incredible. The Qatar Foundation's Qatar Environment and Energy Research Institute (QEERI) recently carried out a multiyear study on solar energy in Qatar's environment using a variety of technologies.
The organisation found that solar modules in Qatar produced 45 percent more solar power than those same modules did in a similar testing facility in southern Germany. With this in mind, just imagine the untapped potential for solar energy in the MENA region.
People are constantly overstating the effect of dust on solar panels within the region, and this very important study by QEERI found that, by simply cleaning the modules with a brush once every two months, the annual loss due to soiling was only around eight percent.
The industry has advanced so much in recent years, and now the future of solar technologies is here. QSTec has been preparing for this solar revolution for some time, and so we are ready to both enable and expand solar power across the entire region.