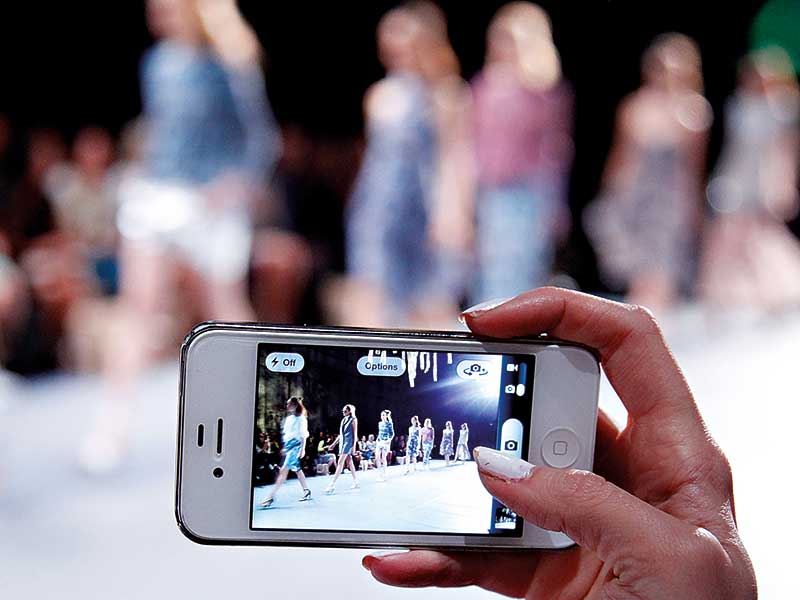 Instagram allows companies to showcase products in an aesthetically pleasing way&nbsp
Our shopping habits have changed dramatically over the past 20 years. On August 11, 1994, the Sting album Ten Summoner's Tales became the world's first secure online purchase, marking the launch of e-commerce as we know it today.
In the years since, the astronomical rise of online shopping has steadily pushed physical stores into decline, with an average of 15 high street shops closing each day in the UK alone. Delivering another blow to the once mighty bricks and mortar, the smartphone era has further digitalised our shopping habits.
With a world of buying options now at shoppers' fingertips, mobile purchases have boomed: in 2010, mobile visits to e-retail sites accounted for less than three percent of web traffic. Today, that figure has skyrocketed to over 50 percent. As on-the-go mobile payments have become the norm, retail has evolved from its pre-internet form. But as the industry adjusts to this new landscape, another retail transformation is on the horizon: just as smartphones changed the face of retail, Instagram is making inroads into mobile retail.
The ultimate fashion magazine
Since its launch in 2010, the photo-sharing app has been a source of inspiration to its predominantly young user base, with endless beauty, fashion and lifestyle accounts filling users' feeds with exciting new brands. Now, Instagram wants to monetise this aspirational content, introducing shoppable features and 'buy now' buttons to facilitate impulse purchases in-app. Catering to the personalised tastes of its 700 million users, the Instagram store could be the future of retail.
Long before the launch of its 'shop now' features, Instagram was already influencing the world of retail. As brands quickly discovered, the visual nature of the platform allows companies to showcase products in an engaging and aesthetically pleasing way. By using hashtags, locations and photo tags, brands are able to reach a wide-ranging audience, and can enjoy a profile boost if featured on the app's popular 'explore' page.
Photo-based apps such as Instagram and Snapchat have created an image-conscious culture within Generation Z
"Instagram is like a fashion magazine with an infinite number of pages", said Gregory Galant, co-founder of the social media-focused Shorty Awards and CEO of Muckrack. "It's always been about great photos and finding new people to follow, whereas a site like Facebook is mostly about following friends."
With a broad reach and visual focus, Instagram has proved incredibly useful for an ever-growing number of fashion and beauty start-ups. By prioritising Instagram in social strategies, brands can effectively use the platform to build a brand identity, gather a following and generate sales. Indeed, some of the largest beauty lines in the world today are independent brands that have successfully grown an audience through Instagram.
One such example is makeup phenomenon Huda Beauty. Launched by Instagram star Huda Kattan in 2013, the high-end makeup line now boasts close to 20 million followers, and has succeeded in turning online attention into physical sales. In the four years since its launch, the brand has developed a global following, frequently appearing among Sephora's top selling brands in both the US and the Middle East.
While Huda Beauty may be one of Instagram's brightest success stories, Kattan's social media might is by no means unique in the beauty world. Independent brands are now thriving on the app, with companies such as Anastasia Beverly Hills, Kat Von D Beauty and Kylie Cosmetics each boasting several million Instagram followers. Of course, this popularity is reflected across all the major social media channels, but Instagram is where these brands have truly found a home.
"Instagram is seeing a lot of traction at the moment – it's kind of the hot platform", said Callum McCahon, Strategy Director at Born Social, a London-based social media agency. "According to our research, Instagram has the highest volume of sharing in the UK at the moment, meaning that it's where people are actively sharing the most content. It's definitely the key platform right now for the majority of brands."
It's a similar story on the other side of the Atlantic. Among US teens, Instagram has dramatically leapfrogged Facebook in terms of popularity, with Generation Z abandoning the social media behemoth in favour of its younger rival. According to research carried out by the University of Chicago, 76 percent of 13-to-17 year-olds use the photo-sharing app, while just 66 percent use Facebook. What's more, Facebook users are consistently posting less original content, and are increasingly looking to share personal posts elsewhere.
While Facebook struggles to reverse its substantial 21 percent decline in 'original sharing', Instagram is enjoying a surge in content creation, helped, in part, by new updates allowing users to upload multiple photos in one post. With a rapidly growing audience of active users, Instagram is fast becoming the app of choice for social-media-savvy brands.
Social spending
Having succeeded in connecting users with brands, Instagram is now hoping to take that relationship one step further. In November 2016, the platform announced it would be rolling out a new 'shop now' feature, allowing users to buy the products they see in a photo. With one tap of the shoppable photo tags, users can now make a purchase entirely inside of Instagram without having to leave the app. While the feature is currently only available for a handful of brands, users will likely see much more of the 'shop now' feature over the coming months.
"If there's one thing we've learned about consumer behaviour on the internet, it's that the easier you make things, the more people will do it – a prime example being Amazon's 1-Click Ordering", Galant explained. "Until now, Instagram has prevented a lot of behaviour by not allowing links in descriptions. Adding a 'buy it now' link will drive a lot more action than before."
With a rapidly growing audience of active users, Instagram is fast becoming
the app of choice for social-media-savvy brands
Along with facilitating purchases, the platform may also be fuelling spending among young users. The pervasive influence of social media means likes, followers and views are defining the lives of teens across the globe, with photo-based apps such as Instagram and Snapchat creating an image-conscious culture within Generation Z.
As such, teens are coming under increasing pressure to maintain an active online presence, and may be reluctant to repeat the same outfits and make-up looks in the photos they post to social media. This focus on online appearance is quickly driving changes in the way that young people shop, with Generation Z showing an appetite for premium beauty brands and an interest in easily-styled, 'mix and match' clothing sets.
"More and more, we're seeing that the main event of a night out is the photos that get posted, rather than actually being there", said McCahon. "There's definitely an added social pressure."
Aside from encouraging spending on beauty and fashion, however, the rise of photo-sharing apps is similarly driving young people to go out and spend more on experiences, from meals out to holidays with friends. As the first generation to truly grow up online, teens of today are under increasing pressure to live an 'Instagram-worthy' life: one full of adventure, socialising and aspirational experiences.
While most members of Generation Z are not yet earning, they are still some of the world's most active consumers, wielding an impressive $44bn of purchasing power in the US alone. As this generation matures, their buying power is only set to grow, along with the social media impact on global spending habits.
From public to private
Brands may be mastering the art of social media strategy, but the latest online trends could well throw a spanner in the digital works. Our social media habits are rapidly evolving, and experts are noticing a shift from public posting to private sharing. Our Facebook feeds may once have been flooded with personal updates, but today's social media users are more likely to share these details in the private confines of a WhatsApp Group Chat or a simple Snapchat message.
Mobile visits to e-commerce websites (share of web traffic)
3%
2010
>50%
2017
"Sharing has become less public and more private", explained McCahon. "Whereas three or four years ago people would share publicly straight onto Facebook feeds, for example, now we're seeing that sharing happening in more private, curated, small groups."
As users abandon traditional newsfeeds and embrace 'private' social media spaces, brands and advertisers are presented with a conundrum. Until now, social media has made it relatively easy for marketeers to gauge public reaction to content, whether through views, impressions, shares or comments. This has enabled brands to measure the effectiveness of online marketing campaigns and apply the results to future creative processes. However, as private sharing becomes the new norm, it will become increasingly difficult for brands to measure the success of targeted online campaigns.
"'In the past, you would be able to see very clearly how people are engaging [with] and sharing your content, because it all happens in public", said McCahon. "But now, if someone screenshots something and puts it in a WhatsApp group, or shares a link in Facebook Messenger, then you can't track that as well."
With up to 77 percent of content now being shared in this 'dark social' space, brands will have to get creative in order to re-engage with social media audiences. However, while their sharing activity might be hard to track, we know social-media-savvy generations are taking to their favourite platforms in their millions to discover new brands and browse products. The internet may have killed the high street, but social media might just save retail.