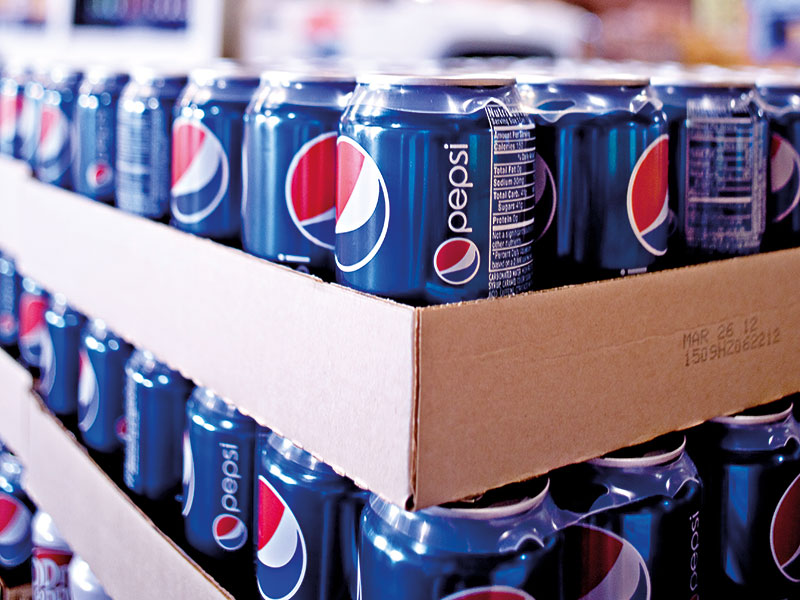 PepsiCo's product range has rapidly expanded over the past decade. The company now produces healthier products in addition to its most well-known brand, Pepsi&nbsp
Now the highly regarded CEO of PepsiCo, Indra Nooyi was born to a Tamil-speaking family in Madras (now Chennai) in India. Academically gifted, she was awarded a bachelor's degree in Physics, Chemistry and Mathematics from Madras Christian College in 1974, which she followed up with an MBA from the Indian Institute of Management in Calcutta.
Nooyi began her career in India, holding several product management positions, firstly at Johnson & Johnson and then with textile manufacturing firm Mettur Beardsell, before moving to the US. There she returned to academia, gaining a master's degree in Public and Private Management from the Yale School of Management. After graduating from Yale in 1980, Nooyi joined the Boston Consulting Group, before assuming senior managerial positions at Motorola and Asea Brown Boveri.
Nooyi's influence is far-reaching, with her determination and perfectionism pushing her further through the industry than many expected
Nooyi joined PepsiCo in 1994 and had an almost immediate influence on the company's strategic direction. An astute tactician, Nooyi oversaw a number of key restructurings during her first years with the company: in 1997, Pepsi elected to spin off its Pizza Hut, KFC and Taco Bell restaurants for $4.5bn. The company used the proceeds of the sale to slash its $8.5bn debt mountain by more than half, a move that also allowed the business to accelerate its share buyback strategy, giving it the financial flex to invest in further business development.
The following year, Nooyi played a key role in Pepsi's acquisition of Tropicana. The $3.3bn deal was particularly significant for the company as it placed Pepsi in direct competition with rival Coca-Cola – the owner of soft beverage company Minute Maid – in the non-fizzy drinks market.
Further to this, in 2000 Pepsi made another strategic acquisition when it bought Quaker Oats. The $13.4bn price tag may have raised the eyebrows of some analysts, but the deal handed Pepsi control of Quaker's popular and lucrative sports drink brand Gatorade.
A healthier outlook
One of Nooyi's most controversial initiatives has been to redirect Pepsi's considerable corporate spend away from junk foods and into healthier alternatives. To this end she reclassified Pepsi's wide-ranging products into three categories, designed to give customers more information about the foods they consume: 'fun for you' (such as potato chips and regular soda), 'better for you' (diet or low-fat versions of snacks and fizzy drinks), and 'good for you' (for example, the recently acquired Quaker Oats oatmeal).
Dietary balance has been a key feature of Nooyi's strategy since day one. In 2010, she declared that Pepsi needed to be part of the solution to "one of the world's biggest public health challenges – a challenge fundamentally linked to our industry: obesity". Under her steer, Pepsi has reduced the portion sizes of its 'fun for you' products and has delivered a marketing campaign to ensure its 'diet' products are promoted as aspirationally as its full-sugar equivalents. For example, Gatorade is now marketed specifically towards athletes, rather than being advertised as an everyday recreational beverage.
Today, the company has a diversified portfolio of products (see Fig 1). It still sells sugary drinks and potato chips, but it also has Tropicana, Naked Juice and Izze supporting the healthier end of its range. Since her inauguration at the company, Nooyi has also set Pepsi on a drive to reduce the salt, sugar and fat contents in its core products, while at the same time ramping up the production of its 'good for you' offerings, largely in response to the demands of modern society.
Design and innovation
One of Nooyi's most visible achievements came in the complete overhaul of Pepsi's branding. For this mammoth task, she recruited Italian design expert Mauro Porcini with the brief of reinvigorating the product design and logo. Porcini, having previously done impressive work to transform the image of 3M, got to work on reinventing one of the world's most recognisable brands, and today Pepsi is pushing the design through the entire system – from product creation to packaging and labelling, to how a product looks on the shelf and how Pepsi's consumers will interact with it.
Rather than focusing simply on the face of the product, Nooyi initiated a completely new approach to marketing. For instance, one of the project's new creations is the Pepsi Spire, a unique touchscreen fountain vending machine. While competitors' dispensing machines have focused on adding a few more buttons and different combinations of flavours, Pepsi has created a fundamentally different interaction between consumer and machine: the Spire is essentially a large iPad that communicates with the user, inviting them to interact with it. It tracks the customer's habits, so that when purchasers swipe their ID, the machine reminds them of the flavour combinations they tried last time and suggests new ones, while at the same time displaying screenshots of the product being created.
Nooyi's innovative ideas and overall success at the helm of one of the world's largest food and beverage producers have earned her a wealth of awards. Every year between 2007 and 2014, Forbes listed her in its World's 100 Most Powerful Women, while Fortune named her number one on its annual ranking of Most Powerful Women in Business for 2006-10. In 2008, US News & World Report named Nooyi one of America's Best Leaders. Clearly Nooyi's influence is far-reaching, with her determination and perfectionism pushing her further through the industry than many expected upon her inauguration. In 2015, she declared: "We ought to keep pushing the boundaries to get to flawless execution. Flawless is the ultimate goal." It is an ideal that has seen her welcome success after success.
Global acclaim
Nooyi's strategy to expand Pepsi's operations into other areas has also resulted in a groundbreaking deal struck in Myanmar, where negotiations are now on track to build a separate plant and develop an agricultural area. This specialised site will produce Pepsi products to cater for the Myanmarese market, as well as create a wealth of job opportunities. Having visited the region following the World Economic Forum for East Asia meeting in 2013, she is said to have described the opportunity as "a story that is just beginning to unfold".
Much of Nooyi's current international strategy involves reaching out to emerging markets' rapidly expanding middle classes. Her cross-category in-store programmes are designed to ensure the frequent purchase of Pepsi's products in these markets; a demographic that accounts for some 35 percent of sales in emerging and developing regions.
Soda consumers are increasingly turning to alternatives they perceive as being healthier, such as energy drinks, bottled water and coffee – all of which have seen a spike in sales
In 2008, Nooyi was elected Chair of the US India Business Council. The council's remit is to create an inclusive bilateral trade environment between India and the US by serving as the voice of the industry, linking governments to businesses and supporting long-term commercial partnerships that will nurture the spirit of entrepreneurship, create jobs and successfully contribute to the global economy. As recognition of her work on the council, Nooyi was presented with the 2015 Global Leadership Award for her commitment to driving a more inclusive global economy and encouraging the creation of more roles for female leaders.
A testament to Nooyi's vision
PepsiCo is currently the second-largest food and beverage company in the world, today boasting approximately $63bn in revenues. Some have argued this achievement is largely thanks to Nooyi, who has consistently taken the company in a profit-making direction (see Fig 2).
The fact PepsiCo retains its position as the market leader for global salty snack sales – and second position in the sale of beverages – is testament to the success of Nooyi's ongoing marketing and positional strategies. Analysts have predicted Pepsi could soon also become the market leader in terms of beverages, thanks in large part to Nooyi's plans to enter the booming health food market with an extended range of juices, sports drinks and reduced fat and sugar carbonated beverages. While certainly lucrative, this move into a healthier market is a far cry from PepsiCo's roots.
The company as we know it today was formed in 1965 following a merger between Pepsi-Cola Company and Frito-Lay, Inc. At that time, Pepsi-Cola Company was manufacturing Pepsi-Cola, Diet Pepsi and Mountain Dew drinks. Frito-Lay's products included Fritos corn chips, Lay's potato chips, Cheetos, Ruffles potato chips and Rold Gold pretzels.
In 1998, the company bought Tropicana, and in 2001 it acquired Quaker Oats – as mentioned earlier, adding Gatorade to its product portfolio in the process. At the time, Gatorade held a staggering 83.6 percent of the US retail market for sports drinks and was the world leader in its sector, with annual sales of approximately $2bn. The combination of these companies has made Pepsi a widely diversified consumer staples firm.
Challenges and successes
One of the most challenging periods faced by Pepsi came in the mid-1990s, when the company struggled against major problems in its overseas beverages operations. These included vast losses that were posted by its large Latin American bottler and the defection of its Venezuelan partner to Coca-Cola.
In 1996, Pepsi was forced to swallow a special charge of $576m in relation to international write-offs and restructurings, while its international arm posted a huge operating loss of $846m. Among the moves initiated to turn around its international beverage operations was a drive to increase emphasis on emerging markets, including India, China, eastern Europe and Russia. Cola drinks had a less entrenched reputation in these areas, and so the opportunity to focus more on Pepsi or franchise-owned bottling operations – rather than relying on securing joint ventures – was seen as a lucrative expansion opportunity for the company.
More recently, PepsiCo has enjoyed a greater number of successes than failures. In 2015, for the first time in its history, Pepsi outsold Diet Coke to become the second most popular carbonated drink in the US. Regular Coke maintained its long-standing top position, but Diet Coke's sales fell by 6.6 percent as consumers began to shun 'diet' products laced with artificial sweeteners. However, by the same hand, Diet Pepsi's 2015 sales also fell by more than five percent, according to figures published by the trade publication Beverage Digest.
In response to slumping sales, Pepsi spent two years surveying consumers in order to formulate a new Diet Pepsi recipe. In 2015, Pepsi removed aspartame from its Diet Pepsi drink entirely in an attempt to boost sales.
However, the move was short-lived: one year later, Pepsi announced it would be reintroducing aspartame to Diet Pepsi, largely because a considerable portion of consumers did not like the taste of the new and improved version of the product. During the aspartame-free trial at the start of this year, US retail sales of Diet Pepsi fell 10.6 percent in volume terms in a single quarter, while its share of the soda market fell 0.4 percentage points to 4.1 percent, according to Beverage Digest.
However, Pepsi has been savvy in the way it has brought aspartame back into the fold. From September this year, drinkers were given a choice over which of two versions of Diet Pepsi they would prefer: one with aspartame – sold in light blue packaging and labelled 'classic sweetener blend' – and another containing sucralose, an artificial sweetener better known as Splenda, which will be sold in Diet Pepsi's recognisable silver packaging. The company will also be rebranding Pepsi Max as Pepsi Zero Sugar.
US sales of full-calorie soft drinks have declined by more than 25 percent in the last two decades: soda consumption peaked between the early 1960s and the late 1990s, but is now in a sustained decline. In 2014, for the 10th consecutive year, consumption of soda fell by 0.9 percent in the US – Pepsi's largest market (see Fig 3). Traditional soda consumers are increasingly turning to alternatives they perceive as being healthier, such as energy drinks, bottled water and coffee – all of which have seen a spike in sales in recent years. It is this trend that has led PepsiCo down its new path of focusing on healthier food and beverages in place of previous consumer favourites.
Performance with purpose
In 2015, the company slashed the overall water use in its operations by about 3.2 billion litres in a drive towards improved water conservation. In doing so, it has saved more than $80m in production costs. Between 2011 and 2015, it reduced its water use per unit of production by 26 percent, exceeding its 20 percent goal. These actions were part of Pepsi's broader sustainability agenda, which has delivered more than $600m in cost savings in the last five years through water, energy, packaging and waste reduction initiatives.
The firm has also partnered with non-profit organisations to provide safe water access to over nine million people in less affluent nations since 2006, exceeding its original goal of six million people by the end of 2015.
Pepsi has gone to great lengths to be seen as a company with a social conscience. Most visibly, in 2010 it announced that, for the first time in 23 years, it would not have any advertisements during the Super Bowl. Instead, the company spent its $20m advertising budget on a social media campaign branded the Pepsi Refresh Project. This was a seismic move for Pepsi, whose partnership with the Super Bowl had seen it spend more than $142m on advertisements over the course of the previous decade.
Under the Refresh campaign, customers submitted their ideas to Pepsi for ways to refresh their communities, with the proclaimed aim of 'making the world a better place'. Pepsi then funded the projects that received the most votes. To date, more than $20m has been distributed across worthy causes including health, arts and culture, food and shelter, the planet, neighbourhoods and education.
Refresh was a huge success for Pepsi: according to feedback, consumers felt Pepsi was a brand that cared about the community. Moreover – and perhaps more importantly for its continued longevity and success – they felt Pepsi was a forward-thinking, innovative brand – something that Nooyi has pushed for since day one at the company's helm.