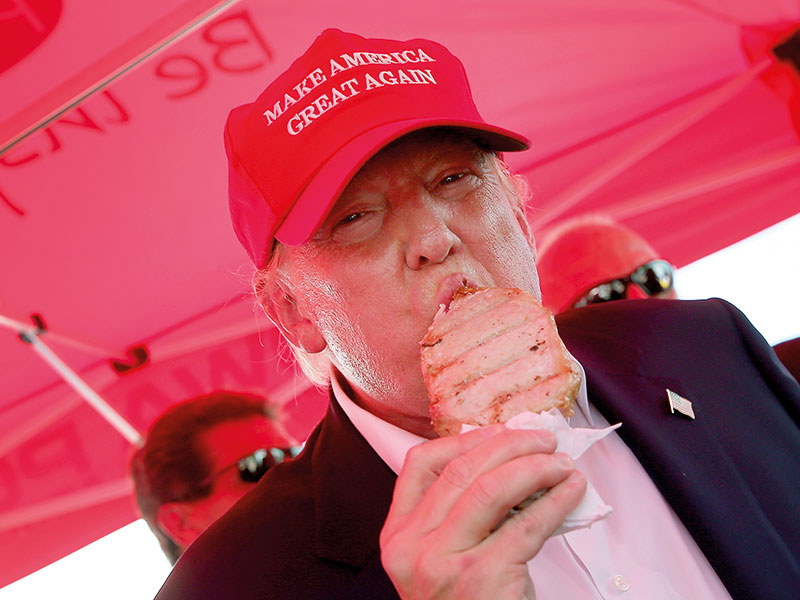 Fat chance: a once-in-a-generation opportunity for US pig farmers to profit from Chinese shortages is fast going to waste, as trade tensions between the superpowers rumble on&nbsp
Just when it seems as if the trading relationship between the US and China is normalising, it breaks down all over again. In August, the US Treasury officially declared China a currency manipulator. Then, just a few weeks later, President Donald Trump claimed to have had a number of "very, very good" phone calls with top officials from Beijing keen to secure a trade deal. China claims no such talks took place; speculation has grown that Trump simply made them up.
So far, the US-China trade war has impacted as many as 1.9 million Chinese jobs and cost the US economy $7.8bn in 2018 alone, according to a paper published by a team of US economists. The lack of certainty surrounding future trading conditions continues to cause chaos for several industries in both countries. In the US, one industry in particular is in danger of missing a huge opportunity for growth.
In normal trading circumstances, US pig farmers would be more than willing to send their ribs, bellies and loins to China to pick up the slack – but these are not normal trading circumstances
China's pork market, by far the world's biggest, is in trouble: since August 2018, African swine fever (ASF) has devastated domestic supply. This will inevitably lead to price rises and necessitate the procurement of new suppliers. In normal trading circumstances, US pig farmers would be more than willing to send their ribs, bellies and loins to China to pick up the slack – but these are not normal trading circumstances.
Pigging out
The first outbreak of the ASF virus is believed to have occurred in Kenya during the first decade of the 20th century. It has remained endemic to Africa ever since, greatly hindering the development of the continent's pig-farming industry. The virus, which is highly contagious, results in blotchy patches on the skin of the animal, diarrhoea and respiratory difficulties. Death usually occurs after a period of seven to 10 days.
Although contained to Africa for many years, the virus has subsequently proven itself to be a keen traveller, after a case of ASF was reported in Lisbon, Portugal, in 1957. Since then, instances of the virus have been found in France, Belgium, Eastern Europe, the Caribbean and now Asia. The current crisis is believed to have started in Georgia in 2007, before migrating to Russia and then China – probably as a result of pig farmers feeding contaminated food scraps to their animals. The impact in China has been staggering.
"There is little doubt that China will face a pork shortage; the more difficult question is when it will materialise," Joe Schuele, Vice President of Communications at the US Meat Export Federation, explained to World Finance. "Hog liquidation put large volumes of pork into cold storage in late 2018 and early 2019, and China now appears to be working through those inventories."
According to Rabobank estimates, China's pig population could fall by a third in 2019 as a result of ASF, with approximately 130 million swine set to die either as a direct result of ASF or due to culling. Consequently, the price of pork in the country has climbed significantly – a year-on-year rise of 20 percent was recorded in April 2019 – with further increases expected.
Went to market
China is the world's largest producer and consumer of pork. According to the OECD, Chinese households purchase 55 million tonnes of the meat every year, fuelled by a domestic swine population in excess of 430 million. This market has always held huge potential for US farmers, but given the challenges presented by ASF, it is beginning to look like a once-in-a-generation opportunity.
But said opportunity is fast going to waste as trade tensions between the US and China rumble on. Tariffs on US pork products have risen substantially this year, limiting the competitiveness of American farms even at a time when Chinese consumers are getting used to paying more for their meat. If these barriers were not in place, it's likely that US farms would have already ramped up their exports considerably.
"It's actually very hard to say what 'normal' trading circumstances would look like for the Chinese market, because China's pork imports fluctuate based on its domestic production," Schuele said. "China's pork industry is so massive that even a relatively small decline in production can create significant opportunities for pork-exporting countries. It is difficult to project how much pork the US would have exported to China in 2018 had retaliatory duties not been imposed, but in 2017 (prior to the tariff hikes), US exports to China exceeded 300,000 tonnes, valued at $663m. In 2018, volume declined to 220,000 tonnes, valued at $571m."
How the market reacts to the ASF outbreak will, in part, determine what happens next. For example, China's carnivores could switch to other varieties of meat such as chicken or beef, but these too are likely to witness some form of price increase in response to the value of pork going up. Alternatively, they could decide that the increased price of pork is worth paying. In that instance, China would need to maintain a constant supply from international sources to make up for domestic shortfalls.
"Were it not for China's trade retaliation, US pork producers would be in a strong position to capitalise on an unprecedented sales opportunity in China, where domestic production is down significantly as ASF has ravaged the country's swine herd," Rachel Gantz, Communications Director at the National Pork Producers Council, told World Finance. "US pork producers face retaliatory tariffs of 60 percent on exports to China, in addition to the existing 12 percent duties on US pork, for a total annualised rate of 72 percent. According to Iowa State University economist Dermot Hayes, US pork producers have lost $8 per hog, or $1bn industry-wide on an annualised basis, because of China's punitive tariffs."
Tariffs represent a reasonable way of protecting vulnerable industries from outside competition, particularly when faced with rival businesses that can offer much cheaper products and services. The drawback, of course, is that retaliatory tariffs are often subsequently imposed. US pig farmers know this better than most: in addition to the trade barriers imposed by China, the American pork industry has faced tariffs from Mexico. A relatively competitive product that would normally help reduce the US' trade deficit is therefore being prevented from doing so.
Chop and change
The lifting of trade barriers would certainly help US farmers, but it would not necessarily open up the Chinese market completely. Many US farms give their pigs ractopamine, a feed additive that promotes the growth of lean meat. Despite its presence in American pork, ractopamine is currently banned in 160 countries, including China. If US producers wanted to target Chinese consumers, they would have to either raise pigs without using ractopamine or hope that China relaxes its regulations. The latter seems unlikely: earlier this year, Beijing banned three Canadian exporters from selling to China after ractopamine was found in a pork shipment.
"Ractopamine has been determined to be safe by the US Food and Drug Administration, the UN's Food and Agriculture Organisation and the World Health Organisation," Gantz said. "It is approved for use in pork production in 26 countries, with 75 additional countries allowing the import of pork from ractopamine-fed hogs, even though it is not fed [to] their domestic herds. Pork producers have a right to choose how to raise their animals and ractopamine is a scientifically proven safe product."
Despite being approved for use in the US since 1999, some farmers, at least, are reconsidering their use of the drug. Ultimately, though, each farmer will have to weigh up the costs and economic drawbacks of removing ractopamine from their own herds. Currently, around 60 to 80 percent of all US pigs are fed the drug, and some of the country's top export markets, including Japan and South Korea, do not ban its use.
Any interest that currently exists in expanding ractopamine-free production would likely be much stronger if US pork had more consistent and reliable access to China, and was on a level playing field in terms of tariff rates. If the US remains priced out of the Chinese market, then pork producers elsewhere stand to profit. According to Chinese customs data, the EU already supplies approximately two thirds of the country's pork imports, and will no doubt look to increase this figure in the future. However, cases of ASF have recently been found on pig farms in Romania, Poland and Bulgaria. The disease has even been recorded in wild boar as far west as Belgium.
"Thanks to vigilant oversight by the US Department of Agriculture and… US [Customs and Border Protection (CBP)], there have been no reported cases of ASF in the US," Gantz said. "The agencies and our industry continue to remain on guard, and we have asked the CBP to add 600 agricultural inspectors at our borders and ports to ensure ASF or any other foreign animal disease does not enter our country."
If ASF continues to prove difficult to purge, then markets where pork is popular will undoubtedly come knocking at the US' door looking for uncontaminated produce. For now, though, it is unlikely to be Chinese consumers. With the trade dispute between President Trump and China continuing, it is US farmers who are missing out on an opportunity that may not present itself again for a very long time.