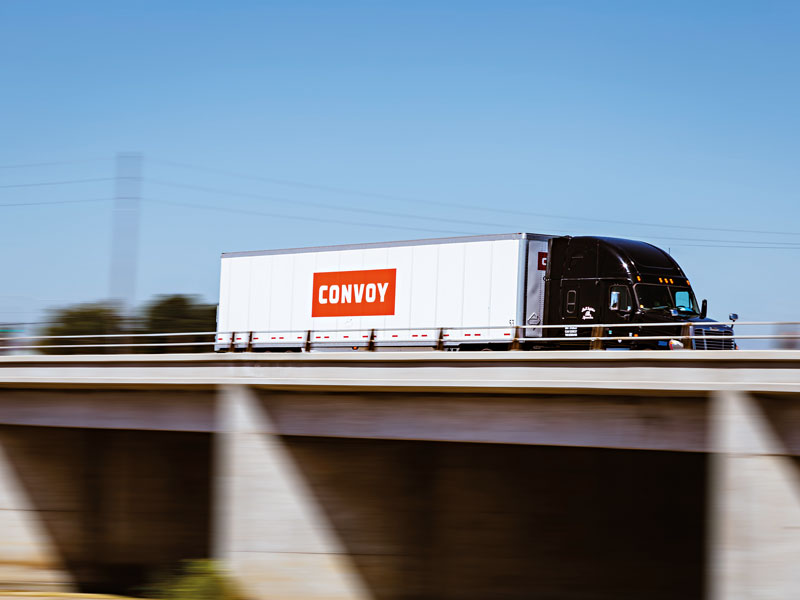 &nbsp
Nearly all merchandise and commodities consumed in the US have been transported via ground at some point in their supply chain. According to American Trucking Association (ATA) data, the trucking industry hauls about two thirds of all freight, which equates to 11.8 billion tons. As a whole, the industry is estimated to be worth $800bn, representing 80.4 percent of the nation's freight bill. The trucking industry employs approximately three million people directly and a total of about 37 million trucks are registered for business purposes running 175 billion miles annually to move truckload freight across the country. This leaves no doubt that the freight industry – primarily trucking – is the core of the US economy.
The breakdown in the supply chain
Yet as we are seeing on the news, the US supply chain is currently in a state of chaos. The major California ports of Los Angeles and Long Beach have as many as 100 ships lined up in the surrounding waters for weeks waiting to unload thousands of containers. Much of the blame has been placed upon the trucking industry crisis – an acute shortage of truck drivers estimated to be about 80,000 by the ATA. This means that cargo, once unloaded, is not being moved out of the ports quickly enough, thereby contributing to the bottleneck.
Despite the trucking industry's significance to the US economy, it suffers from a decades-old problem of inefficiency that contributes to the fragmented supply chain. Traditionally, shippers had two choices when it came to moving their freight. They could work with brokers who connected them to carriers for a fee. Or they could hire asset-based carriers who maintain their own facilities and truck fleets. Both systems operate with high rates of inefficiencies because the industry is largely composed of small trucking companies with six trucks or fewer.
Disrupting the trucking industry
In 2015, Convoy entered the marketplace with a clear vision of designing a revolutionary technology-based model in the trucking industry to seamlessly address decades-long inefficiencies. By focusing on waste and inefficiency reduction, Convoy envisioned reducing costs for shippers, improving the lives of truck drivers, and working to save the planet by ultimately decreasing carbon emissions. The trucking industry, in fact, contributes more than 87 million metric tons of carbon emissions in the United States annually.
Convoy's goal is to continue to improve our technology deployment to serve the trucking industry more effectively
Convoy designed the first-ever digital freight network that leverages technology and data to streamline operations and ultimately optimise how millions of truckloads move around the US. Convoy's network is an open, fully connected freight marketplace that uses machine learning, automation, and other software services to efficiently connect shippers and carriers. Convoy's technology has introduced the notoriously inefficient trucking industry to a system in which trucks are better utilised, costs have come down, and the quality of services has greatly improved.
The Convoy effect
Since Convoy began operating, the trucking industry has witnessed a variety of improvements. In operating our efficient digital freight network, Convoy has automated the traditional freight brokering process including the matching, pricing, and scheduling of trucks to shipments. As a result, there have been multiple benefits for all players across the value chain. For example, as new carriers join the Convoy network, capacity increases, thereby enabling shippers to get lower costs to move freight. And as the volume of freight increases with each new shipper, the life of truck drivers has also vastly improved because they now have more options, better routes, fewer empty miles, and therefore can earn more.
As the marketplace utilising Convoy's digital freight network grows, the company's machine learning algorithms can simultaneously optimise thousands of live and drop loads, thereby providing drivers with bundled loads that reduce empty miles and dwell times, all of which occurs while automatically adjusting for changing conditions in the supply chain.
Using technology to address empty miles
Historically, the trucking industry was designed to operate in such a way that a truck is loaded for the trip from port to inland, but travels empty on the trip back to the port – thereby creating the challenge and disadvantage of 'empty miles.' Yet with Convoy's Automated Reloads programme, participating carriers book multiple loads at a time, helping them earn more, minimise empty miles, and eliminate waiting time between jobs. Convoy algorithmically evaluates and optimises how loads can be grouped in real time without human intervention. This enables carriers to bid their rates or instantly accept pre-planned combinations of loads as a single job, ensuring they stay on the road pulling loads and delivering a high quality of service.
Our research shows that trucks run empty up to 35 percent of their total miles. This significantly impacts driver earnings, the cost of fuel and other expenses, and the environmental impact, making deadheading a losing proposition for all. Convoy's Automated Reloads programme reduces empty miles from the industry standard of 35 percent to 19 percent simply by bundling shipments into a single job for a driver.
If the trucking industry as a whole could adopt the same efficiency improvements, Convoy estimates it could reduce CO2 emissions by 47 million metric tons. Convoy has, in fact, committed to reaching net-zero carbon emissions in its own business by 2040 – a full 10 years ahead of the goal set in the United Nations' Paris Agreement.
Investing in a new future for trucking
Convoy's mission of transporting the world with endless capacity and zero waste has attracted the attention of many notable individuals committed to environmental sustainability and disruption, including Amazon founder Jeff Bezos, Microsoft founder Bill Gates, and former Vice President Al Gore's firm, Generation Investment Management. Other investors include Salesforce CEO Marc Benioff, Code.org founders Hadi and Ali Partovi, former Starbucks president Howard Behar, U2's Bono, and many others who have contributed approximately $700m to the start-up.
The financial backing by these investors has helped Convoy with our ongoing product improvement and expansion strategy as we experience tremendous marketplace demand, while also positioning the company for longer-term growth and success. Convoy has been able to hire an incredible team to build the technology and scale the business nationwide, thus creating one of the most innovative and disruptive brands in the supply chain. Over the years, Convoy has attracted executives such as former Expedia Group CEO Mark Okerstrom who joined Convoy as President and COO, and CTO Dorothy Li who came from Amazon, both of whom are part of the company's 1,000-person workforce.
Convoy's goal is to continue to improve our technology deployment to serve the trucking industry more effectively. There are tremendous opportunities to automate and drive new efficiencies in trucking and it is our goal to deliver solutions that are not only grounded in technology and data science, but also benefit the environment by eliminating unnecessary carbon emissions whenever possible.
While the trucking industry is still in the early stages of a massive transformation, we have seen a number of competitors trying to replicate our business model. This is only validation of the value and importance of driving greater efficiencies to trucking and logistics. Ultimately the only competitor Convoy wants to eradicate is waste, which remains rampant in our supply chain.