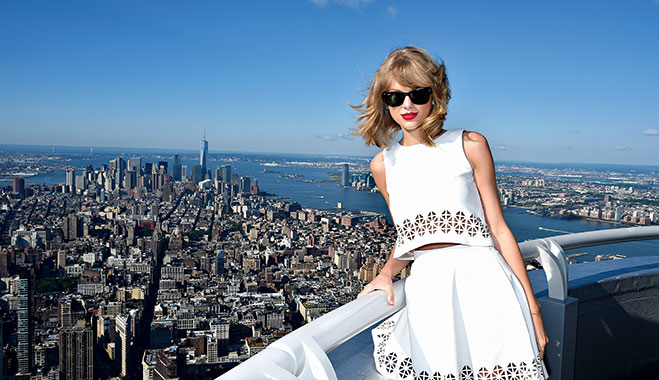 Taylor Swift. The singer-songwriter bought TaylorSwift.porn to protect her brand&nbsp
Pop sensation Taylor Swift made headlines earlier this year when she was labelled – we can only assume for the first time – a squatter, as the latest in a long line of trademark disputes took hold. Arguably the best-known example of cybersquatting to date, the case was important insofar as it shed a light on what measures affected parties could take to tackle this new and growing phenomenon.
The incident was first thrust into the limelight when Ronnie Cremer, co-founder of The Cremer Brothers and the guitar teacher credited with having mentored Swift in her formative years, registered the domain name www.ITaughtTaylorSwift.com. Launched upon by Swift's lawyers merely for having used his former pupil's name, Cremer was issued with a cease and desist letter that alleged: "The use of Ms Swift's name suggested sponsorship or endorsement of the website." Fearing that Cremer could soil Swift's reputation, the letter went on: "The domain name and the use of the domain name are also highly likely to dilute, and to tarnish, the famous Taylor Swift trademark."
Unfortunately, the action succeeded only in rattling casual observers, who proceeded to buy up domain names featuring the Taylor Swift trademark en-masse, with the intention of unsettling the singer's legal team and perhaps even turning a profit. Far from well-meaning innocents like Cremer, the buy-up that ensued was the work of internet trolls, intent only on upsetting the balance of things and muscling in on the limelight. The solution would prove costly.
313%
Increase in cybersquatting in the eight months up to March 2015
1,400
New generic top-level domain names added to the web
To protect against potential damages, Swift's management snatched TaylorSwift.adult, Taylorswift.porn and a string of similar such domain names to ward off potential squatters. As a result, the Taylor Swift estate is sitting on dozens of domain names, as part of a method intended both as a brand protection strategy and a means of insurance. However, with the number of new top-level domains growing, any attempt to pip squatters to the post on millions of variables could prove expensive, beyond the means even of multi-millionaire Ms Swift.
In an online marketplace populated by .com, .net, .org, and hundreds more besides, the growing number of domain names in recent months and the months to come warrants a real and growing cause for concern.
Name explosion
"When it comes to misleading or downright fake web addresses, businesses used to have to keep an eye on a handful of so called generic top-level domains or gTLDs", says Nick Wenban-Smith, Senior Legal Counsel at Nominet. "These gTLDs were limited in number with the original .com, .net and .org suffixes being gradually increased over the years by the addition of .biz and .info among others. Monitoring for abuse was relatively straightforward. However we are currently in the middle of an unprecedented increase in gTLDs."
In January, the Internet Corporation for Assigned Names and Numbers (ICANN) led the largest known domain name expansion in the internet's history, expanding the number of new gTLDs to well over 1,000. Around 1,400 new suffixes are being added to the web, with around half qualifying as 'open' registries, meaning that anyone can register on a first-come-first-served basis, say sources at Nominet.
The implications of the expansion are threefold. Firstly, the sheer scale of the expansion means there is more potential for abuse, as in the case of Swift, which in turn means that the issue is both more difficult to monitor and to enforce. Commenting on the situation and the costs it could inflict on affected parties, Wenban-Smith says: "Paying for protective defensive registrations to prevent third parties from using your brand name has become exponentially more expensive."
At the same time, industry sources claim that these new gTLDs could prove beneficial for the online community. "There are now almost five times more generic top-level domains than there were only a few months ago and that translates to greater consumer choice", said Akram Atallah, President of ICANN's Global Domains Division. "We are as eager as everyone else to see what type of innovation these new domains will usher into the online world." And though the stated intention was to spark innovation, the move has resulted in an explosion of cybersquatting incidents.
Figures compiled by the internet regulator show that incidences of cybersquatting have risen 313 percent in the eight months through to March, and the expanded list all but guarantees that the number of cases will rise further still in the coming months. Notable cases so far include redbull.vodka, lauraashley.email and burberry.clothing, all of which have been stung by cybersquatters, muscling in on the development to turn a quick profit.
The Red Bull domain, for example, was registered by an LA-based rapper who claimed his purchase was justified on artistic grounds, whereas the Laura Ashley email was acquired by one Giovanni Laporta, who bought up hundreds of .email domains with a view to selling them at a later date. Here, the differences between the two offer an indication of the offences in question, and just how broad the disputes can be.
"It's early days", says Wenban-Smith. "Just as the later entrants to the web address market such as .biz and .info only made a fraction of the impact of the original .com, .net and .org suffixes, so far there has been very little impact and it is not at all clear that anyone (other than ICANN which charged $200,000 a time for applications for new gTLDs) has made a profit from the raft of new suffixes. However the new gTLDs with most market potential such as .web and .app were heavily contested, and have not yet launched. The jury is still out."
The internet .sucks
The proliferation of these new suffixes has brought new opportunities for related parties, and the work of domain name resellers has created an expensive challenge for idle brands.
Realising that these new gTLDs could prove valuable for brands in the near and far future, registrants are offering trademark owners the opportunity to bag a domain name ahead of public sale, though at a premium. Vox Populi Registry, for example, has come under fire recently for doing just that; giving trademark owners the chance to purchase a .sucks domain name for $2,500, before the opportunity is extended to the public come June for the lesser sum of $249.
Apple, Taylor Swift and Kevin Spacey have each bought into the .sucks movement early on, fearing that squatters could move in after the June 1 deadline and use the site as a platform to critique or discredit trademark owners. Allegations that Vox Populi's methods are both exploitive and predatory, therefore, have been answered by the assertion that the PR value of the .sucks name means the web address is worth more to trademark owners than it is to the general public. "What we have the chance to do is create a platform, an opportunity – maybe we can call it a clean, well-lighted space – for criticism, where companies can curate, collaborate, moderate and gain valuable insight from it", said John Berard, CEO of Vox Populi, in an interview with Law360. "I probably sound like a lunatic to most people, but I've been in the marketing and communications business for 40 years, and I've seen the value of hearing what people have to say about you, good or bad."
Brand protection
The expanded list of top-level domain names means that brands must keep close tabs on their online presence, both of their own and others doing. And while the challenge is much the same as it was at the birth of the commercial internet, the solutions must be more comprehensive and far-reaching if brands are truly to uproot any and all cases of cybersquatting.
"A variety of new countermeasures have been put in place by ICANN, as part of the processes for granting such a large number of new gTLDs at once", says Wenban-Smith. "These include: a global Trademark Clearing House for brand owners which enables a more efficient and scalable registration across the new gTLDs as they launch and a notification service; there is also a new rapid suspension process to combat very clear cases of cybersquatting. To date however these have not been heavily used – while Nominet's Welsh gTLDs .cymru and .wales now have over 13,000 new registrations, we have only received one complaint about cybersquatting."
What's certain is that any trademark owner, irrespective of their financial clout, will be hard up to preempt all infringements on this front, though a balanced trademark portfolio will go some way to balance exposure and costs. Essentially, what's needed is a brand protection strategy that weighs up the registration costs against the risks of being idle. Trademark laws are complex, prohibitively so in countries like China, meaning that brands can only stay vigilant as they come to terms with cybersquatting in its initial stages.