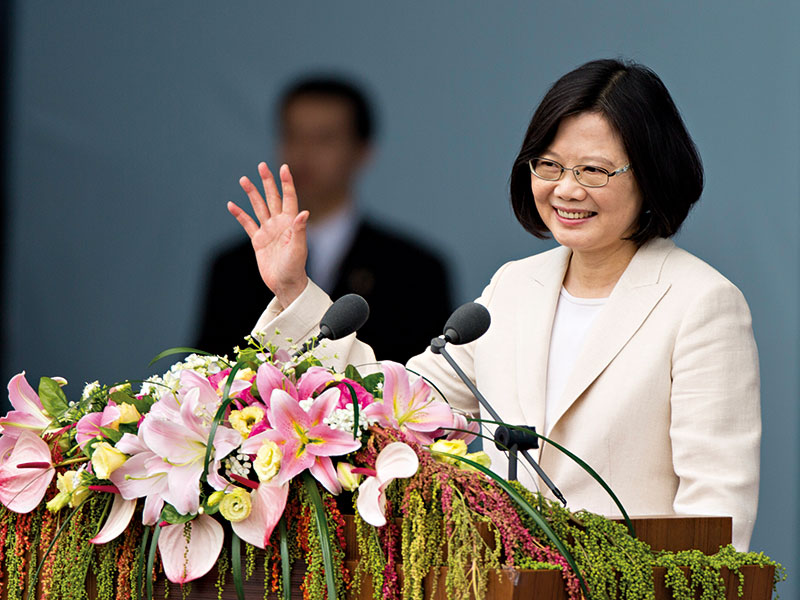 President Tsai Ing-wen, the leader of Taiwan's Democratic Progressive Party, has long campaigned on an anti-China, pro-independence platform&nbsp
Author:
Charlotte Gifford
Last year, on October 1, China celebrated the 70th anniversary of the People's Republic. From the ostentatious parade floats to the grand military display showcasing more than 160 aircraft and 580 weapon systems, it's clear that no expense was spared in marking the occasion.
The event set the bar high for an even more significant national milestone: the republic's centenary, to be held in 2049. According to Xi Jinping's vision for the country, this is the year that China will have become "fully developed, rich and powerful". One could argue it has already achieved the last two objectives. But "fully developed" has a specific meaning to Xi: it communicates the idea that China will only be territorially complete when it has reunited with its satellite states.
This makes 2049 an intimidating deadline for Taiwan. Despite having existed as a self-ruled island since 1949, it is seen by China as a breakaway province. Xi is set on reunification, and has stressed that Hong Kong's 'one country, two systems' model could be workable in Taiwan.
But since protests broke out in Hong Kong in 2019, this has been a difficult sell. Widespread unrest in the city-state worked to the advantage of President Tsai Ing-wen, the leader of Taiwan's Democratic Progressive Party, who has long campaigned on an anti-China, pro-independence platform. In January 2019, she was re-elected by a landslide, garnering 57.1 percent of the vote. She must now reject mainland China's economic and political vision and steer the country towards greater independence and self-sufficiency.
While Taiwan is opening its arms to South-East Asian countries, it has sometimes received the cold shoulder in return
A new direction
In light of Tsai's victory, Chinese Foreign Minister Wang Yi warned that Taiwan's independence from China would leave a "stink for eternity". But Taiwan is perfectly capable of standing on its own two feet. Having industrialised rapidly in the 1960s, the state is one of the Four Asian Tigers that experienced fast economic growth in just a few decades, along with Singapore, South Korea and Hong Kong. Since then, it has established itself as a manufacturing powerhouse: almost all of the world's semiconductors come from Taiwan, as do 90 percent of its laptops.
Despite the pressures the island experienced as a result of the US-China trade war, Taiwan ultimately benefitted from its neighbour's turmoil, experiencing a $4.2bn increase in exports to the US in the first half of 2019. In fact, the UN Conference on Trade and Development has recognised it as the biggest beneficiary of the dispute. At least 40 countries looking to shield themselves from US tariffs on Chinese imports chose to expand production in Taiwan, creating more than 21,000 jobs with investments totalling $6.7bn. Consequently, Taiwan's economy grew by 2.73 percent in 2019.
Critics of China believe Taiwan's rapid growth and manufacturing prowess give it a strong case for economic independence. Since China's post-1978 reform, Beijing has taken steps to strengthen economic ties between the countries, with the implicit aim of politically integrating them. However, Taiwan has usually been cautious about accepting investment from China. Tsai's resistance to what she sees as Chinese encroachment has led her to keep Chinese funding low and diversify Taiwan's investment away from the mainland.
To this end, Tsai has championed a strategic pivot towards South-East Asia. Her New Southbound Policy, introduced in May 2016, aims to integrate Taiwan into the supply chains of South-East Asian countries, while also facilitating talent exchanges between them and collaborating on critical infrastructure projects.
If Taiwan had formal ties with South-East Asian countries, its investors would benefit from government-to-government lobbying and could more easily overcome bureaucratic hurdles in emerging markets. So far, the policy has enjoyed relative success. In December 2017, Taiwan signed a bilateral investment agreement with the Philippines and, in May 2018, an agreement on agricultural cooperation with Indonesia. Taiwan is also seeing a rise in tourists from South-East Asian countries, thanks to a decision to grant citizens visa-free entry to Taiwan. In addition, trade with New Southbound countries rose from $96bn in 2016 to $117.1bn in 2018.
Stifled growth
But it's not all been smooth sailing. While Taiwan is opening its arms to South-East Asian countries, it has sometimes received the cold shoulder in return. Taiwan's attempts to create a free trade agreement with Australia were stalled after China stepped in to voice its concerns. Chun-Yi Lee, a lecturer in politics and international relations at the University of Nottingham, told World Finance that this was not a singular incident: "I was in Vietnam in March 2018 doing fieldwork of Taiwanese factories in Ho Chi Minh City, and a Taiwanese businessman told me that they originally wanted to put a Taiwanese industrial park in the city. But it had been turned down by the local government because of the name of Taiwan."
China poses a significant obstacle to Taiwan's New Southbound Policy. The sheer size of its economy gives it the leverage to dissuade some countries from growing close to Taiwan. However, Lee points out that this doesn't mean Taiwan is in danger of being completely ostracised. "Money is money. It doesn't matter which country it's coming from; Vietnamese, Malaysian and Taiwanese money is as good as Chinese money," she told World Finance. "However, the Chinese Government is putting some pressure on those South-East Asian countries as a way of making investment harder for the Taiwanese."
Beijing has a more direct way of squeezing Taiwan's economy: in July 2019, it banned individuals from travelling to the island, in a major blow to Taiwan's tourist industry. Tsai accused China of politicising the industry in a bid to manipulate presidential elections.
Threatening signals like this spook Taiwanese businesses. Many in Taiwan are wary of what severing connections with China could mean for the island's fortunes. China is Taiwan's largest trading partner, accounting for nearly 30 percent of the island's total trade, and its citizens make up around a quarter of the tourists who visit Taiwan each year. "Tsai's policy is anti-China. We can't sell our products to China and there are fewer mainland tourists to Taiwan," Tsai Pao-shin, a former supporter of the Democratic Progressive Party and executive secretary of a fishing association in Kaohsiung, told AFP.
Opposition to China could also lock Taiwan out of beneficial trade deals. Taiwan is unable to join the Regional Comprehensive Economic Partnership, which targets 16 Asia-Pacific countries (including China), because it would have to join as a province of China. Playing upon the many anxieties surrounding her re-election, Tsai's electoral opponent, Han Kuo-yu, ran with the campaign slogan "Taiwan safe, people rich".
As well as encouraging investment in South-East Asia, Tsai is calling for Taiwanese businesses to return from the mainland
Come back home
As well as encouraging investment in South-East Asia, Tsai is calling for Taiwanese businesses to return from the mainland. Companies that repatriate will be eligible for a preferential tax programme. As part of the two-year scheme, which was launched at the end of 2019, companies and individuals will be taxed eight percent in the first year and 10 percent in the second – a significant saving considering the country's standard corporate income rate is 20 percent.
So far, a number of companies have been tempted back, including Quanta Computer and AU Optronics. However, Iris Pang, a Greater China economist at ING, argues that there are some doubts about the policy's success. "There are investments booked, but there is no matching data to suggest that there has been a growth in the number of factory buildings or in factory production," she told World Finance.
For more organisations to set up shop in Taiwan, Tsai urgently needs to make the country more business-friendly. Shortages of water and electricity are a thorn in the side of Taiwanese companies. "There are certain sectors you can't facilitate if you do not have sufficient electricity support," said Lee. "The majority of Taiwanese businesses are in the manufacturing sector; we have not yet built a designing sector like Silicon Valley." At the same time, wages have been stagnating for years, driving away high-skilled workers. This has not been helped by China's attempts to attract Taiwan's top talent with generous incentives. As a result of Xi's Made in China 2025 initiative, 3,000 Taiwanese chip engineers have moved to the mainland for work.
Improving the country's infrastructure and bringing more sophistication to its industries should be key priorities for Tsai moving forwards, but her power struggle with Beijing could make this difficult. Since Tsai became president in 2016, China has turned up the heat on Taiwan. Now that she's been re-elected, the country will continue to do so. For Xi, Taiwan remains unfinished business.