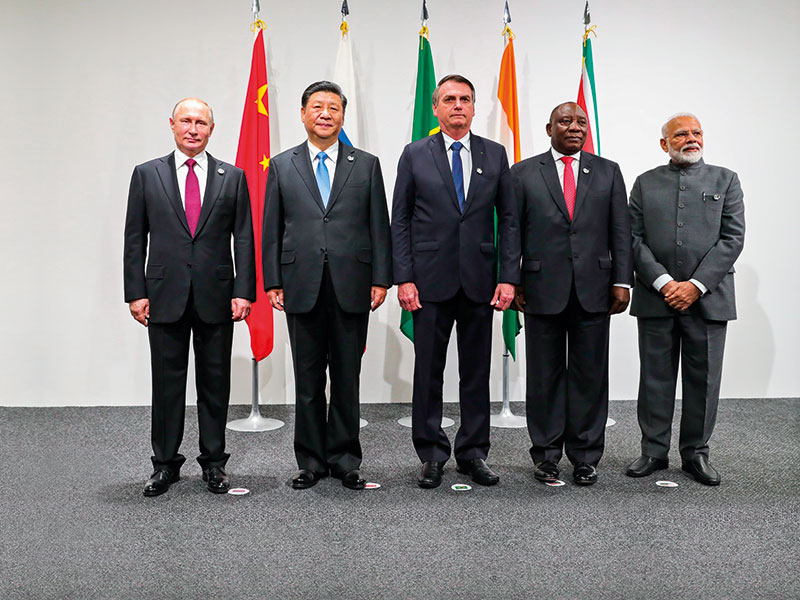 BRIC by BRIC: on December 24, 2010, South Africa was invited to join Brazil, Russia, India and China to create the expanded BRICS group&nbsp
The financial world is awash with acronyms and initialisms – from AIR and ARM to IMF, and many more besides. In 2009, another was formalised, grouping the four emerging economies of Brazil, Russia, India and China under the name BRIC. A year later, South Africa was invited to join, creating a coalition that has since been dubbed the BRICS.
In the decade since, the BRICS has strengthened cooperation between its member states, holding formal meetings annually and operating as a geopolitical force. Of late, though, there has been some discontent: aside from disagreements over how the association should progress, there has been talk of expanding the group to allow new members to join or, conversely, disbanding it entirely.
With economic growth in the West – particularly in Europe – proving sluggish, there is an opportunity for emerging economies to take on a greater global role. What this role will entail is something the BRICS nations will have to decide among themselves.
What's in a name?
Long before all the summits and World Trade Organisation discussions, the BRIC group of countries represented little more than an idea in the mind of a single economist: Jim O'Neill. In 2001, when O'Neill was working as the head of global economics research at Goldman Sachs, he noticed that much of world's growth was likely to come from emerging markets – notably, Brazil, Russia, India and China.
Increasing digitalisation, falling poverty and a young, growing workforce all present good prospects for Africa's future
"On a [purchasing power parity] basis, the aggregate size of the [BRIC nations] was about 23.3 percent of world GDP at the end of 2000, somewhat higher than both Euroland and Japan," O'Neill wrote in a Global Economics Paper published by Goldman Sachs. "While on a current GDP basis, the size of the [BRIC nations] is just under eight percent, this is also set to rise. Some of these countries are already bigger than some individual G7 economies; China, at 3.6 percent of world GDP (using current US dollar prices), was slightly bigger than Italy at the end of 2000, and notably larger than Canada."
The idea began to crystallise into something more concrete in 2006, when the foreign ministers of Russia, Brazil and China, alongside India's defence minister, took part in a meeting during a UN General Assembly session in New York. Three years later, the first BRIC summit took place in Yekaterinburg, Russia, where the organisation's collective goals were outlined.
"We underline our support for a more democratic and just multipolar world order based on the rule of international law, equality, mutual respect, cooperation, coordinated action and [the] collective decision-making of all states," read point 12 of the countries' joint statement. "We reiterate our support for political and diplomatic efforts to peacefully resolve disputes in international relations."
Followers of political developments across the four countries may struggle to contain their disbelief: China remains an authoritarian state, and Russia's president, Vladimir Putin, seems intent on ruling indefinitely. Brazil and India may be able to back up their democratic claims more robustly, but corruption is still a serious issue in both countries. Even if these early proposals were largely symbolic, though, the BRIC summits nevertheless laid the groundwork for greater collaboration.
"Is there much evidence that the [BRIC] countries are collaborating today in practical terms?" O'Neill noted in an interview with the Financial Times in 2010. "Not really, no. But that could change in the future – you look at how Brazil supplies commodities [that] China needs… or the fact that they all have quite similar ideas about how to manage their economies."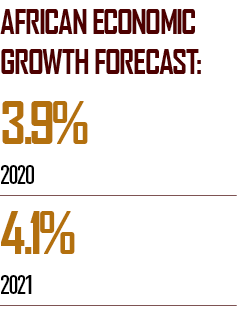 Join the club
On December 24, 2010, South Africa was invited to join Brazil, Russia, India and China, thereby creating the expanded BRICS group. The decision stemmed from more than just a desire to keep the acronym intact: by forming the original BRIC group, member states gained added political clout across all of the world's major regions. All except Africa, that is. The addition of South Africa remedied this geographical oversight and formally recognised the huge potential of the continent.
According to the African Development Bank, Africa's economic growth will measure 3.9 percent across 2020 and 4.1 percent in 2021. Increasing digitalisation, falling poverty and a young, growing workforce all present good prospects for Africa's future. South Africa's inclusion in the BRICS affords the country the chance to be the gateway to the rest of the continent. In terms of how its membership might benefit other African states, South Africa has stated that it is committed to ensuring fellow BRICS countries champion energy, infrastructure, agriculture and food security across the continent. The strengthening of international frameworks will also remain a priority.
China – the BRIC member that formally announced South Africa's invitation to join – certainly has plenty of interests in Africa. Chinese foreign direct investment (FDI) in the continent skyrocketed from $75m in 2003 to $5.4bn in 2018, and has exceeded inflows from the US since 2013 (see Fig 1). The Belt and Road Initiative – the global development strategy that has become the flagship project of Chinese President Xi Jinping's tenure – has already had a significant impact across Africa. The Abuja-Kaduna railway and the Doraleh Multipurpose Port in Djibouti represent just two of the proposals to have already come to fruition.
"It is well recognised by the UN and Bretton Woods Institutions that the world economy is undergoing a profound structural shift in economic power, with the emergence of new sources of global economic growth, trade and investment flows, which are redefining global economic geography," former South African President Jacob Zuma wrote in 2013. "The BRICS countries are at the centre of these changes. In broad terms, there is a relative shift in the locus of economic power from the North and the West to the South and the East."
Even accounting for this shift, the addition of South Africa could undermine the group's unity. Ranked by GDP, China, India and Brazil all place within the world's top 10 economies, while Russia comes in at 12th. By comparison, South Africa is ranked 38th, representing by far the biggest disparity between members (see Fig 2).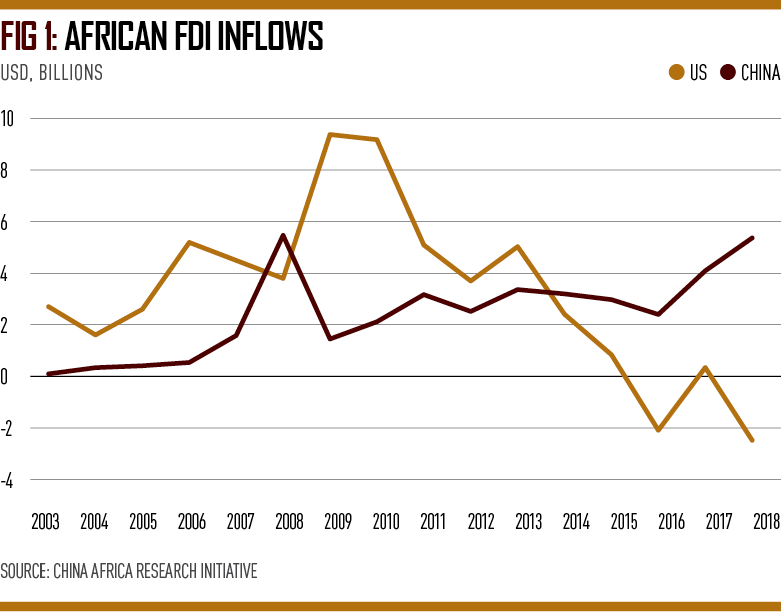 Strange bedfellows
South Africa's relative economic inadequacy is not the only challenge the BRICS faces. There have been numerous criticisms that the collective is an uncomfortable one –perhaps reflecting the fact that it started life as an idea in the mind of an economist, rather than forming organically from multilateral discussions and mutual interests.
While China has become known as the world's factory, with manufacturing constituting around 27 percent of the country's national output, India's economy is dominated by the services sector, which accounts for nearly 60 percent of its GDP. Brazil can point broadly to an economic success story, but it has struggled with several public sector issues, namely pension reform. Russia, meanwhile, has followed a different economic trajectory to its BRICS counterparts: having once been regarded in many respects as the US' foremost economic rival, it suffered greatly following the collapse of the Soviet Union in 1991.
These differences are perhaps to be expected from four nations located in different geographic regions with widely varying histories – South Africa is no exception. Nevertheless, there have been several attempts to come up with more cohesive groupings for the emerging market. Another put forward by O'Neill was the Next Eleven, which comprised Vietnam, Turkey, the Philippines, Pakistan, Nigeria, Mexico, South Korea, Iran, Indonesia, Egypt and Bangladesh. Of course, this grouping contains even wider discrepancies than the BRICS association.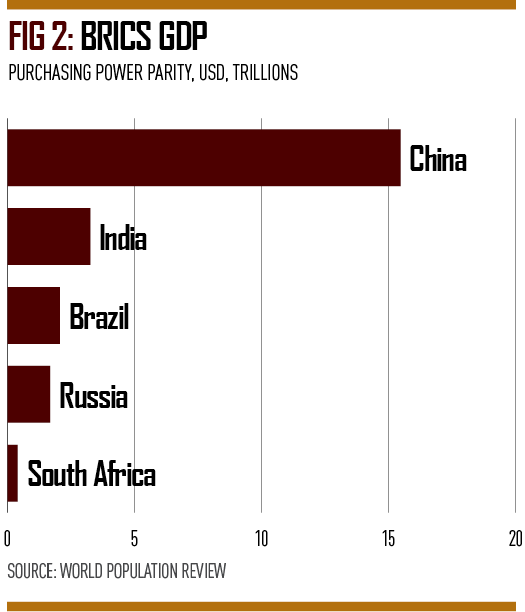 Still, dissimilitude is not necessarily reason for disbandment. In fact, the relative strengths and weaknesses of each member state can provide a strong case for closer collaboration: South Africa has a large number of agricultural products that it is keen to export, while China is intent on gifting its manufacturing expertise to the country. In 2017, South Africa became the first African state to export beef to China, while firms like the Qingdao-based Hisense have created thousands of jobs in South Africa. Economies that are too closely aligned might not have much to offer one another.
Better together
Although examples of the tangible benefits of BRICS membership were few and far between in the group's early days, there are now several concrete developments that can be pointed to. Foremost among them is the creation of the New Development Bank (NDB) as an alternative to existing multilateral development banks (MDBs), such as the IMF. Many emerging markets have had troubled relationships with such organisations in the past: the Brazilian Government, for example, previously criticised the IMF for requesting strict policy guarantees in exchange for bailouts.
Headquartered in Shanghai, the NDB promises to give the BRICS members more autonomy in matters of financial assistance. Its current general strategy, covering the five years between 2017 and 2021, has three broad focus areas: relationships, projects and instruments, and approaches. In terms of the first strand, most NDB decisions are made on a simple majority basis to ensure that each member feels it has a clear say in the running of the bank. No single party can veto any matter.
"The NDB was conceived by founding members – Brazil, Russia, India, China and South Africa – to be a truly 21st-century MDB, one that makes use of the MDB's proven core financial model, while designing and implementing systems, practices and an organisational culture that can live up to the challenges and opportunities posed by the current global context," an outline of the general strategy read. "Its creation is an expression of the growing role of BRICS and other [emerging markets and developing countries] in the world economy and their greater willingness to act independently in matters of international economic governance and development."
In terms of economic development, the BRICS has not wholly lived up to expectations
Since its formation in 2015, the NDB has issued more than 35 infrastructure loans, totalling $10.2bn across a multitude of sectors, from renewable energy to transport. Impressively, the bank has also managed to acquire high credit ratings – a crucial element to ensuring the bank can raise capital at speed. In 2018, the NDB received AA+ ratings from both Standard & Poor's (S&P) and Fitch Ratings, before receiving a AAA rating from the Japan Credit Rating Agency last year.
BRICS members have collaborated in other ways, too. Health ministers from the five states meet annually to discuss areas in which medical services can be improved; the creation of the BRICS TB Research Network provides concrete evidence of the group's impact. Science and security form two other areas where members remain in constant dialogue.
Cracks appearing
Despite several instances of mutual benefit, the BRICS states could do more to demonstrate they are on the same page. This will not be easy, though, especially given the many demographic and social differences that currently exist. First, the populations of the five states vary substantially: while South Africa has around 57 million inhabitants, India and China have more than a billion each (see Fig 3). In terms of GDP per capita, Brazil and Russia remain ahead, with India ranked much lower than the other members. Other areas, such as inequality, trade and ease of doing business, also diverge markedly.
What's more, the BRICS grouping has not prevented political tensions from flaring up between member states. Border disputes have been a long-running issue between China and India, with the most recent military standoff taking place in the area surrounding Pangong Lake in September 2019. In other areas of foreign policy, the members are at odds, even if not in direct opposition.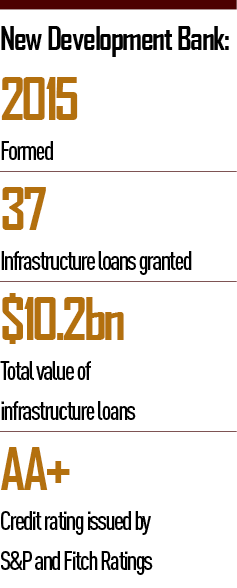 India's close relationship with the US, for example, is in sharp contrast to the more negative attitudes exhibited towards Washington in Beijing and Moscow. Likewise, cooperation between Russia and Pakistan, particularly concerning joint military drills, has caused some consternation in New Delhi. During his election campaign, Brazilian President Jair Bolsonaro even warned that China was "buying [up] Brazil".
In terms of economic development, the BRICS has not wholly lived up to expectations, either. Members have failed to become the driving forces of the 21st century's global economy – even Chinese growth has slowed of late. Extenuating circumstances, including national recessions, trade tensions and the COVID-19 outbreak, have not helped, of course. Somewhat embarrassingly, Goldman Sachs – the bank at which the original group's acronym was coined – closed its BRIC investment fund in 2015 after years of poor returns.
S&P is just one of many entities to question whether the grouping remains relevant, arguing late last year that the members' "disparate paths weaken the analytical value of viewing the BRICS as a coherent economic grouping". Even after 10 years, there is work to be done if the BRICS group is to survive long into the future.
Reinforcing the foundations
As the BRICS states look ahead to the next decade, members are increasingly eyeing ways to intensify their collaboration. One potentially fruitful area would be digital innovation.
"BRICS countries need to promote networking between chambers of commerce and industry, business councils, professional associations and unions, intensify collaboration between business entities through joint projects, trade fairs and exhibitions in the hi-tech sector," Igor Bogachev, CEO of IT firm Zyfra, told The Economic Times. "The main barrier for commercial projects in BRICS countries is a lack or absence of data… Successful results are mainly achieved by interdisciplinary groups consisting of data scientists, IT specialists and industry experts."
Expanding the core group of BRICS members would risk watering down an association already facing questions about its current and future relevance
This year, it is Russia's turn to lead the five-nation grouping, and it has already pledged to host 150 activities. One of the BRICS priorities under Russia's governance will indeed be "to develop cooperation in the digital economy and innovations", although how exactly this will play out is not yet clear. That said, there have already been discussions about Brazil and South Africa collaborating in the fields of bioenergy, bioelectricity and biofuels.
Russia has also offered to share its experience in the field of digitalisation with the other members, in the hope of developing better e-commerce frameworks. Great opportunities certainly exist for the BRICS states, and not only in terms of economic development. BRICS members can take a leading role in tackling global warming, for example: China is reducing its coal dependence rapidly in favour of wind and solar power, while India has ambitious goals of its own, aiming to produce 450GW of renewable energy by 2030. Getting Russia and Brazil to join in will be more difficult, but member states must be prepared to push back against their partners.
Another potential development under discussion is the further expansion of the group. There have been murmurings of a BRICS+ coalition that would allow outside countries to cooperate with existing members. In particular, the concept would see the BRICS engage more seriously with other regional associations like the Eurasian Economic Union, the Southern African Development Community and Mercosur.
However, expanding the core group of BRICS members would risk watering down an association that is already facing questions about its current and future relevance. In addition to forging new ties through the BRICS+ initiative, the existing countries of Brazil, Russia, India, China and South Africa must strive to work more closely in areas of social, economic and geopolitical interest. That is the only way the BRICS group will move beyond its reputation as just an easy-to-remember acronym.