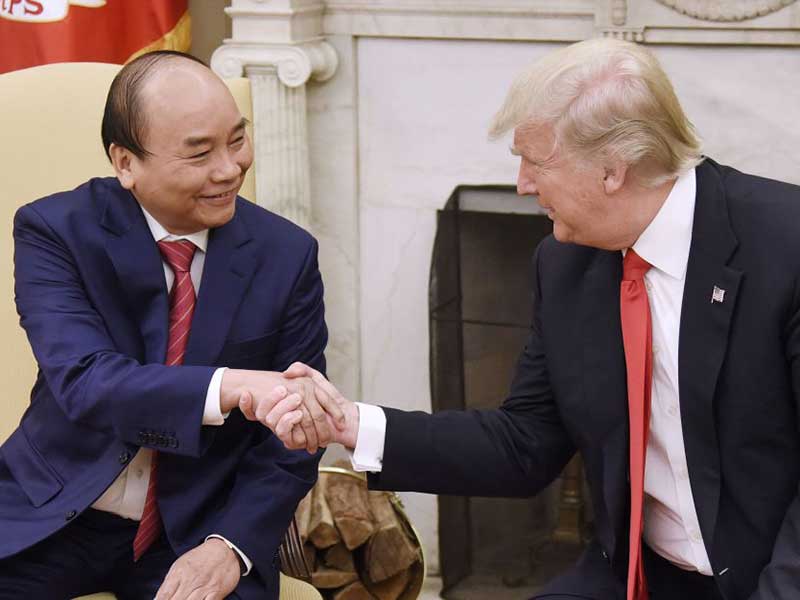 Vietnamese Prime Minister Nguyen Xuan Phuc meets with US President Donald Trump &nbsp
On May 31, US companies signed deals worth in excess of $8bn with Vietnam, marking the beginning of a reformed trade relationship between the two countries. The deals were announced as Vietnamese Prime Minister Nguyen Xuan Phuc embarked on the second day of his trade-focused tour of the US. Phuc began his three-day visit by declaring his intention to arrange deals for US goods and services worth between $15bn and $17bn.
"Vietnam will increase the import of high technologies and services from the United States, and on the occasion of this visit, many important deals will be made", Phuc told the US Chamber of Commerce at a dinner earlier this week.
The prime minister's visit follows President Trump's decision to pull out of the Trans-Pacific Partnership (TPP) in favour of upholding the protectionist stance he championed on the campaign trail. Trump's decision to pull out of the trade treaty – and focus instead on building bilateral arrangements – will have come as a heavy blow to Vietnam, which was expected to be one of the main beneficiaries of the TPP.
Phuc began his three-day visit to the US by declaring his intention to arrange deals for goods and services worth between $15bn and $17bn
Yet, the US remains by far the world's largest consumer of Vietnamese products. These products have historically centred on low cost items such as clothes, shoes and furniture. Increasingly, however, the country's export industry has provided electronic hardware, particularly in the form of semiconductors.
Last year, the US' trade deficit with Vietnam was its sixth largest, prompting US Trade Representative Robert Lighthizer to express concern over the rapid growth of the deficit.
"Over the last decade, our bilateral trade deficit has grown from about $7bn to nearly $32bn", Lighthizer said in a statement. "This concerning growth in our trade deficit presents new challenges and shows us that there is considerable potential to improve further our important trade relationships."
Of the collection of deals signed already, US Commerce Secretary Wilbur Ross said the transactions would include $3.4bn worth of products manufactured in the US, while also reinforcing the service sector and supporting 23,000 jobs.
General Electric (GE) agreed one of the largest deals, securing $5.6bn in exchange for providing power, aircraft and services to Vietnam. The deal represents the largest single sale to Vietnam in GE's history.
Other engineering firms also stand to profit from the new arrangement. For example, multinational aerospace services company Honeywell signed a $100m deal to supply VietJet with power units for a new fleet of aircraft, while Caterpillar agreed to provide generator management to over 100 generators in Vietnam for an undisclosed fee.
Tourism is another industry that stands to benefit: hotel chain Hilton negotiated a deal in the region of $650m to manage a large hotel in Vietnam, while port security firm Passport Systems signed deals worth $1bn.
But, while Trump will undoubtedly proffer these deals as evidence he is succeeding in his promise to restore jobs to the country, Vietnam's desire to increase the level of "high technology and services" coming from the US will raise concerns Trump is negotiating deals that don't directly benefit US manufacturing.