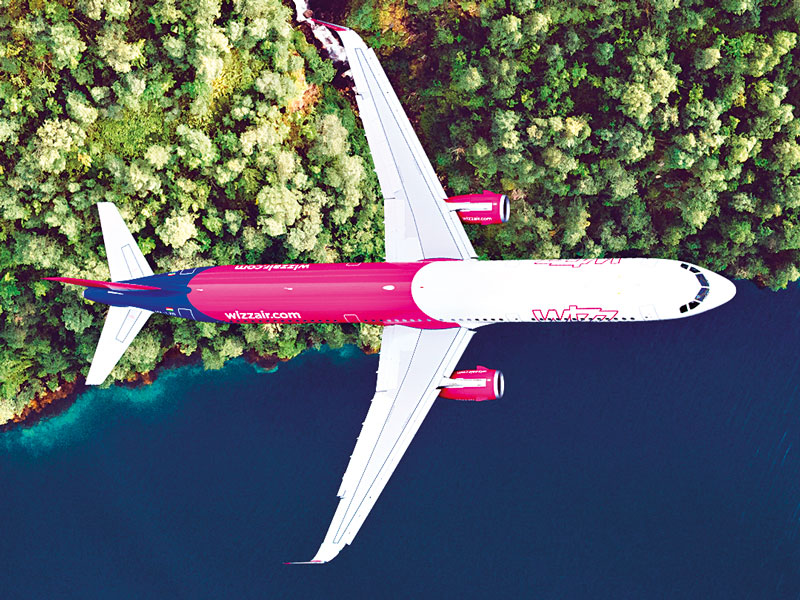 &nbsp
Author:
József Váradi, CEO, Wizz Air Group
A relative upstart in the industry, the 17-year-old low-cost carrier opted to push on with an expansion plan while closely watching the pennies. First though, the team led by founder and chief executive József Váradi moved fast to take remedial action. "Wizz Air gave probably the most agile response to the pandemic-related loss of travel possibilities," he told World Finance. These instant measures included the introduction of a strict hygiene code to keep customers and crew safe. In a confusing regulatory environment, an online travel map was developed so that passengers could keep up to date with official restrictions. And although Wizz Air had little experience in the freight business, it quickly built up a cargo operation to defray losses.
As some European airlines struggled for survival, bleeding billions, management conscientiously managed the bottom line. "Wizz Air continued to focus on strengthening market position and protecting liquidity during the third quarter of 2020 as sustained government restrictions severely obstructed air travel," Váradi told shareholders in a briefing on performance. Every flight had to pay its way as best it could, or at least not lose too much. "We have a relentless discipline on cost and cash management while maximising cash returns on the flights we operate," explains Váradi.
The result is that Wizz Air was able to boost per-passenger revenues under the vital measure of available seat kilometres (ASK), despite much lower loads. It was a classic lesson in management for turbulent times. "Wizz Air has ended up the biggest airline in Europe during the summer season with comparatively high load factors," Váradi continued. "The airline managed to remain a resilient business while most of our peers suffered immediate financial issues." It certainly helped that Váradi has a master's degree in economics.
Unstoppable growth
Just before the pandemic hit, Wizz Air was on a seemingly unstoppable growth path. Within a decade of its first flight in 2004 – a hop from Katowice to London Luton – the airline had become the largest low-cost carrier in Central and Eastern Europe. In 2015, it was listed on the London Stock Exchange. In 2019, the airline's 15th birthday, it carried its 200-millionth passenger and in 2020, Wizz Air was the first ever ultra-low cost carrier to be named 'airline of the year' by Air Transport World.
The airline was one of the few to provide customers with cash refunds and is emerging relatively unscathed from the chaos. Although ticket revenues in the third quarter collapsed by nearly 80 percent and ancillary revenues by 73 percent, leading inevitably to losses of over €114m, Wizz Air still retains €1.2bn in cash.
As other airlines shrank their operations as fast as they could, Wizz Air persevered with the development of new bases in Oslo, Bari, Catania, Palermo, Milan Malpensa, Rome, Sarajevo, Bourgas, Dortmund, Tirana, Lviv, St. Petersburg, Bacau, Larnaca, Doncaster Sheffield, London Gatwick and Cardiff while doubling the size of its base in Abu Dhabi to four aircraft.
And in a real coup, Wizz Air Abu Dhabi staged its inaugural flight to Athens on January 15, opening up a swathe of new routes. "Despite a distorted playing field, the performance of the new operating bases is in line with expectations," reports Váradi. "Unlike other airlines, we have remained ambitious and continued to expand our geographical presence over the last year."
As normality slowly returns, Wizz Air finds itself in a good position as it boosts liquidity simultaneously with tightening its belt. In January 2021 it successfully floated a €500m three-year bond issue on favourable terms that reflects a highly desirable investment-grade credit rating. "Wizz Air is even better positioned to deal with the uncertainties associated with COVID-19," said the chief executive. "At a rate of 1.35 percent, the bond was issued significantly below the interest costs of competitor airlines."
Looking ahead, Váradi is broadly optimistic. Feet firmly on the ground, he predicts that 2021 "will be a transition year out of the COVID-19 crisis" and that Wizz Air "will emerge as a structural winner" as passengers return. Wizz Air heads into the rest of 2021 with an updated, environmentally virtuous fleet.
The airline boasts 140 aircraft (see Fig 1) with an average age of 5.4 years, boosted by the addition late last year of five lean-burning Pratt & Whitney-powered Airbus Neos. With a highly flexible network in terms of regions, airports and countries, a robust balance sheet and travel-hungry passengers, Wizz Air is ready to fly. "Looking ahead, only the sky is our limit," says Váradi.