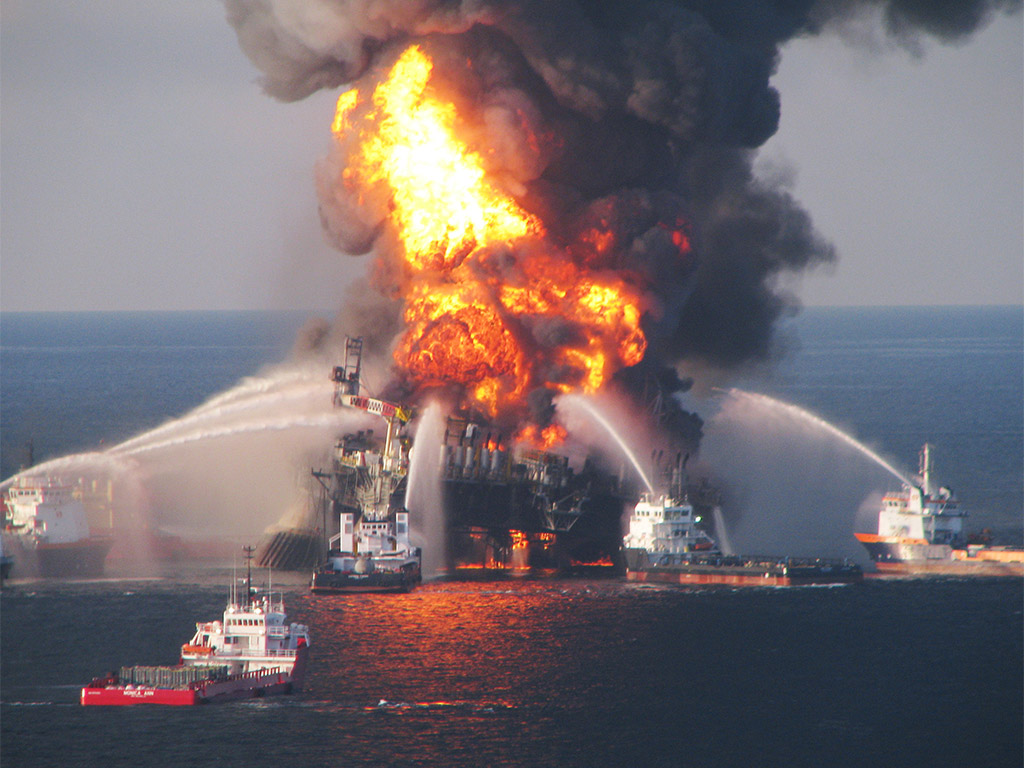 The BP oil disaster resulted in 11 deaths, and billions of dollars in fines. Still, BP has managed to remain of one the world's largest oil companies&nbsp
On the evening of April 20, 2010 a methane gas release triggered an explosion on the BP-run Macondo Prospect site and, for 87 days, oil was expelled over 68,000sq m of ocean and 16,000 miles of coastline off the Gulf of Mexico. The now infamous Gulf of Mexico spill killed 11 people and sliced the oil giant's share price in half, forcing the company to offload assets worth some $38bn and pay out billions upon billions of dollars in fines.
Despite the damage done thus far, the result of a crucial multi-billion dollar civil litigation case is still yet to be decided on. It's now over four years and $42.7bn in fines on from the disaster and the civil trial has not yet entered its third and final phase. While it's true that the company has taken on a far better shape in the immediate aftermath of the spill, the trial will continue to act as an unknown quantity for as long as it takes to arrive at a final settlement.
Awaiting the final phase
There's comfort to be taken, however, from the simple fact that US District Judge Carl Barbier, along with BP attorneys, agreed in March to a January 20 trial, which, if successful, looks set to decide on the fines BP will pay in relation to the spill. Although Barbier originally intended to bring the case forward to this summer, the reams of evidence still being brought to the table by both parties has left him with little option but to postpone the hearing. "I feel like I've spent the last year dealing with nothing but distractions, fighting and refighting old battles instead of moving forward with the litigation," he said of the case.
[T]he US Government and BP are still locked in a dispute with regards to how many barrels of oil were spilled in total
The second stage of the trial came to a head last October, and centred on how much oil was released as a result of the spill, whereas the first came to a conclusion last April and focused principally on BP's liability for the oil spill disaster. And while the vast majority of the evidence for and against BP has been put forward already, both sides will come equipped for the third phase with a great deal more, though Barbier has made it clear that he will be putting strict caps on new information brought to the stand come January.
Although the results are yet to materialise, the case could see BP incur a maximum penalty of near $18bn, to come on top of a $4.53bn fine paid out in 2012. However, estimates of the final sum are nothing short of guesswork given that the information unveiled thus far has been kept secret so as not to be discovered before the penalty stage begins early on next year.
Among the most important factors to be decided upon in the case are the extent to which BP acted with negligence, and the total amount of oil spilled. The penalty for gross negligence could bring the fine per barrel of oil spilled to anywhere between $1,100 and $4,300, depending on the court's findings under the Clean Water Act. What's more, the US Government and BP are still locked in a dispute with regards to how many barrels of oil were spilled in total, with the former putting the total at approximately 4.2 million barrels and the latter at 2.45 million barrels.
Post-spill improvements
Granted, the spill has put the company under extraordinary pressure, with the world's media having weighed in on the issue and its share price and profitability having taken a major hit. However, the fact remains that BP is still today one of the world's largest oil companies, owing to CEO Bob Dudley's 'shrink to grow' strategy and a focus on value ahead of volume.
BP's return to form here has not come without its fair share of sacrifices; since the disaster, the company has offloaded a reported $38bn in assets, including half of its offshore platforms and refineries, and reduced its output – excluding Russia – to 2.25 million barrels of oil a day from three million previously. In addition, BP last year formed a partnership with Rosneft, handing TNK-BP back to the Russian giant for $12.48bn in cash and an 18.5 percent stake in the company.
Arguably the most significant of BP's actions since the disaster is the $4.53bn settlement with American authorities in November 2012, which removed some of the uncertainty accompanying the trial. The company's emboldened prospects as a result of the agreement again illustrate the importance of the civil case on the long road to BP's recovery, whether it be financial or reputational. And only in the event of a civil settlement will BP be rid of the looming air of uncertainty that has loomed large over the company since April 20, 2010.
Timeline
The lead up to the case
2010
April 15
Halliburton employee advises BP via email that 21 centralisers are needed to centre the drill pipe at Macondo Prospect in the well, and warns of a "severe risk" of a natural gas leak with only six in place.
April 16
BP manager ignores advice and proceeds with six centralisers. "Who cares, it's done, end of story, will probably be fine and we'll get a good cement job," he wrote, according to a copy of an email cited in court.
April 22
BP and Transocean sued by the family of Shane Roshto, one of 11 workers killed in the incident.
May 10
BP investor sues company directors, on the accusation that the company pursued profit at the expense of safety, which was followed by many similar suits.
June 1
US Attorney General Eric Holder opens criminal and civil investigation into spill.
June 16
BP puts $20bn into fund meant to pay damages in relation to spill. Less than two months on, more than 225 lawsuits have been filed.
August 10
Panel of judges orders that all claims be presented to one judge: US District Judge Carl Barbier in New Orleans.
October 20
Environmental groups sue BP, saying it should pay damages in relation to affected wildlife and habitats.
December 15
Obama administration sues BP for violating environmental laws and seeks damages under the Clean Water Act.
2011
March 3
Louisiana sues BP and partners, seeking $1m a day for damages.
April 20
BP sues Transocean, claiming that without the company's 'misconduct" there would have been no accident.
April 26
Business and individuals suing BP win judge's approval to seek punitive damages in pursuing claims of economic and environmental loss.
November 14
Judge rules BP must face claims by Louisiana and Alabama for negligence and product liability under general maritime law.
2012
January 2
BP seeks to have Halliburton pay all spill-related costs and damages. BP has paid over $21bn in clean-up costs and economic damages up until this point.
January 31
BP ordered to cover a select few claims lodged against Halliburton, which totalled $40bn in clean-up costs and economic losses.
Feb 9
US seeks fines of up to $4,300 for each of the four million plus barrels spilled.
Feb 13
BP faces fraud claims from investors who say the company lied about accident response capability pre- and post-spill.
February 26
February 27 trial delayed until March 5 by Barbier to allow settlement negotiations to continue.
March 2
BP and lawyers representing spill victims reach $7.8bn settlement to resolve private claims for property damages, economic losses and medical injuries.
April 18
BP and plaintiff lawyers' committee submit proposed settlement agreement to Barbier.
April 25
Former BP engineer arrested and charged with obstruction of justice for deleting text messages related to investigation.
May 3
BP wins preliminary approval of $7.8bn economic and medical settlement from Barbier, who sets January 2013 start date to restart postponed trial.
September 11
Spill victims ask Barbier to reject BP's settlement after Hurricane Isaac reveals further oil contamination off the Gulf Coast.
October 26
Barbier delays start of trial until February 25.
November 15
BP agrees to $4bn settlement for all criminal charges related to spill.
December 21
Barbier gives final approval to economic portion of BP's $7.8bn settlement.
2013
January 11
Barbier gives final approval to medical portion of BP's $7.8bn settlement.
January 29
BP wins approval of guilty plea to resolve 14 criminal charges tied to spill. Pays $4.53bn in penalties and fines, including $525m to the SEC for securities violations.
February 5
BP increases cost of economic and medical settlement by $680m to $8.5bn.