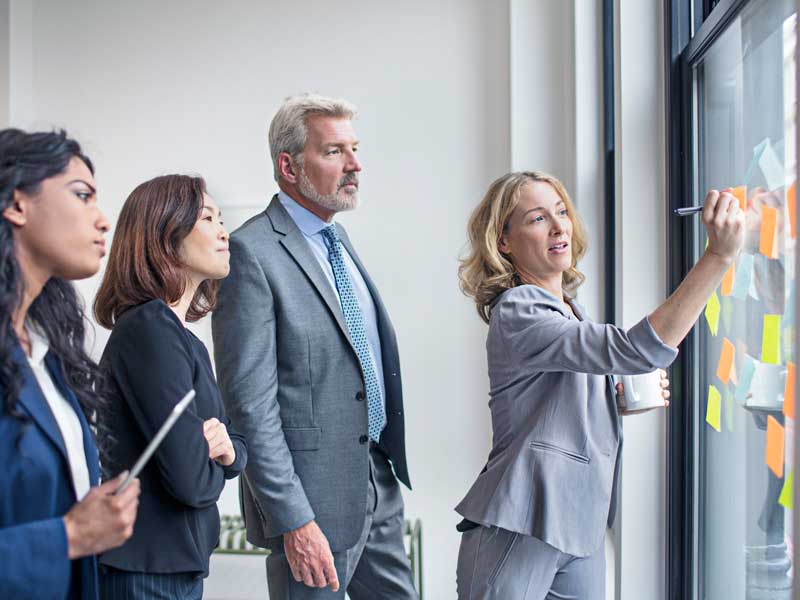 The rigid quotas that many countries are looking to impose to redress the gender imbalance may have adverse effects and will not be as sustainable as other more organic methods&nbsp
Author:
Emilie Allaert, Head of Operations and Projects, Luxembourg House of Financial Technology
A study by The Financial Times, in 2017, found that women make up 58 percent of the total workforce at a junior level in finance companies. However, this figure is not replicated when it comes to senior roles. Only a quarter of senior financial positions are held by women and, sadly, this figure is only slowly growing. These statistics make it no surprise that gender pay disparity in finance is among the worst, with the second-largest gap of all industries in the UK.
Only a quarter of senior finance positions are held by women, and this figure is only slowly growing
We have seen numerous countries taking the approach of imposing quotas for women at a senior level in order to improve the various gender parity ratios. However, there are many more ways to push for greater equality and female presence in the financial industry. Quotas are a short-term solution which might have adverse effects, especially for women who will be propelled to senior positions purely because of this political measure, as opposed to recognition of their work.
Having more women at senior level will result in a win-win situation, by improving the firm's reputation and, more importantly, by acknowledging deserving women with promotion into senior roles. But, how can managers make women see these senior roles as achievable and encourage more women into them?
1 – Shout about women's successes
Women can be modest when it comes to shouting about their successes. Though modesty is often seen as a virtuous trait, women must be more vocal about their own successes and those of other women in the finance industry. Not only does it help to make their superiors aware of their competency and ability to do the job, it also encourages other women to do the same; whether promoting themselves or their female colleagues.
Shouting about women's successes will only reiterate their value to the company. This means once there becomes a promotion available, a manager is much more likely to see a woman as suitable for this role if they are already aware of their achievements, as opposed to if they shy away and are too modest.
2 – Be more confident
A report from information technology company Hewlett Packard revealed that women only applied for promotions if they believed they met 100 percent of the qualifications listed for the job, whereas men applied for a role if they believed they met 60 percent of the requirements. This seems to highlight women's lack of confidence in putting themselves forward for promotions and senior roles.
Unfortunately, many women underestimate their abilities, and also their competence to learn new skills while working in a role. It is important that employers engage with female staff to help boost their self belief. This will ensure that more women are confident in their own qualifications and assured enough to apply for these senior roles, even if they are not 100 percent qualified for them, as there will always be room to learn in a role.
3 – Take more risks
Studies suggest that women are likely to be far more risk-averse than their male counterparts. Women must become more inclined to take risks, whether it be in work-based situations or, as previously mentioned, in their personal development, by applying for promotions even if they do not feel 100 percent qualified.
Those who tend to take risks can not only often see these pay off and end in successes, but are usually seen as bold and assertive in the eyes of their superiors. Although there is a chance these risks may not pay off, it allows an opportunity to learn from previous failures, and to utilise what has been learned in future situations.
For employers, facilitating and accepting opportunities for risk and failure can pay off, creating more proactive and innovative staff.
4 – Female role models
When we think of all the recognisable faces in the finance or technology industries, the majority of the names that are conjured up are most likely to be men. It is important to bring forward more female role models in the finance industry by shining the spotlight on some of the successful women who can serve as role models for others. It is essential to reassure women that these senior roles are not jobs reserved just for men, and there are women in finance who are just as successful as their male counterparts.
Furthermore, enabling opportunities for female staff to access and meet female role models helps to create a positive support network. Alternatively, businesses should promote female industry networks, to create a space for women in finance to meet, engage and inspire one another. The Durham University Business School alumni network, for instance, connects women in finance alumni, allowing them to network and share their experiences.
5 – Teach finance and technology at a younger age
Although there are two million people working in the UK's finance industry – making up seven percent of the country's workforce – there is little education of finance or technology at schools. It is important we promote finance and new technology to girls at a young age, in order to encourage them to take an interest in the industry and make them aware of its opportunities.
Indeed, financial technology is bringing a whole selection of opportunities that women should embrace. Given this is quite a new industry, the possibilities are endless and the rules have not yet been set. Equipping girls with these skills at an earlier age will help increase the numbers of women who want to pursue a career in the finance industry later in life, by giving them the confidence that they have the knowledge and ability to compete with their male colleagues for those higher roles.
There are clear obstacles for women in the finance industry, and now is the time to destroy them.
A further resource that has some great data on gender differences can be read here: https://www.websiteplanet.com/blog/the-empowering-guide-for-women-in-tech/. The article offers a lot of achievable solutions so that women may be represented equally.