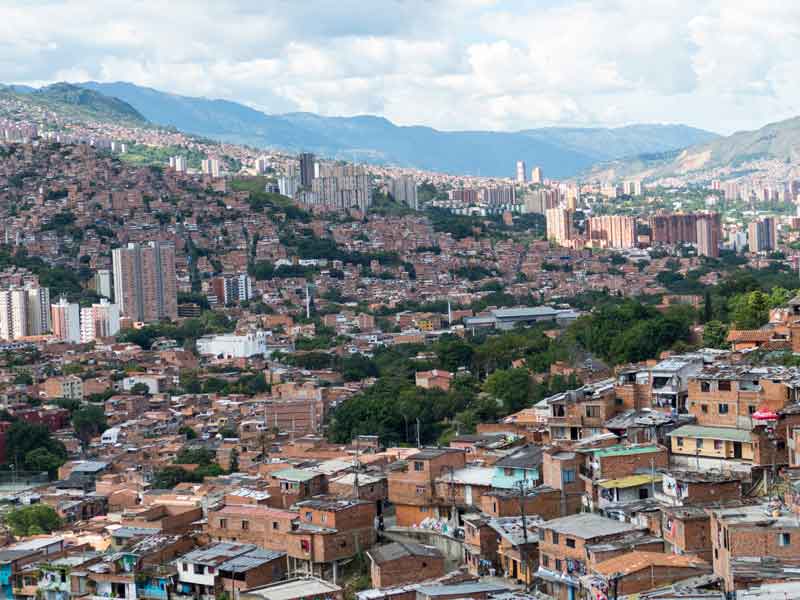 BTG Pactual Colombia's headquarters are found in Medellín, Colombia&nbsp
Author:
David Felipe Perez, Head of Investment Banking at BTG Pactual Colombia
In 2008, Colombia's tourist board ran a campaign called 'Colombia, the only risk is wanting to stay'. The marketing slogan addressed the fact that for much of the outside world, Colombia was viewed as a dangerous country, in the grip of a violent drug war and tackling the longest-running insurgency in the Western Hemisphere.
Almost a decade has passed since then, and Colombia's reputation has changed markedly, particularly from an economic point of view.
Sustained growth combined with well-established democratic stability is making Colombia an attractive proposition for long-term investments. GDP per capita has doubled since 2005, the national government has invested significantly in infrastructure, and a growing middle class is invigorating the country's SMB sector.
Regionally, Colombia also offers a number of advantages over its neighbours. In 2017, the country ranked second in the World Bank's Doing Business report for Latin America, and further legislation is looking to bolster these market-friendly conditions.
The economy has also proved remarkably resilient even in challenging times. The financial struggles of a number of Colombia's neighbouring countries and key trading partners are causes of concern, but the nation has emerged today in a position of strength. Here at BTG Pactual, we share the positive outlook for Colombia's economy and are keen to develop our operations in the country further.
A maturing market
One of the most exciting developments in Colombia's financial sector is its maturing mergers and acquisitions market. This is being driven by the increasingly active role played by financial sponsors and leading investment banking divisions, which has enabled high-net-worth individuals and corporate clients to acquire and divest assets with greater confidence.
Cross-border buyers looking to consolidate their portfolio across a number of different sectors have also strengthened the mergers and acquisitions market.
Regional investment banks like BTG Pactual play a leading role in developing the investment sector. A professional team possessing local knowledge and experience, particularly concerning regulatory practices, is vital if potential clients are to receive the assurances they need to invest. Similarly, our networking capabilities help existing investors to expand their operations both domestically and abroad.
With international investors showing an interest in acquiring Colombian companies, our challenge is not necessarily sourcing investors, but closing the gap between value expectations and corporate governance
In Colombia, BTG Pactual has conducted a number of important mergers and acquisitions, most notably playing an advisory role in the purchase of Odinsa, the leading concessionaire in the country. This transaction began in April 2015, with Grupo acquiring 24.5 percent of Odinsa, and closed in December 2016 after several operations took this figure above 98 percent.
The total investment was around $670m and was the first purchase involving a payment in shares through the stock exchange in more than 20 years. Of course, investments do not take place in a vacuum, and international activity often accompanies movement in domestic markets.
The entry of Bovespa into the stock exchanges of Peru, Colombia, Chile and Mexico in 2016, as well as the takeover of Digitex by the Carlyle Group, demonstrates the importance of choosing an asset manager with knowledge of both regional and international markets.
Businesses large and small
An increasingly dynamic investment sector provides a huge opportunity for businesses in Colombia, regardless of their size. The country's expanding middle class is boosting growth in all sectors, particularly for companies with exposure to consumer goods, healthcare and infrastructure.
The latter also enhances the development of Colombia's numerous family-owned companies, which start to think about expansion and growth through strategic or financial partners, equity capital, and debt capital markets (DCM).
Where expansion is being considered, organisations in Colombia are increasingly looking at opportunities within international markets. Businesses that have reached a significant scale and share of the market actively seek investments in the Pacific Alliance, driving further growth from international operations and diversifying geographical risk.
There are great management capabilities in Colombian companies such as Nutresa, Argos, Sura, Bancolombia, Aval, Davivienda, ISA and Empresa de Energia de Bogotá (EEB), which have shown impressive leadership and commitment within the country. They are constantly looking for new challenges and ways of expanding.
While markets usually focus on blue-chip companies and conglomerates such as Colombian multilatinas, at BTG Pactual we are also interested in family-owned companies with existing international operations seeking new regional opportunities.
Facilitating growth can be difficult, however, if the right sources of investment cannot be found. It's for this reason that many companies are looking at foreign investment to bolster growth and enhance corporate governance. As well as improving access to capital, companies will also gain the ability to execute their growth plans and target new markets.
With international investors showing a consistent interest in acquiring Colombian companies, our challenge as advisors is not necessarily sourcing investors, but closing the gap between value expectations and corporate governance structures so that a transaction can be effectively finalised.
Furthermore, family-owned companies, given their nature, are challenging targets for due diligence, which can lead to deal fatigue that decreases the
probability of success.
BTG Pactual is focused on dynamising the market and providing opportunities for companies in Colombia. In order to achieve this, we have created stronger links between international investors and domestic companies.
This was the case with Biomax, one of the country's largest gas station retailers, as well as the Carlyle-Digitex transaction, which was considered one of the most important business process outsourcings in the country. In addition, we have supported companies in their internationalisation process, as was the case with ProCaps Laboratories, which acquired a pharmaceutical company in El Salvador.
After Colombia opened its economy in the 1990s, a new generation of managers became more willing to expand their businesses in Latin America and the wider world.
They became open to new partnerships and sharing decisions at board level, resulting in mergers and acquisitions, equity capital market (ECM) and DCM activities becoming more popular. This has brought economic benefits not just to those particular managers, but to all the country's businesses, no matter how large or small.
For 2018 and beyond
Colombia and other Latin American nations represent great opportunities for managers interested in buying at a good price. Devaluation is already assimilated and, consequently, we expect that they will turn to equity markets for money.
There are also state-owned companies of a large enough size that the government is willing to sell a percentage and use those proceeds to invest in social or infrastructure programmes. This is the case with the city of Bogotá, which is currently selling 20 percent of the public energy firm EEB.
With regard to ECMs in 2018, we expect to see between three and four issuers in Colombia (IPOs or FOs) if the market is as open as it is today. Most of these companies have reached a significant size and are weighing up the possibility of accessing local and international ECMs, which could provide a potential exit strategy for financial sponsors.
This was the case with the recent Grupo Biotoscana IPO, a company with an important presence in Colombia, Brazil and Argentina.
In Colombia, BTG Pactual is acting as a leading advisor to the EEB democratisation which, with an estimated size of $1.2bn, will bring renewed dynamism and further liquidity to local markets.
In the last three years, there has not been an active local ECM, even though international investors are showing a particular interest in Colombia and its companies. This is certainly a potential growth area that could be exploited in the years to come.
It is also worth noting that Colombia will be a different country in terms of infrastructure in five years. The Colombian Government has earmarked $70bn to spend on boosting regional and international connectivity between now and 2035. The Fourth Generation (4G) road infrastructure programme is an ambitious proposal, the largest of its kind in Latin America today, and will deliver 8,000km of roadway and connect 18 major city regions.
In addition to road improvements, developments to ports, pipelines, airports, rivers and railways will help make the nation's businesses more competitive.
At BTG Pactual, we have been advising four highway development projects that form part of the 4G programme, with funding in excess of $1.2bn.
We expect that this will boost regional development and help the country realise its full growth potential. The companies participating in this project may also provide added dynamism to ECMs since they will turn to this mechanism as a source of capital.
Infrastructural developments, of course, will provide wider benefits to the country's economy. Improvements to transport links enable more efficient movement of goods and services, which will foster the expansion of existing businesses as well as the creation of new ones. Economic development will, in turn, encourage further investment into the country.
While no investment is without risk, the economic climate in Colombia can now be viewed with confidence, rather than trepidation. At BTG Pactual, we aim to be at the forefront of the country's financial services sector for years to come, offering support to businesses in any industry and from all areas of the country.
It is only through investing in the Colombia of today that we can build a better tomorrow.