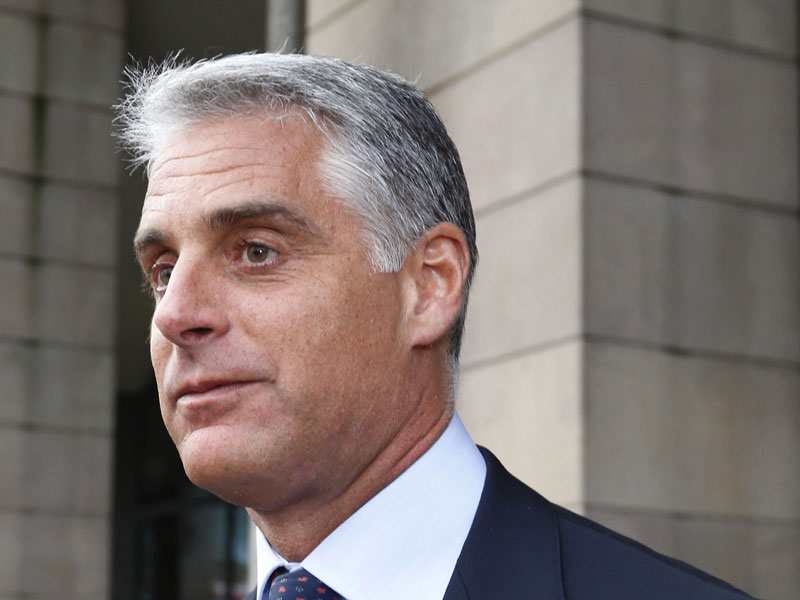 Andrea Orcel holds quasi-messianic status among many of the finance fraternity, but some suggest that his fiery reputation makes him too hot to handle&nbsp
From his lauded polyglotism to his well-known proclivity for silk Salvatore Ferragamo ties, there has always been a touch of the celebrity about Andrea Orcel. In the same way that Hollywood actors are asked about their punishing training regimes or 'who they're wearing', the 55-year-old Italian investment banker inspires a similar sort of almost reverential reaction.
Orcel's character and personality traits have always been closely entwined with his illustrious career
Likewise, Orcel's character and personality traits have always been closely entwined with his illustrious career. Described alternately as charming and brutal, dashing and determined, Orcel's dapper appearance belies a bullish and aggressive dealmaker who is constantly in search of greater profits.
This drive sent him soaring to lofty heights within the investment banking sector, where his renowned negotiation skills were rewarded with prestigious positions and hefty pay packets. In September, he got his hands on the top job at Santander. However, it was snatched from his grasp at the last minute due to his €50m ($56.7m) price tag. For the first time in his career, Andrea Orcel was just not worth the cash.
Road to the top
Born in Italy in 1963, Orcel's interest in investment banking was reportedly sparked by a report on mergers and acquisitions that he read while on holiday in the US at the age of 18. He studied economics and commerce at the Sapienza University of Rome, from which he graduated summa cum laude, before going on to study for an MBA at the prestigious INSEAD business school. After graduating, he cut his teeth at Goldman Sachs and Boston Consulting Group, before joining Merrill Lynch in 1992. It was there that the semi-mythical reverence around his dealmaking capabilities began to rear its head.
$24bn
Value of the merger between Credito Italiano and Unicredito, which Orcel advised on in 1998
$11bn
Value of the merger between Banco Bilbao Vizcaya and Argentaria, which Orcel led in 1999
$34m
Orcel's bonus from Merrill Lynch in 2008
$26m
Fee paid by UBS to lure Orcel away from Merrill Lynch in 2012
$56.7m
Orcel's severance package, which Santander ultimately declined to pay
His first big break came in 1998, when he was an advisor on the merger between Credito Italiano and Unicredito. The €21.2bn ($24bn) deal created Italy's largest bank, and Orcel made such a good impression that he was allegedly later asked to run the newly created institution. By then, though, he'd been bitten by the dealmaking bug. The following year, Orcel personally closed the €11bn ($12.5bn) merger of Banco Bilbao Vizcaya and Argentaria – a deal that not only created Spain's second-largest bank, but also reserved Orcel a seat at the table for financial royalty.
His sharp mind, strategic approach and unrivalled passion for the game caught the eye of Emilio Botín, the then-chairman of the Santander Group, who asked Orcel to advise on the bank's full acquisition of British subsidiary Abbey National in 2004. This sparked a friendship that would burn bright until Botín's death in 2014; the duo grew particularly close when working on Santander's acquisition of Sovereign Bank in 2009. At the time, it was reported that Botín would send hand-written notes to Orcel after each agreement was signed, presumably to thank him for his work.
In 2007, Orcel was tapped by the Royal Bank of Scotland to work on its ill-fated acquisition of ABN AMRO, which – at $55m – was the largest deal in history at the time. When it seemed as though the whole thing might be going up in smoke, Orcel snatched the deal from the flames by bringing in Fortis and Santander to execute a three-way consortium bid. He was lauded for his quick thinking, receiving a healthy $12m in advisory fees.
Orcel – who was unavailable for comment after being contacted by World Finance – has, ironically, sparked outrage on a number of occasions with regards to the enormity of his compensation. At the height of the 2008 financial crisis, he was paid a whopping $34m bonus, despite the fact that Merrill Lynch had racked up net losses of $27bn that year and had to be bailed out by taxpayers. The payout was so obscene that Orcel was investigated by the New York Attorney General, while Institutional Investor branded him "one of the most controversial figures of the financial crisis". Just four years later, Orcel's lucky day came once again when he was paid $26m by UBS to lure him away from Merrill Lynch amid its merger with Bank of America. At the time, he was labelled by friends as the "last of the Mohicans", being the last in a breed of highly compensated senior bankers, the rest of whom were phased out amid the 2008 crash.
Dark side
It's not solely Orcel's extortionate pay packets that have troubled his contemporaries. His fiery temperament, hard-line management style and obsession with returns is well documented, particularly by colleagues at UBS. According to an investigation conducted by Financial News in October 2018, Orcel's tenure at the Swiss investment bank has been marked by a series of heated clashes with other senior members of staff, where the hotheaded Italian allowed his temper to get the better of him.
Honouring Orcel's salary demands may have knocked Santander back in the lengthy process to regain the public's trust 
He's been known to embark upon screaming tirades against other executives that have continued long after his targets have left the room – part of a "pattern of aggressive behaviour", the report concluded. Other profiles by publications including the Financial Times have alleged that he begins calling and sending emails to junior employees at around 5am and often does not let up until after midnight. In 2013, when a Bank of America intern died after he was said to have worked for 72 hours straight, Orcel rebuked pressure to change the working hours of junior bankers. He told the Financial Times that when new recruits asked him whether he would enforce a minimum number of holidays, or ban them from working weekends, his "answer to this was no".
Orcel's temperament was particularly evident during Accelerate, UBS' five-year transformation plan to streamline its business, over which he presided between 2012 and 2017. He was personally responsible for firing thousands of employees, which he allegedly did by simply disabling their access cards to the UBS building. In the midst of this aggressive restructuring, though, Orcel's personal wealth pile grew ever larger: in May 2015, he was the highest-earning executive at UBS, taking home $8m in base salary alone.
These controversial personality traits inspired admiration from some and aversion from others. Many interviewees, who have spoken to publications such as Financial News and the Financial Times over the years on the condition of anonymity, have agreed that management is not Orcel's forte. He himself has said that he detests having to worry about costs, capital ratios and staff conciliation, or being a "beancounter", as he called it. One UBS employee described him as "uniquely talented" but "singularly unsuited" for the CEO role at Santander.
Public relations
His love affair with dealmaking – and seeming obsession with the thrill of the chase – meant that his appointment to the CEO role at Santander came as something of a surprise for the investment banking industry. Many had assumed that he would succeed Sergio Ermotti as the chief executive of UBS – Orcel even joked of that himself in an interview with the Financial Times in 2015. Given his competitive nature, it seemed like a more natural choice for him to remain within the dealmaking sector of the industry, which has historically been known for its bullish environment, governed by macho bravado.
Perhaps his decision to jump ship was driven by impatience. After all, Orcel had spent much of his 30-year career orchestrating deals for banking titans – it's unsurprising that he leapt at the chance to become one himself. There's also the emotional aspect of his attachment to Santander, precipitated by his relationship with Botín: to have occupied the seat of his departed friend must have felt like coming home.
Alas, the opportunity was dashed for the sake of a few dollar signs. Some have suggested that Orcel's €50m ($56.7m) severance pay packet would have not have been so problematic had he chosen to move to another investment bank. But Santander, being a retail institution, has a duty to justify its spending decisions, and the board felt that its customers simply wouldn't stomach such a large cheque. A decade may have elapsed since the financial crash, but faith in financial institutions is still very much in recovery mode, and honouring Orcel's salary demands may have knocked Santander back a few steps in the lengthy process of regaining the public's trust.
The future now looks a little shaky for Orcel; at the time of World Finance going to print, reports suggest he is weighing the merits of taking legal action against Santander. Meanwhile, it appears that any chance of reconciliation between Orcel and UBS is firmly off the cards, with Ermotti telling Reuters in late January that a return by Orcel was not a "realistic option". The Italian banker now faces a choice: further destroy what remains of his relationship with Santander and the ruling Botín family, or accept that tending to his garden is not simply a stopgap between high-profile roles, but a retirement plan.