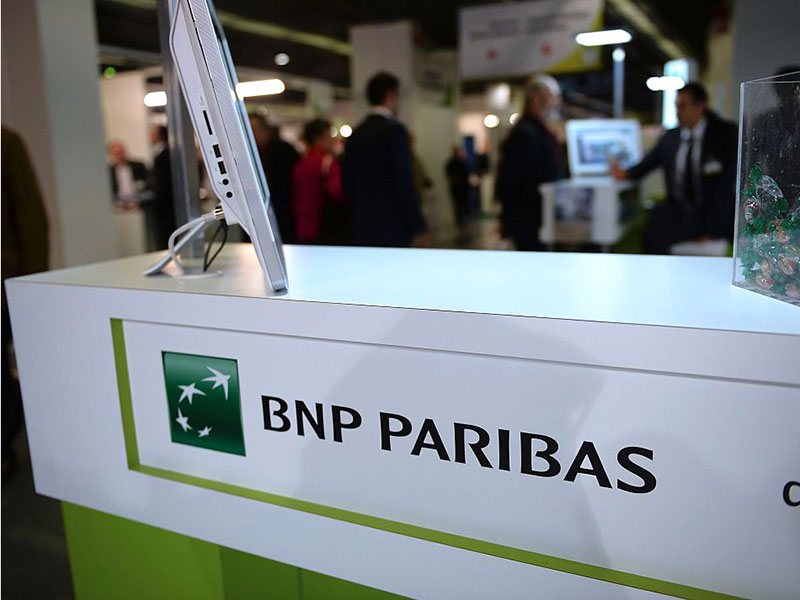 BNP Paribas are developing a range of digital solutions to help simplify the banking process&nbsp
Interview with:
Béatrice Belorgey, CEO, BNP Paribas Banque Privée
There was a time when banking meant cumbersome payslips and hefty chequebooks – lengthy processes and piles of paperwork that took up valuable time and effort.
These days, of course, those chequebooks have been almost completely replaced with online transfers. Cash is competing against contactless payments, and digital banking is becoming the go-to resource; in the US, for example, 53 percent of smartphone owners with a bank account reported using mobile banking in the past year, according to a 2016 report by the Federal Reserve. The industry has clearly come on a long way in digitalising its processes.
But while that's true, there's still a whole lot more to be done before the sector's key players can say the job is done and dusted, according to Béatrice Belorgey, CEO of BNP Paribas Banque Privée. "Even today, banks are still often bogged down by procedures that require paper documents and client signatures", said Belorgey. That makes it hard to streamline internal practices with those of its customers. Getting rid of the paperwork completely, Belorgey explained, would enable staff to align internal documents – contracts, brochures, client records and other important information – with external sources such as legal information sites, therefore helping everything to run more smoothly. "Going paperless gives private banks the advantage of improving efficiency."
For Belorgey, modern banking means adapting to consumer expectations and providing a service tailored to them. "Client behaviour and preferences in the way they consume bank products and services have evolved significantly in recent years, with increasing appetite for digital solutions for greater flexibility and swift", she told World Finance. "Of course, giving clients instant access to basic transactions – on their smartphones, tablets or computers – has become the very least that a bank can provide, but it is not enough to fully meet their expectations."
Going paperless gives private banks the advantage of improving efficiency
In response to these changing needs, BNP Paribas has begun implementing various programmes to step up its digital strategy and address consumer demand. From testing out new technologies and introducing video conferencing to creating a concierge service and implementing a start-up accelerator, the bank has taken a diversified, forward-thinking approach that is helping it stand out from others in the field.
Speeding up the process
It's evident one of the key areas for improvement in the sector lies in making digital banking quicker, smoother and simpler for customers to use, which may well mean doing away with passwords. "Client access is often complicated by the need to provide an account number and password", said Belorgey. "Access needs to be faster without compromising security. The client experience needs to be reviewed and procedures streamlined to adapt to new client/banking relationships."
One means of doing that, of course, is through new forms of technology – something BNP Paribas has been ahead of the game in recognising. The bank is currently testing a biometric authentication method that uses facial, fingerprint and voice recognition to identify users far more quickly and securely than entering a cumbersome, difficult-to-remember password can. Recorded messages, touch ID and photo recognition have been on the radar for several years, and stepping up their use in the banking sector is a logical move.
It could mean exciting things, like giving clients access to all the information they might need in one place, and so forming an electronic 'vault' that would act as a platform for various exchanges with the bank. This would make it simpler for clients to keep up to date with their finances on a holistic level, Belorgey said. "Clients would have a consolidated view of their financial and non-financial assets to be able to make informed decisions at all times. Digital banking can no longer be limited to basic operations. The client needs a 360-degree view, covering all assets."
Big data
Of course, providing an enhanced service isn't just a case of improving the speed of access; the key is in ensuring the service meets the client's individual needs. For that, there's big data.
Concerns over privacy are rife where big data is concerned, but if it's harnessed in the right way it can have far-reaching advantages. By monitoring clients' preferences, banks can target the right products at the right people, in turn benefitting both parties.
Belorgey is clear on what this means: "Data usage – governed, of course, by an appropriate data usage policy – should be geared towards serving our clients. The goal is to offer them the most suitable range of products and services tailored to their needs, not to track them. Accordingly, we need to establish procedures and encourage private bankers to make a habit of collecting, processing, updating and using data."
The bank is therefore looking into various possibilities, from analysing customer interests based on their use of banking apps, to using social media as a tool for measuring preferences.
The role of fintech
Delving into technology is all very well and good, of course, but there are certain innovations that are beyond the capabilities of the banks themselves, which is where fintech firms come in. "Sometimes the digital transformation calls for cutting-edge technical solutions that banks don't currently have and would take too long to develop", Belorgey noted. "In these cases, it's better to turn to experts in the industry by selecting the right fintechs for the job."
53%
of US smartphone owners used mobile banking in 2016, according to the US Federal Reserve
€100,000
Amount BNP Paribas donates to select fintech start-ups
With that in mind, BNP Paribas set up a dedicated fintech accelerator last year to support start-ups that are seeking to improve the customer experience – becoming the first bank in France to do so. The programme involves providing funding of up to €100,000 to the chosen firms, each of which work with a specific area of the business to help develop new products, services and opportunities. They aim to do so within the space of four months.
The start-ups receive mentoring from experts in their field and are given a modern, central office space in Paris, alongside the backing needed to accelerate their growth.
"By accompanying the start-ups during the main steps – sourcing, acceleration, pilot testing and full scale rollout – the programme enables innovative products and services to be developed in line with the changing needs and expectations of both corporate and individual clients", Belorgey explained.
The process began by sending out a call for tenders to attract relevant start-ups. Eight were eventually chosen from a total of 142; among them was TwinPeek, a start-up whose goal is to help consumers choose what information they want to share online by creating a 'digital alter-ego', and KYC3, which seeks to use artificial intelligence and big data to improve 'know your customer' processes. The application creates a 'digital fingerprint' for each client in order to enhance security.
The firms were selected by L'Atelier BNP Paribas, the body responsible for aligning each start-up with the appropriate business segment. This was arranged in collaboration with several of the company's entities, including BNP Paribas Wealth Management, BNP Paribas Banque Privée, Cardif, Personal Finance, French Retail Banking and Securities Services.
The project has been so successful that another round will soon be taking place, with applications closing mid-January and selections being made in February for a March enrolment. To ensure it reaches its full potential, the approach will be adapted according to feedback from the previous round.
Complementing, not competing
With the rise of fintech firms and digital transactions, however, comes the concern that traditional banks could begin to be overlooked. Not so, according to Belorgey, who believes they still have a key role to play in providing information that digital forms cannot: "Digital services do not replace the bank's skills and expertise, especially when it comes to global support and bespoke solutions."
Rather, Belorgey said, it's about complementing the forms that already exist. "Clients don't want digital for the sake of digital. They're interested in what it can offer them in terms of flexibility and expediency in their relations with their bank, without compromising quality of service or access to top expertise. It's not about lowering costs, but about enriching our offering.
"The acceleration programme is the perfect illustration that fintech companies aren't direct competitors to banks, but offer complementary services and assist them with their innovation."
Videoconferencing is a perfect example of how digital services can do exactly that, providing traditional expertise via a forward-thinking, efficient approach, which saves customers the time of having to physically go to a branch. "We promote it because it's convenient for our clients and we want to meet their clearly expressed need to save time".
It is these technologies that are key to further improving the customer experience and ensuring that digital banking is as smooth and efficient as physically possible. Knowing how to harness their opportunities is exactly where the challenge lies for the banking sector at large, but – if its list of moves so far is anything to go by – BNP Paribas is one bank, at least, facing that challenge head on.