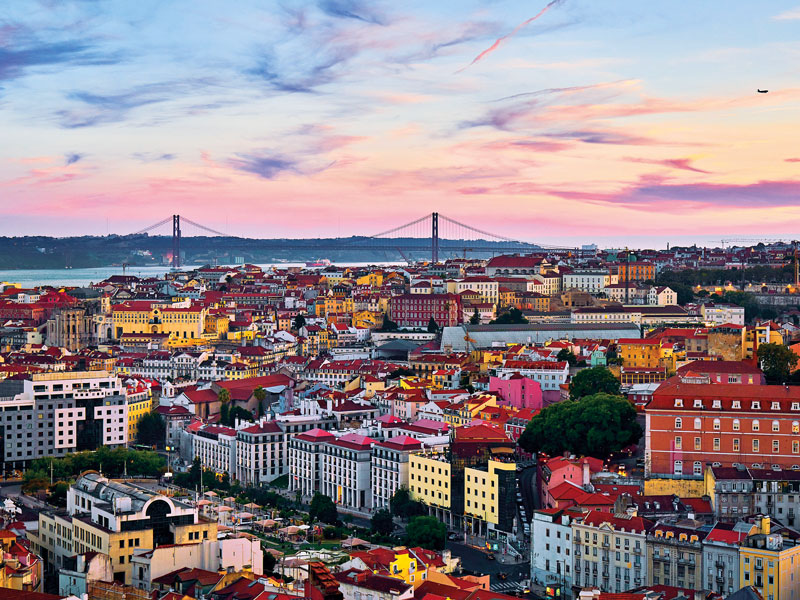 Photo of Lisbon courtesy of Deensel&nbsp
Author:
Tiago Camara, Co-Founder & Partner, PTGoldenVisa
Portugal has a long history of bringing the world closer together. The country's global maritime exploration in the 15th century, mapping the coasts of Africa, Canada, Asia and Brazil, linked continents and cultures as never before. Five hundred years since early explorers set off across the Atlantic, diversity remains a central part of our welcoming culture and unique hospitality. In 2021, the world is closer than it has ever been – and, if the coronavirus pandemic has taught us anything, it is the viability of remote, global living. Portugal's rich history has made it one of Europe's top tourist destinations.
Our delicious food, amazing beaches, golf courses and enviable Mediterranean climate attracted almost 28 million visitors to Portugal in 2019 alone. Colourful, thriving cities such as Porto and Lisbon – one of the oldest capital cities in Europe, second only to Athens – complement the rolling green hills of the rural inland, and, of course, the paradise of golden sand and blue sea along our Atlantic coast. So, it's no surprise that Portugal is home to the World Travel Awards' best island destination (Madeira), city break destination (Lisbon) and beach destination (the Algarve). The Iberian Peninsula truly has it all.
Despite the pandemic, the Portuguese economy actually grew by around two percent in 2020. Currency stability, high returns on real estate and local investment funds, and the opportunity to diversify portfolios make Portugal a very attractive market for foreign investors. The country has a very affordable cost of living, thought to be almost 30 percent lower than the UK, and between five and 10 percent lower than Spain, and English is widely spoken – around 60 percent of the population is proficient – making for smooth international communication.
Portugal's golden visa programme
The Portuguese residence permit programme, also known as the golden visa, is a scheme that grants investors access to Portuguese residency and citizenship. It is the only scheme that allows foreign investors to claim citizenship for themselves, and their families, without relocation: only 14 days every two years must be spent in Portugal. After five years, investors are eligible to apply for citizenship. Not only does the scheme provide good returns on investment, it also allows investors to secure the future of their families for generations to come.
The Portuguese passport consistently ranks among the most powerful and travel-friendly, granting visa-free access to more than 170 countries. As Portugal is part of the Schengen area, a Portuguese residence permit grants investors freedom of movement from day one, as well as the opportunity to start businesses in 25 other European countries.
In addition, investors when approved on the residency permit programme immediately gain the use of Portugal's public hospitals at no charge, as well as access to European universities and job markets. Applying for a Portuguese golden visa brings a wealth of opportunity – from exciting business prospects to long-term plans for retirement and the education and career of the next generation – to high-net-worth individuals currently facing the obstacles that come with a weak passport or political instability in their home countries.
Portugal has one of the most accessible residence permit schemes in Europe. The Portuguese golden visa programme invites investors to claim citizenship in fewer years than comparable schemes in Spain (10 years) and Greece (seven years), and without relocation to Portugal. The Portuguese golden visa is fast, flexible – and affordable.
Investment options: real estate
The most popular golden visa investment option is real estate. A minimum investment of €280,000 can be put towards properties in remote areas that are over 30 years old and require refurbishment, some offering guaranteed rental income, though they may not provide high capital appreciation. Better returns on investment come from property in one of Portugal's major cities, such as Lisbon or Porto, where 30-year-old properties in need of refurbishment require a minimum investment of €350,000 to qualify for the golden visa.
These properties are often well-located residential apartments, with the potential for tourist-targeted short rental periods. High demand for this type of property is driving up prices by as much as 10 percent a year. Investors committed to returns on investment are advised to put their money into new properties or off-plan projects in major cities, where capital appreciation can increase by up to 15 percent a year, and rental income can reach five percent a year. The minimum investment required in a property such as this is €500,000.
Investment funds route
However, investment funds are also becoming popular as a tax-efficient route that allows diversification of investment, and has been bringing returns of around five percent to seven percent a year. The minimum investment in qualified closed mutual funds is €350,000. This route is for those that normally prefer investing in funds, and are interested in having professional fund managers investing their money and diversifying their investment, in several different projects instead of just one property.
New golden visa investment options
Ninety-eight percent of applicants have been approved through either real estate or investment funds. The Portuguese golden visa programme has no grey areas.
As of January 2022, it will no longer be an option to invest in real estate in main cities and coastal areas for residential purposes. Residential property investment will only qualify investors for a golden visa in inland areas of mainland Portugal and the islands (€500,000 minimum, or €350,000 plus refurbishment). Investors interested in having a residential property around one of the main cities or desirable coastal areas should proceed as quickly as possible, as demand is high.
Getting started
PTGoldenVisa is an integrated service provider for foreign investors in Portugal, offering a credible, confidential end-to-end service informed by our expertise in law, economics and international commerce. Our focus on the Portuguese programme sets us apart from other golden visa firms – we are not a marketing department promoting numerous residency programmes, but a team who assist clients for the entire five years till they are granted citizenship.
Portugal has one of the most accessible residence permit schemes in Europe
We are proud to have a 100 percent approval rate on all applications submitted – a testament to our comprehensive local knowledge. Our team will be your guide through everything from investment consultancy, legal support, tax optimisation and representation, to liaising with the Portuguese authorities regarding your residency visa, to offering advice regarding all aspects of your personal and corporate presence in Portugal. Whether you would like to open a bank account or are in need of property management services, you can trust our team to deliver with integrity and professionalism.
Our real estate investment service is itself comprehensive. We are a client-oriented real estate agency providing our investors with the most profitable and adequate investment opportunities that can range from luxury villas – gems of contemporary architecture with private pools in tourist hot spots – to modern apartments in the heart of Lisbon. All of your golden visa consultancy needs will be met, from legal requirements, banking services, tax optimisation and property management. The wide scope of our integrated services is what makes our business different – and special.
Global living in the new normal
At PTGoldenVisa, we have done everything in our power to tailor our services to the restrictions of the pandemic – and have been very pleased with the results. Usually operating in offices in both Portugal and Dubai, we have adapted the company structure to allow residency permit applications to be made remotely. We understand how important investment selection is, which is why providing as much information as possible to ensure that our clients feel safe and comfortable in their decision is our priority.
Clients have been able to evaluate potential property investments through detailed videos, 3D presentations, virtual tours, location and financial analysis, and live video streams from the property. For those applying through investment funds, we have co-ordinated liaison with fund managers. We also provide online legal services and can open bank accounts remotely, among many other means of assistance. In 2020, we assisted more than 150 clients successfully while fully remote. The pandemic has driven interest in holiday homes for investors' use, particularly in the privacy and security that a villa can offer. PTGoldenVisa is assisting with an increase in off-plan luxury villas in the proximity of big cities. Low supply and high demand mean that these projects offer capital appreciation of 15 percent a year.
The COVID-19 pandemic has, above all, brought instability and uncertainty to both the economy and our social lives. More than ever, people are reconsidering the future, and looking at golden visas as a road to safety and security. Our golden visa programme is more popular than ever. Though the tourism industry worldwide has been affected by travel restrictions, the capital appreciation on real estate in Portugal's cities – 14 percent in the first quarter of 2021 – means that the golden visa programme has remained a safe investment. Great returns, a fantastic culture and future security awaits. Portugal looks forward to welcoming you.