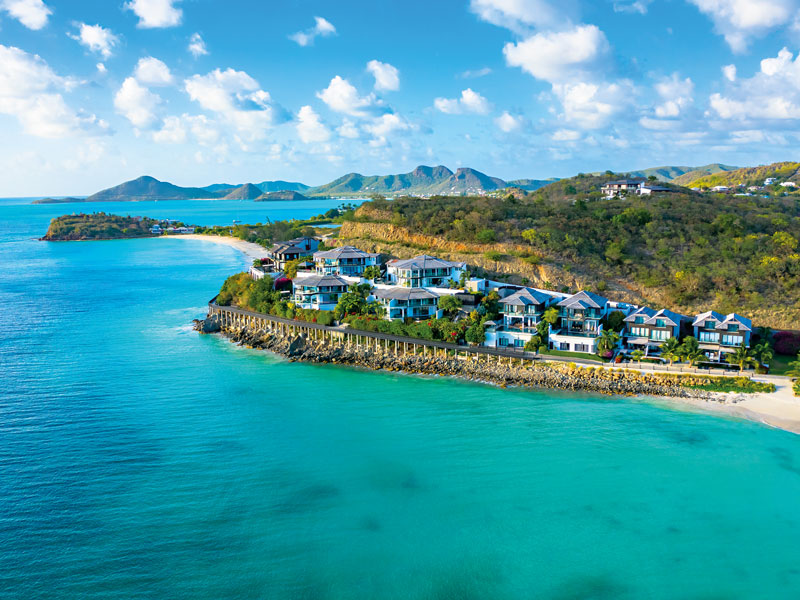 &nbsp
Author:
Charmaine Quinland-Donovan, CEO, CIU Antigua and Barbuda
The idyllic Caribbean nation of Antigua and Barbuda has long been a favourite port of call for luxury yachts and exclusive high-end tourist clientele. And since the establishment of its increasingly popular Citizenship by Investment Programme (CIP) in 2013, the country has been welcoming a steady stream of high-net-worth individuals. The programme provides one of the most efficient routes anywhere to a second citizenship for wealthy individuals, ensuring both financial freedom and peace of mind at a time of increased global uncertainty; and the Antigua and Barbuda citizenship programme is one of the most attractive offerings in this fast-growing market.
It takes less than four months for investors approved under the CIP to receive their citizenship, giving them visa-free travel to more than 160 countries, as well as a safe and secure base for their families and residence in a low-tax and business-friendly jurisdiction. Furthermore, there are no restrictions on dual citizenship and no tax on worldwide income. The crime rate in the country is low and the standard of living high.
An innovative programme
As far as innovation is concerned, Antigua and Barbuda was the first Caribbean nation to permit investment in approved businesses, an initiative that other jurisdictions have now added to their respective portfolios. The most recent addition to the investment options is the University of the West Indies option. This avenue will entitle one member of the family to a one year, tuition-only, scholarship at the University. The National Development Fund and UWI option in particular have become the market leaders in the sub region, as they are remarkably well-suited to growing families.
Ongoing research into the market has indicated that the pandemic has driven people to seek out investment opportunities as it relates to alternative options for relocation. As such, the following expansions have been made. Firstly, successful applicants now have the ability to take the citizenship oath by designating overseas offices and missions, in their respective jurisdictions using a local notary public, as well as by use of various audio-visual platforms.
Secondly, the definition of 'Dependent' was expanded allowing investors to include an intended spouse, adult children up to 30 years of age, unmarried siblings, intended spouses of adult children, grandchildren and parents or grandparents 55 years and older. And finally, expanding the investment opportunities under the real estate option to include the construction of new property and expansions in existing high-end properties.

The four pathways that
investors can select from:
1. Contribution to the National Development Fund:
For a single applicant, or a family of four or less: $100k contribution
Family of five or more: $125k contribution
2. Real estate investment option:
single investor $200k,single investor $400k, joint investment at a minimum of $200k each
3. Business investment option:
Single investor $1.5m, joint investment $5m, with each investor making a minimum contribution of $400k
4. Investment in the University of the West Indies:
For a family of six: $150k contribution

Following these new opportunities, a growing number of new citizens are now investing in real estate and luxury tourism projects, providing them with attractive potential for capital gains and returns on their investment. With flexibility and resilience constantly at the forefront, the CIP of Antigua and Barbuda is proving to be the one to watch in the investment migration industry. The Antigua and Barbuda programme is known for its foresight and innovation and this trend can be expected to continue into the foreseeable future. The variety evident in the investment thresholds positions this programme uniquely in the market. The current offering illustrates marked improvement over time, and it will continue to evolve with the market to ensure that it maintains its relevance.
A good time to invest
The Antigua and Barbuda Citizenship by Investment Programme is an excellent choice for the ability to have visa-free access to more than 160 countries, no restrictions on dual nationality, citizenship for life, no tax on worldwide income, inheritance, capital gains or investment returns, a stable economy and democracy and a safe and secure paradise from where you can live freely and work remotely.
New citizens can reside comfortably in a safer, less densely populated country that has demonstrated a greater ability to manage the pandemic. Future applicants should know that now is the time to invest in their future. The Antigua and Barbuda Citizenship by Investment Programme is the premier choice for second citizenship.